Alumni
Wabash Day
Wabash Day is the National Association of Wabash Men's annual, national day/weekend of community service.
Wabash Alumni Benefiting And Serving Humanity.
WABASH DAY Day 2016 will be held on the weekend of October 1-2.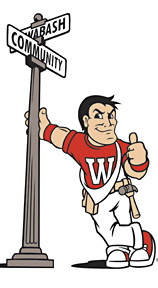 Wabash alumni all over the United States will be joining together to perform service projects in their local communities. Choosing a weekend gives the local groups the option to pick the day which works best for the group.
If you'd like more information, contact the Wabash Alumni and Parent Relations Office at alumni@wabash.edu or 765-361-6369.
The following locations and project leaders have been identified for 2016:
Austin, TX

Capital Area Food Bank of Texas
6500 Metropolis Dr.
Austin, TX 78744
***This is a new address from previous years***

Saturday, October 1
9:00am- Noon

Project Description: Sorting food donations

Tools Needed/Special Instructions: No tools needed. Wearing open-toed shoes, high heels, tank tops, and sleeveless shirts is not permitted. Must be 8 years of age or older to participate.

Please contact the project leader James Braddock '73 with questions. To volunteer, you will need to click here and follow the instructions provided to register. This can also be done on site the day of if need be. It may require you to create an account if you have not volunteered with the Cenral Texas Food Bank before. Additional safety details will be provided upon volunteer confirmation.

Brownsburg, IN (Hendricks County)
Our annual project with the B&O Trail Association will not take place this year due to ongoing and pending construction along the B&O Trail.

The B&O Trail Association has been very appreciative of our efforts over the past 8 years. When we started this partnership, the trail was mostly a concept with only 1200 feet constructed. By this time next year there will be more than 7 miles of contiguous trail corridor constructed with numerous connector trails crossing the B&O providing access to dozens of miles of community trails in Brownsburg, Avon and Plainfield.

Look for the return of our work with the B&O trail Associaiton in 2017 and beyond.

Carmel, IN

Carmel Parks Department
Hagan-Burke Trail
146th and Carey to the Monon Trail just north of 136th Street

Saturday, October 1
9:00am - completion

Project Description: We will be volunteering with the Carmel Parks Department to pick up trash and refuse along the Hagen - Burke Trail, which runs south-west from the corner of 146th and Carey to the Monon Trail just north of 136th Street.

Tools Needed/Special Instructions: Volunteers will gather at 9:00 AM and work until we reach the other end of the trail - approximately two miles. We will have cars to shuttle us back to our start point or we can walk. There is a Dairy Queen along the trail to bring some money for an ice cream break.

Spouses and children are encouraged to attend. Trash bags and bottled water will be provided.

Attendees are encouraged to wear comfortable Wabash clothing and wear work gloves. If you have a wagon or some kind of wheeled cart, feel free to bring it to haul the trash we collect.

After completing our work, we are going to be gathering at the Union Brewing Company, Monon Square Shopping Center, 622 S Rangeline Rd.

Project Leader:
Jim Dyer '83

Chicago, IL

Greater Chicago Food Depository
4100 W Ann Lurie Place
Chicago, IL 60632

Saturday, October 1
8:00am - 10:00am


Project Description:

We will be assisting The Greater Chicago Food Depository by repacking donated food and other products. A lot of the food they receive comes in bulk quantities and volunteers are scheduled to help break it down into more manageable sizes. In a repack session you might be sorting produce, looking over a shipment of bread, or repacking bulk dry goods (cereal, pasta, rice) into smaller quantities.

Tools Needed/Special Instructions:

All volunteers must register via the link below in order to partake in the event.

Greater Chicago Food Depository

Projects: Volunteers must be able to stand for up to 90 minutes while doing some light lifting and bending. Some seated positions are available depending on project. Lockers with locks are available on site, but please note that we are a tobacco-free and weapons-free campus.
Punctuality: Please plan on arriving at least ten minutes before the start of the session, so we can begin punctually. Once production is underway in the warehouse, we are not able to add late comers to the projects.
Dress Code: Long pants, covered shoulders, and enclosed shoes are required to work in the warehouse.
Jewelry: Some projects will require all jewelry to be removed. No visible facial piercing jewelry, other than in the ears, is allowed.
Minimum age: Volunteers must be 14 years old. Volunteers 14 or 15 years old must be accompanied by an adult over the age of 18.

Cincinnati, OH

People Working Cooperatively Inc.
4612 Paddock Rd
Cincinnati, OH 45229
www.pwchomerepairs.org/ohio

Saturday, October 1
8:00am - Noon

Project Description: Volunteers will assist with a project for the People Working Cooperatively organization. Exact details TBD.

Tools Needed/Special Instructions: Volunteers will meet prior to 8AM at the PWC headquarters and will will go from their after details, materials, etc are provided.

Please contact Mark Sutton '92 with questions or to volunteer.

Crawfordsville, IN

VOLUNTEERS NEEDED...

Project Description: 12 projects have been planned at organizations throughout the community and volunteers are needed. Alumni, family, friends, and students will work together to complete these various projects.

Please contact project leader Herm Haffner if you are available to help on October 1. Everyone will meet on campus at the Chapel first and then groups will disperse to other project locations. Please drive to the meeting site so each group can disperse to each designated project immediately.

Project Leader:
Herm Haffner '77

Dallas, TX

Reach4Hope Homework Center
2017 S. Ervay Street
Dallas, TX
www.reach4hope.com

Project Description: Assist Reach4Hope Homework Center with landscaping and building to beautify the property they moved into this time last year.

Tools needed/special instructions: Bring gloves for carpentry or gardening, since we'll be doing both. Hand tools and garden tools (trimming and planting expected) will also be a plus. Wear a Wabash hat and/or T-shirt if you have one.

Reach4Hope is pro-actively moving on the improvement of what had been a blighted area that is now on the edge of a major redevelopment near downtown Dallas. Making their property as attractive as possible makes them good neighbors, and the work they do inside the building makes them a major asset to the community surrounding the redevelopment, as inner city kids get help with homework, nutrition, and spiritual guidance through their programs.

Please contact Jim McDaniel '74 if you are able to participate.

The Wabash contingent will again invite John and Suzanne Trahan, founders of Reach4Hope, to join us for lunch and TWR at Lee Harvey's, a popular watering hole just blocks away. www.leeharveys.com

Project Leader:

Jim McDaniel '74
Denver, CO

Life Choices - Longmont

20 Mountain View Ave.

Longmont, CO 80501

Saturday, October 1

9:00am-12pm

Project Description: We will be doing clinic clean-up/grounds maintenance as well as service of their Mobile Clinic from 9:00-12:00 noon

Tools Needed/ Special Instructions: Arrive 8:30 a.m. to check in and get introductions.

After the event luncheon at Fox Hill Country Club

1400 Hwy 119, Longmont, CO 80504

Life Choices is a non-profit charity serving Northern Colorado for 25 years. They provide medical services and counseling to women with unplanned pregnancies. See more at LifeChoices.org.

Project Leader:

Detroit, MI

*****Project Cancelled for Saturday, October 1***** - Due to unforeseen circumstances Habitat has had to cancel our work day for this Saturday. It is hopeful we will be able to reschedule for a later date.

Habitat for Humanity
11124 Continental
Warren, MI
(north of 9 mile, West of Hoover)
Map

Saturday, October 1
9:00am - 4:00pm

Project Description: We will join an existing Habitat for Humanity build in southern Macomb County. It now appears the work to be completed will be interior painting. Please dress appropriately.

Tools Needed/Special Instructions: Volunteers 14 and up are welcomed. Volunteers who bring youth volunteers (14-17) will need to sign a waiver. Anticipated time from 9 a.m. – 4 p.m., and any amount of volunteer time that can be provided will be welcomed. Lunch will be provided. More details will follow when final. Wear Red for Wabash!

Please contact project leader Terry Hamilton '89 to volunteer.

Project Leader:
Terry Hamilton '89
586-246-7479

Evansville, IN

Tri-State Food Bank, Inc.
801 E. Michigan Street
Evansville, IN 47711

Saturday, October 1
9:00am - Noon

Project Description: Variety of things from stuffing backpacks, sorting donated food, or similar tasks.

Tools Needed/Special Instructions: Please contact Wayne Hentrup '84 with questions or to volunteer.
Fort Wayne, IN

Matthew 25 Health and Dental Clinic
413 E. Jefferson Blvd
Fort Wayne, IN 46802
www.matthew25online.org

Saturday, October 1
9:00am - 1:00pm

Project Description: We will be partnering with them to paint and clean their facility.

Tools Needed/Special Instructions: As the description above notes, we will be painting so please wear old clothing. Bring work/garden gloves as well if you have them.

Matthew 25 Health And Dental Clinic Fills A Critical Need In Our Community, Providing Free Medical, Dental, And Vision Services To Uninsured, Low-Income Residents Of Northeast Indiana And Northwest Ohio.

Please contact Kim Fenoglio using the link below with questions or to volunteer?

Franklin, IN

City of Franklin
Meeting location TBA

Saturday, October 1
Estimated Time - 9:00am - Noon


Project Description: Beautification (landscaping/mulching) a few locations in and around the City of Franklin.

Tools Needed/Special Instructions: Bring gloves for landscaping, rakes, pitchforks and shovels. Wear a Wabash hat and/or t-shirt.

Only twenty minutes south of Indianapolis, Franklin is an exciting blend of tradition and innovation. Franklin has a rich history, dating back to its founding in 1823. Franklin downtown boasts traditional main street shops, coffeehouses, and restaurants.

Please contact project leader Brandon Clifton '05 to volunteer.

Project Leader:
Brandon Clifton '05
317-397-7343

Grand Rapids, MI

Grand Rapids Veterans Home
3000 Monroe Avenue NE
Grand Rapids, MI 49505

Grand Rapids Wabash Day leaders will work this fall (2016) with staff from the veterans home to properly plan for an extensive project on the homes Nature Trail that will be completed in the spring (April or May 2017). Completing the work in the spring will allow the veterans occupying the home to fully enjoy the trail with recently comp;eted work rather than seeing the winter weather degrade the improvements made through the work of our Wabash alumni and friends.

Please look for more information to be distributed in early 2017 about the project details and we hope you can make time to participate in the project. Contact Justin Vander Iest '06 at justin.vanderiest@gmail.com with questions.

Greenfield, IN

Habitat for Humanity
Greenfield ReStore
1141 W US Hwy 40
Greenfield, IN 46140

Saturday, October 1
9:00am – 12:00pm

Project Description: While there may not be a Habitat House being built at the moment, that doesn't mean the organization isn't in need of help. The ReStore is a huge part of the Habitat for Humanity organization and we'll be helping them out with some day-to-day operations given they're run almost exclusively by volunteers. The tasks might include things like prepping merchandise, moving things on the showroom, and warehouse cleanup.

Tools Needed/Special Instructions: All safety equipment will be provided by the ReStore. There will be waivers ready to be signed upon arrival. Close-toed shoes and Wabash apparel are recommended. Dress appropriately for the weather – some of the storage is outside and we might be working out there, so be prepared.

We will gather at The Mug for lunch for those interested following projetc completion.

Project Leader:
Kenny Harris '13

Indianapolis, IN

Mapleton-Fall Creek Development Corporation (MFCDC)
Garden Park
3151 Park Avenue
Indianapolis, IN

Saturday, October 1
9:00am - 1:00pm

Project Description: The project is part of neighborhood development by Mapleton-Fall Creek Development Corporation, a nonprofit that helps preserve Mapleton-Fall Creek's old homes and ensure affordable housing in the area. The project will take three to four hours. Wabash volunteers will assist in the Garden Park, located at 3151 Park Avenue. The area was transformed from a dilapidated building to a community greenspace that includes a walking path, benches and a small stage. Right now the land is overrun with weeds. The Wabash volunteers will help prepare the land for community gardening, by making a lasagna garden. This will include laying down cardboard, newspaper, and compost over the area.

Project Leader:
Josh Tatum '03
317.426.1832

_______________________________________________________________________________

The Villages
55 Galeao Court
Indianapolis, IN 46241
(SW side of Indy just of SR 67)

Saturday, October 1
1:00pm - 4:00pm

Project Description: Approximately 15-20 volunteers will be needed to spread mulch around the building and on the outside Playground.

The Villages' Mission is to champion every child's right to a safe, permanent and nurturing home. They are committed to strengthening all families and embracing the dignity and diversity of every child, youth and family served. The Villages provides services such as foster care, adoption, child care, and early childhood development at this Indianapolis location.

To register to volunteer, contact project leader Kevin Benefiel '81.

Project Leader:
Kevin Benefiel '81

_______________________________________________________________________________

Second Helpings
1121 Southeastern Avenue
Indianapolis, IN 46202
secondhelpings.org

Saturday, October 1
9:00am - 1pm

Project Description: Wabash alumni, family, and friends will work in food preparation for Second Helpings from 9 a.m. to no later than 1 p.m.

Tools and Needs/Special Instructions: We need up to 10 volunteers. All volunteers must wear a shirt with sleeves (t-shirts are fine; tank tops are not), long pants, closed toe shoes that cover the feet, and a hat/scarf/bandana over the hair.

Each day, Second Helpings volunteers and staff rescue prepared and perishable food from wholesalers, retailers and restaurants -- preventing unnecessary waste. That rescued food is used to create more than 3,500 hot, nutritious meals each day that are distributed to 75 social service agencies that feed people in need. They also train disadvantaged adults for careers in the culinary field, helping to eliminate hunger at its source. We are considering having lunch on Wabash Day again this year on the premises.

Please contact project leader Bryan Roesler '06 with questions or to volunteer.

Project Leader:
Bryan Roesler '06

_______________________________________________________________________________

Broad Ripple Village Association (BRVA)
6323 Guilford Avenue
Indianapolis, IN 46220

Saturday, October 1
9:00am - Noon

Project Description: Wabash alumni, family, and friends will help clean areas in and around Broad Ripple. Volunteers will assist in a landscaping project to help spruce up the Village for fall, as well as prepare the side of a building for a new mural

Tools and Needs/Special Instructions: Work gloves and trash bags will be provided. Volunteers are encouraged to bring rakes.

Upon project completion, volunteers are encouraged to visit the Triton Tap Room (915 Broad Ripple Ave, Indianapolis, IN 46220) for TWR and college football.

Project Leaders:
Kyle Bender '12
Gregg Schipp '11

_______________________________________________________________________________

Fountain Square
(intersection of Shelby Street and E Pleasant Run Parkway N Drive)
Fountain Square IN 46203
(a McClure's gas station sits at the corner of this intersection)

Saturday, October 1
9:00am - 1:00pm

Project Description: Wabash alumni, family, and friends will help clean areas in and around Pleasant Run. Volunteers will help pick up trash and debris that collects and pollutes the waterway and surrounding watershed area. Specifically, attention will be given to the areas located under the bridge for the interstate.

Tools and Needs/Special Instructions: Work gloves, trash bags, and pickup sticks are essential. Shoes and clothing that can be gotten wet and dirty are recommended.

Project Leader:
Kevin Bennett '14

Kansas City, MO

Harvesters Community Food Network
3801 Topping Ave.
Kansas City, MO 64129
www.harvesters.org

Saturday, October 1
8:30am - Noon

Project Description: Sort and box food items to be distributed to food-distressed families

Tools Needed/Special Instructions: No children under age 6; closed toed shoes required; canned good/personal hygiene donations accepted the day of the event

Lunch afterwards (TBD)

Please contact Michael Cummings with questions or to volunteer.

Project Leader:

Michael Cummings '86
Nashville, TN

The Bellevue Middle School Edible Learning Lab, Inc.
(BELL Garden)
Bellevue Middle School
655 Colice Jeanne Road
Nashville, TN 37221-2899
https://edibleschoolyard.org/node/987

Saturday, October 1
9:00am - Noon

Project Description: We will be working to keep the summer crops well watered, weed free and continuing to produce; and we can certainly use your help! Bell Garden volunteers always have a great time, meet new people and usually learn something about gardening!

Tools Needed/Special Instructions: We have all the tools and used gloves for our volunteers but we do not have drinking water so please bring your own. Make sure to wear weather appropriate and dirt appropriate clothes and shoes, and you will probably want to spray yourself with some insect repellent! We are very family friendly and we have ADA accessibility to portions of the Garden.

We're hoping for 10-15 volunteers. In order to reserve the spot we must provide individual names and email addresses right away. Please RSVP by contacting project leader Tim Morrison '88 (by Monday 9/19 if possible). We'll have a great time working together as a team and getting to know/catch up with your Wabash family while serving the Middle Tennessee area. Please make time to join us.

Project Leader:
Tim Morrison '88

Noblesville, IN

Diabetes Youth Foundation
DYF Youth Camp
5050 E 211th St
Noblesville, IN
http://dyfofindiana.org/

Saturday, October 1
8:00am - Noon

Project Description: We will hopefully be able to build some additional seating for their campfire area (assuming we can find some gently used telephone poles), help secure their trash container from the raccoons, repair some screens before winter and maybe cut up a couple of trees that have been dropped.

Tools Needed/Special Instructions: All ages are welcome, bring gloves and suggest long pants, hammers, cordless drills with attachments like drill bits and screw heads, chain saws, rakes etc.

The DYF camp is located 1 mile north of SR 38 on Hinkle Road (Hinkle is on the north side of SR 38 and Moontown Road is on the south side of SR 38). Hinkle Road is the first intersection on SR 38 west of the Little Chicago/Hazell Dell stoplight. (must be careful using GPS as it will take you out to Morse Reservoir and get you lost)

As always we will have donuts and coffee for the early arrivals and post work libations will be at Barley Island.

Project Leaders:
Lee Clark '73
Greg Estell '85


Pittsburgh, PA

Eriks Janelsins '02
ejanelsins@oglebay-resort.com

South Bend, IN

Families First Center
605 N. Portage Avenue
South Bend, IN

Saturday, October 1
10:00am - Completion

Project Description: We will return to the Families First Center to engage in general maintenance and beautification projects.

Tools Needed/Special Instructions: Please plan to bring whatever lawn/garden tools (e.g., shovels/spades, hoes, rakes, gloves, etc.) you have. If necessary work requires other power tools or equipment, we will let you know.

We hope to get at least 10 volunteers to help complete projects. Spouses and children of an appropriate age are welcome to join us. Please contact project leader Peter Horvath '92 by Friday, September 23, if you are able to volunteer.

Project Leader:
Pete Horvath '92

St. Louis, MO

Lexington Elementary Youth Garden
(Gateway Greening)
5030 Lexington Ave.
St. Louis, MO 63115

Saturday, October 1
9:00am - Noon

Project Description: Exact project details to be determined, but is likely to involve mulching and pulling weeds.

Tools Needed/Special Instructions: The garden will provide the tools necessary to complete our tasks. We are told to wear long-sleeve clothing and close-toed shoes as well as bring water and work gloves.

Please contact Kenny Farris '12 for more details and to volunteer.

Valparaiso, IN

Memorial Opera House
104 Indiana Ave
Valparaiso, IN 46383

Sunday, October 2
5:00pm - 8:00pm

Project Description: Volunteers will help deconstruct the stage set immediately following their last show on Sunday.

Tools Needed/Special Instructions: Please contact project leader JJ Peller '13 if interested in volunteering. We will go next door to a local brewery (Figure Eight Brewing) for some socializing afterward (for anyone interested).

AND if anyone cannot make Sunday evening, but would like to participate in a volunteer project on Saturday, MOH needs ticket takers / welcomers / helpers for the Saturday night show.

"The volunteer duty would be to usher the production of Into the Woods. The duties would be to scan tickets, show people to their seats, minimal cleaning of the theater after the show, and otherwise welcoming the guests to the Memorial Opera House. Also, volunteers will be able to see the show free of charge. Arrival time would be 6:30PM until approximately 11:00PM."

If anyone wants to help as a volunteer for this opportunity Saturday night, please email Stacy Ruiz, Front of House Manager, at sruiz@mohlive.com

Project Leader:
J.J. Peller '13
(219) 309-5510

Washington, DC

Martha's Table
2114 14th St NW
Washington, DC 20009

Sunday, October 2
10:00AM - 1:00PM

Project Description: The nature of the work will consist of food preparation for later distribution by the organization to needy children and families throughout the District of Columbia.

Tools Needed/Special Instructions: Alums who drive in will find street parking near the site; however, public transportation to the U Street Metro Station on Green/Yellow line is recommended due to cost and availability of street parking. Please arrive in time to sign in with the receptionist just prior to our start time. All required materials will be provided on site - there is no need to bring anything but yourself and a willingness to help. A group lunch is tentatively planned to follow afterward. You can find out more information about Martha's Table at their website: www.marthastable.org.

Project Leaders:
Ross Dillard '07
Tim Flowers '06

Zionsville, IN

Morning Dove Therapeutic Riding Inc.
7440 West 96th Street
Zionsville, IN 46077

Saturday, October 1
8:30AM - 12:30PM

Project Description: Project leaders are still working through the specific details, but anticipate assisting with chores in the stables and completing some larger projects that Morning Dove has on tap for us this year.

Tools Needed/Special Instructions: If you can't commit to participating for the entire time, that's fine. Join us for a few hours whenever you can get there. If you can participate please contact Scott or Steve. They will send you a volunteer form that will need to be completed for each person that takes part in our WABASH Day project. Please take a moment to fill this out before you arrive on Saturday morning. Spouses, partners, friends, and children are welcome to participate. We recommend that children be 7 or older to volunteer.

Morning Dove's mission is to enrich the lives of individuals with physical, cognitive and/or behavioral challenges in the greater Indianapolis community through equine assisted therapies and activities. For more information, please visit their website at www.morningdovetrc.org. We have worked with Morning Dove for several years and they are a great organization.

Project Leaders:
Scott Benedict '98
Steve Badger '87