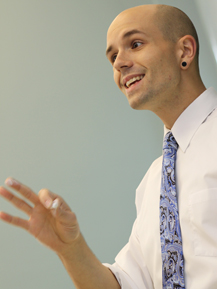 Eric Olofson
ASSISTANT PROFESSOR OF PSYCHOLOGY
Prof. Olofson came to Wabash in 2008 after completing his graduate studies in infant cognitive development at the University of Oregon. His dissertation investigated how 10- to 12-month-old infants interpret the actions of other people. Research he has conducted with Wabash students has investigated these abilities in preschoolers and, more specifically, in the extent to which parents have insight into the nuances of their children's social cognitive skills. More recently, however, his research has followed student interests. Since arriving at Wabash, he has supervised student research on a variety of topics, including father/child relationships, figurative language understanding in children with autism spectrum disorders, and increasing prosocial behavior in kindergarten classrooms, to list a few. His teaching interests are also varied, with recent courses on fatherhood (PSY 110) and a seminar on how children with autism interpret metaphors (PSY 320).
Prof. Olofson originally hails from the Seattle area, and proudly embodies many of its stereotypes: he adores seafood, cooks Phad Thai better than he can cook a steak, purchases local and organic whenever possible, uses Macs, is masochistically addicted to Seattle sports, is a microbrew enthusiast, and perhaps most predictably, roasts his own coffee and is intensely arrogant about it.
When he is not teaching he spends most of his time with his wife, Carrie, and his daughters, Soren and Sadie. He can frequently be found wherever there are athletic events on campus, either cheering on the Wabash teams or testing his modest athletic abilities against students in Ultimate Frisbee and racquetball.
EDUCATION
Ph.D. in Psychology, University of Oregon, June 2008
M.S. in Psychology, University of Oregon, May 2005
B.A. in Psychology and Philosophy, summa cum laude, Concordia College (Moorhead, MN), May 2002
RECENT COURSE OFFERINGS
PSY 101 – Introduction to Psychology
PSY 110 – Fatherhood
PSY 201 – Research Methods and Statistics I
PSY 202 – Research Methods and Statistics II
PSY 210 – Language Acquisition
PSY 220 – Child Development
PSY 320 – Research in Developmental Psychology
PSY 495 & 496 – Senior Capstone
Cultures and Traditions I and II
RECENT PRESENTATIONS
Olofson, E. L., & Duong, H.* (2011). Using affiliative priming to increase prosocial behavior in a naturalistic setting. Poster presented at the biennial meeting of the Cognitive Development Society, Philadelphia, PA.
Olofson, E. L., & Baldwin, D. (2008). Infants form gist-based action categories for pushing and pulling. Poster presented at the International Conference on Infant Studies, Vancouver, B.C.
Olofson, E. L. & Baldwin, D. (2007). Two-year-olds use novel verbs to construe human action as intentional. Poster presented at the biennial meeting of the Society for Research in Child Development, Boston, MA.
(*= undergraduate co-author)
RECENT PUBLICATIONS
Olofson, E. L., & Baldwin D. (2011). Infants recognize similar goals across dissimilar actions involving object manipulation. Cognition, 118, 258-264.