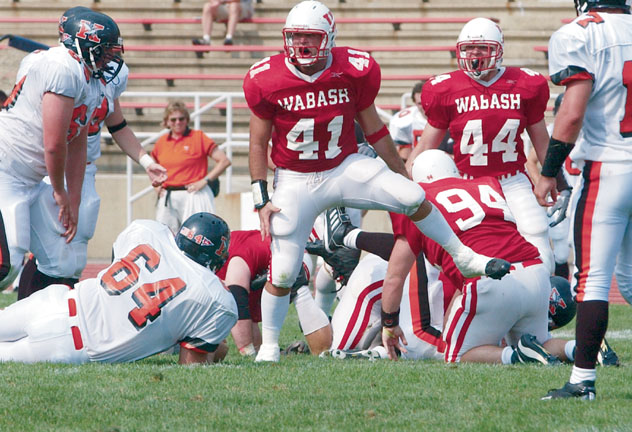 Works in Progress
Nate Boulais: Savoring the Moment
by Jim Amidon '87

Clad in white shirt, black pants, and black shoes to match his jet-black hair, Nathan Boulais blended into the crowd as he strode through the streets of Rome last spring. He's not Italian, but even friends found it hard to pick him out of the crowd of native Romans.

That sort of anonymity is precisely what Boulais, an English major, was looking for in a study abroad program. Back home at Wabash, he is the quintessential big man on campus.

"Perugia is a tiny town in Italy, but there are five universities there and 30,000 students from all over the world," he says, a smile creeping over his face. "There are fewer than 100 Americans in the whole city, so being there teaches you to adapt to the culture and make your own way."

Boulais speaks in romantic terms as he describes how he always had wanted to go to Italy to become immersed in Roman culture, art, history, and food. While there, he fell in love with Italian Renaissance art, the slower pace of life, and, most of all, the way Italians savor the moment.

His timing was pretty good—the U.S. was at war with Afghanistan—for observing the perceptions Europeans have about the United States. He acknowledges that the classic stereotypes are normal, but says it was good to get another perspective.

"They see us as self righteous and aggressive, which really didn't surprise me," he says. "But it was fascinating to go out to dinner with virtual strangers and just listen to the way they view the world."
The lover of all things Italian who once sang in the Wabash Glee Club, Boulais seems almost to have a dual personality. On the one hand, he talks about how professor Marc Hudson's introduction to Shakespeare class changed his life. On the other side is the fierce, hard-hitting, four-year starting linebacker on the Wabash football team.

Talking with Boulais conjures up all sorts of images. One wonders if, after slicing an opposing running back in half in a blurred moment of brutal violence, he offers the fallen player a cup of espresso and serving of tiramisu.

This soft-spoken scholar is Mr. Hyde on the gridiron. He locked up the HCAC's Defensive Rookie of the Year after a season in which his crushing style of play caught the attention of every conference coach. He continues to pile up huge numbers of tackles. He reads, reacts, and pummels opponents. There is no mercy when Boulais takes the field.

"I love football and I came here to be a part of a championship program," says Boulais, who prepped at perennial state championship contender Ben Davis High School in Indianapolis. He's brought that same intensity to the Wabash football program.

But he almost didn't come. He says he grew up more during the 20 minutes of his interview for a Wabash Lilly Fellowship than in any time of his life. He didn't win a Lilly, but it was a personal letter from President Andy Ford—received just a few days later—that sealed the deal.

"I felt awful after the interview," he recalls. "I was stuttering and stammering, and at the end, I was standing on my chair singing a song from a musical I was in. But then, to get a letter from the President telling me how much he admired my spirit told me that people here cared about me. I knew then that I could do well here."

Now he's a confident member of the Sphinx Club and Phi Delta Theta. He's doing things he wants to do and not those that others expect of him. "No regrets" seems to be his personal motto.

"At Wabash I've learned that you need to work hard and play hard," he says. "I think I've learned a lot about balance here; you have to have balance in life, and now I know what's important to me. Outside of football, I focus my time on the personal side of Wabash—developing relationships with friends, professors, and mentors has taught me how to address conflicts, adversity, and to get outside the box and look at the world in a different way."

That's a pretty philosophical outlook for a guy who loves eating speedy wide receivers for Saturday afternoon lunch. And he's looking forward to his senior season, especially with high expectations after winning the last seven games of the 2001 season.

"I think we have a great opportunity this year," he says, the boyish smile returning to his face. "We've got seniors who get along and have the chemistry and maturity to accomplish our goals. And beyond that, we've got a lot of guys who just love the game of football and who love each other. So what ever happens, happens."

Sounds as if Boulais learned a lot from his Italian semester, and seems perfectly content savoring each and every moment of his Wabash experience.
Return to the table of contents