All in the Family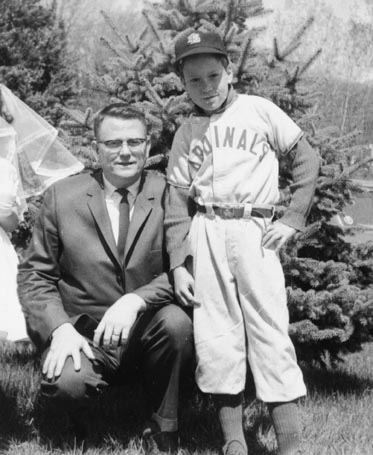 More than any other game, baseball is handed down through the generations like the best family stories.

by John Cunningham '78
I know baseball as a family tradition.
My father taught me about baseball, and his Uncle Harold taught him. I remember playing catch with my grandfather when he was in his 70s. More than any other sport, baseball is handed down through the generations like the best family stories.
There are a remarkable number of "baseball families" in the major leagues. Only a tiny percentage of aspiring players make the majors, yet at least 10 sons of former major leaguers are now playing in the "bigs." Aaron and Bret Boone, David Segui, Cal Ripken, "Junior" Griffey, Damon Buford, Moises Alou, Stan Javier, Robby and Sandy Alomar were their fathers' legacies this year. The Baseball Encyclopedia lists almost 50 father-son combinations since 1900, a figure without parallel in other sports.
A cursory count shows over 150 brothers who have played at the major league level. In fact, the first two players in alphabetical record are brothers—Hank and Tommy Aaron. In the late 1900s, there were nine relatives playing in the majors at one time. And in perhaps the greatest feat by baseball brothers, Joe and Phil Niekro, as well as Gaylord and Jim Perry, all combined for more than 1,000 pitching victories.
But for every major league baseball family, there are hundreds of us who just love the game. I am 44 years old, but I can still look at my father with the eyes of a child who went to his first pro game in 1963.
I remember holding Dad's hand during my first look at the field. I remember how Arnold Early and Dick Radatz combined to shut out Mickey Mantle and the Yankees.
I remember the awesome intense quiet when Mantle came to the plate, and the cheers when Radatz twice struck him out. Radatz was 6'7" tall, but he looked taller. They called him "the Monster." I remember it all, and I was seven.
My father is 78 now, and the injuries of his youth have come back to haunt him. The graceful stride of a 6'4" athlete has become a slow and careful walk, and his finger is so badly dislocated that it splays away from the hand at an angle, like a reckless child. But he still loves the game.
Several years ago, he and I traveled to a baseball field in the Pocono Mountains to take batting practice together. The field had a pitching machine operated by tokens. When Dad took his first swings in more than 25 years, an older gentleman looked at him and shook his head. My father stumbled and almost fell over, completely missing the first several pitches.
I offered to relieve him, but he waved me off. Then he got his timing. He drilled several pitches in a row into the outfield nets. It made me wish I could have seen him in his prime.
As a young man he'd played for a semi-pro team in the industrial leagues. He and his teammates have been forgotten by history, but his love for the game is still strong. And on this day in the Poconos, the older gentleman who had shaken his head at Dad's first swing came back and dropped more tokens in the pitching machine, just so he could watch.
Return to the table of contents