An American Werewolf from Wabash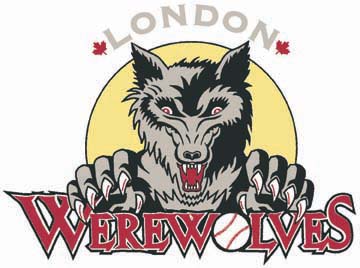 by Brent Harris
Director of Sports Information
Life has thrown Wabash alumnus Jim Kuhn '56 a few curve balls, but he's certainly taken advantage of his opportunities. He served in the Army after Wabash, then started his professional career with IBM. He's owned a marina in Fort Myers Beach, Florida, and has sold real estate.

But it was a phone call from his son in 1997 when his life became the stuff of childhood dreams—he purchased a professional baseball team.
Kuhn is the owner of the London Werewolves, a minor league baseball team located in Ontario, Canada and a member of the Frontier League.

"I never thought I would be involved in sports as the owner of a baseball team," Kuhn says. "My son, John, called me one day and said 'Dad, there's a great opportunity in Michigan to buy a minor league team.' I looked at it from a business standpoint, and it made good sense to get onboard. It wasn't something I always wanted, but it was a chance to share a love of baseball that my son and I have."

Kuhn bought the team when it was fading fast in the Kalamazoo, Michigan cityscape. A year later, he moved the team to Canada, where the team is thriving.
Kuhn serves as owner and his son as public relations director.
"There was a change in the city leadership in Kalamazoo, and suddenly I found it difficult to keep the team in Kalamazoo," said Kuhn. "While I didn't want to have to move the team, I was really left with no choice."

When Kuhn began looking for cities in which to move his new team, he looked to Canada for several important reasons.

"London had a baseball team for several years before we arrived, but that team had moved just a few years before we came into town," Kuhn says. "There was some skepticism as to whether we would be here for just year or for the long haul. We're starting to work through that, and now we're seeing some increased fan support."
Another key factor is that the Frontier League has no affiliation with Major League Baseball, which allows Kuhn the chance to run the team his way.

"I have complete control over our roster," says Kuhn. "I never have to worry about a player suddenly not being available because the parent club wants to move him up a level. That's not to say that we don't trade players, but as owners we make the trades that help us now. Other minor league teams may not know a trade is being negotiated until everything is finalized by the parent clubs."

Being part of an independent team doesn't keep a London player from making it to the big leagues. Several of Kuhn's former players are currently in Major League organizations.

"Another great thing about owning the team is the opportunity I have to give high school and college players from Canada to continue their baseball careers," he explains. "Sometimes the Canadian players are a little behind in some of their skills because of the shorter spring high school season. I've found that a player is a player—they all want to win, to get better as a player, and earn a chance to play at the next level."

Canadian baseball ownership has its disadvantages. Kuhn feels the same financial pressure of owning a team in Canada that has forced several other teams to move from the Great White North to the United States.

"That tax rate in Canada makes it difficult to own a team here," Kuhn explains. "If the team in Richmond, Indiana charges $5 for a ticket, they pay the five-percent sales tax to the state. If we sell that same $5 ticket, we not only lose on the exchange rate from $5 US to Canadian, we also pay a 15-percent tax to the government. Most of our suppliers are from the States, so we pay our bills in US dollars.

"I can certainly sympathize with other Canadian owners that have discussed moving teams to the States. But we're able to pay our bills and keep our players happy, so we're not considering leaving. Ontario is a great place, and I feel London is a great place for baseball. I think we'll be here for a long time."
While the financial issues remind Kuhn that it is a business venture, there is no doubting the enjoyment being the owner of Werewolves has given him.

"This has been quite an adventure," he said with a noticeable amount of pleasure in his voice. "It wasn't what I thought would happen after graduating from Wabash, but it's sure been fun getting here."
Return to the table of contents