Student Participants Call Moot Court
"Experience that Every Wabash Man Needs"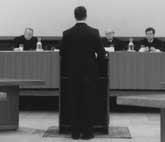 After five straight years of increased student and alumni participation, Wabash College's Moot Court competition has developed into an enriching experience for practically all those involved.
Wabash junior Brad Herrick called the alumni-sponsored event "an experience that every Wabash man needs."
One of a record-breaking 36 students enrolled in this year's mock-trial and preliminary sessions, Herrick told event co-organizer Professor of Speech David Timmerman that Moot Court "not only teaches the student about argumentative debate in a trial situation but makes them a better speaker overall, which can be applied to a number of situations whatever their career ambitions happen to be."
Senior Zak Judd's only regret was "that I did not participate in Moot Court earlier in my Wabash career," and The Bachelor features editor Mark Cevallos found the competition's question-and-response format conducive to a truer understanding of the law.
"It was only after I needed to come up with an answer or a point that I really understood the case," Cevallos said.
The students competed in preliminary rounds before pairs of 26 alumni attorneys and Wabash faculty serving as judges. The top four advocates went on to duel in the final competition, which pitted Chris Deufel '00 and David Weck '01 as appellants against Doug Dallmeyer '00 and Kevin Benson '01 before a panel of judges that included Indiana Court of Appeals Judge Carr L. Darden, Starke County Circuit Court Judge David Matsey '66, Northwestern University School of Law Professor Victor Rosenblum, and Wabash's own Professor of Religion Emeritus Hall Peebles 'H63. Deufel was honored with the Top Advocate Award.
"Moot Court tests the brains, nerves, and spirit of all the competitors, " Deufel reflected after his victory. "It encapsulates everything that epitomizes the Wabash man."
With such praise from students, what did the 1998 Moot Court have to offer the 20 Wabash alumni whose duties included helping to organize the event, writing this year's case, meeting with and offering tutorials to students, and presiding as judges in the preliminary rounds?
Long-time Moot Court participant Indianapolis attorney George Patton "always enjoys working with students and passing along to another generation the skills that Wabash College gave to me." "I particularly enjoy how we've been able to pick timely topics that the students enjoy arguing about and researching and that the alumni enjoy as well," Patton said. This year's case was based on the 1996 Hopwood decision concerning race as a considerable factor in college admissions procedures. "It's rewarding and fun to see how the minds of young men tackle the most difficult legal problems we can think of."
As for faculty, Timmerman sees the event as advancing one of the focuses of the speech department he chairs.
"The greatest benefit is the experience the students get in doing research for the construction of their own arguments," Timmerman said. "Students are also required to defend and advocate both sides. Since judges can interrupt students with questions at any time, students are forced to think on their feet and give clear, persuasive arguments."
While gaining such skills may be the most important teaching moment of the competition, several students cited spending time with alumni as the most enjoyable.
"I enjoyed the tutoring session because of the energy of the alumni," Phil Kesler '00 said, while sophomore Ben Vidic's favorite moment of Moot Court "was meeting with the alumni after lunch and discussing how Wabash has affected them.
"They shared their experiences of what law school was like and what classes to take here to best prepare for the law exams," Vidic said. Finalist Kevin Benson summed it up: "As a student who works with alumni often, I got to deal with them on a new and different level--it was both intriguing and challenging."