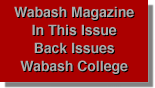 The Topics

1. Is the criminal justice system really making "remarkable progress in its ability to deter crime?"
2. Are there criminal treatment strategies that work?
3. Is crime a product of various social pathologies?
4. Is the criminal justice system unfair to African-Americans or other minorities?
5. Three Strikes and You're Out: Unexpected Consequences.
Related Articles in this Issue
U.S. Court of Appeals Judge Calls Guidelines "Political Sentencing."
Mike McCarty '90: Breaking the Cycle of Violence
Cleo Washington '85: Fighting "Vindictive Justice"
Todd Shellenbarger '87: Witness for the Prosecution?
A Judge's Defining Moment—Steve Heimann '77
Defending Church Burners and Taxpayers—Steve Riggs '81
The System's Fatal Flaw—Jim Bond '64


Magazine
Winter 1999

In early January, President Clinton announced statistics revealing a 5% decrease in the number of criminal acts across the country for 1998—the sixth consecutive decrease since 1991—and proclaimed "remarkable progress" in the effort to reduce crime. The President failed to mention that the decrease in crime coincides with six years of almost-unprecedented economic growth, a relative decline in the youth population often responsible for a large number of criminal acts, and a skyrocketing prison population.
Wabash Magazine wondered:
Do the President's statistics, plus Justice Department surveys citing an increased sense of public safety, truly represent an improvement in the criminal justice system's ability to deter crime; or is the economic boom masking weaknesses in the system that are likely to explode when the economy turns sour again?
To address this question and other issues facing America's criminal justice system, we linked up via e-mail a group of Wabash alumni with experience in the system for an online forum.
Moderated by Dean of the University of Seattle Law School Jim Bond '64, the panel included judges, a prosecutor, law-enforcement officers, a probation officer, and a corrections official, all bringing different perspectives to the complex problems of crime in America.

The topics discussed are listed on the left. To see what the panelists said, click on Read the responses.
The Moderator
Jim Bond '64
Dean, University of Seattle Law School
The Panelists
Lt. Richard Moak '69
Los Angeles County Sheriff's Department
Keith Nelson '71
Supt., Illinois Dept. of Corrections Training Academy, Springfield
Jim Parker '65
Probation Officer
California
Mike McCarty '90
Domestic Violence Consultant/Former Detective
Nashville, Tenn.
Hon. Steve Heimann '77
Bartholomew County Circuit Court Judge,
Indiana
Todd Shellenbarger '87
Deputy Prosecutor
Porter County, Indiana
Cleo Washington '85
Attorney, Indiana State Senator