Presidential Search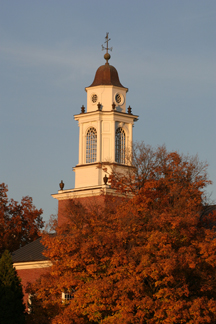 The Search for the President of Wabash College
The Board of Trustees announces the search for the 16th president of Wabash College and invites nominations and applications for this uncommon opportunity for strong, vibrant, and engaged leadership. At a time when economic realities are testing the agility of all higher education, Wabash offers a clear message of confidence based on solid self-understanding and a desire to excel as a national liberal arts college.
As one of the few remaining colleges for men in the United States, Wabash takes young men seriously and challenges them to reach their full potential. According to Loren Pope's best-selling book, Colleges That Change Lives:
"Anyone worried about the future of young American men should visit Wabash College for a hefty dose of hope. Elsewhere, there's plenty of (merited) discussion about the losing battle for male college students, as women enroll and graduate at higher rates than men—and the gap is growing.
"Wabash makes even a casual observer wonder if perhaps one answer is single-sex education… It is a place that turns young men with even mediocre high school records into clear-thinking men who lead the life of the mind and who have the confidence to take risks. And they go on to become high achievers and contributors to society at a rate that puts very selective and famous colleges to shame."
The Wabash presidency becomes available following Dr. Patrick E. White's decision to step down after a successful seven-year tenure, during which there was a deep commitment to the liberal arts and the education of undergraduate men, as well as a strengthening of the base from which the College's next president will be asked to plan strategically, manage with fiscal insight, enhance quality, build the resource base, and sharpen the College's competitive edge.