2017-2018 Democracy Fellows
Liberal Arts Plus
2017-2018 Democracy Fellows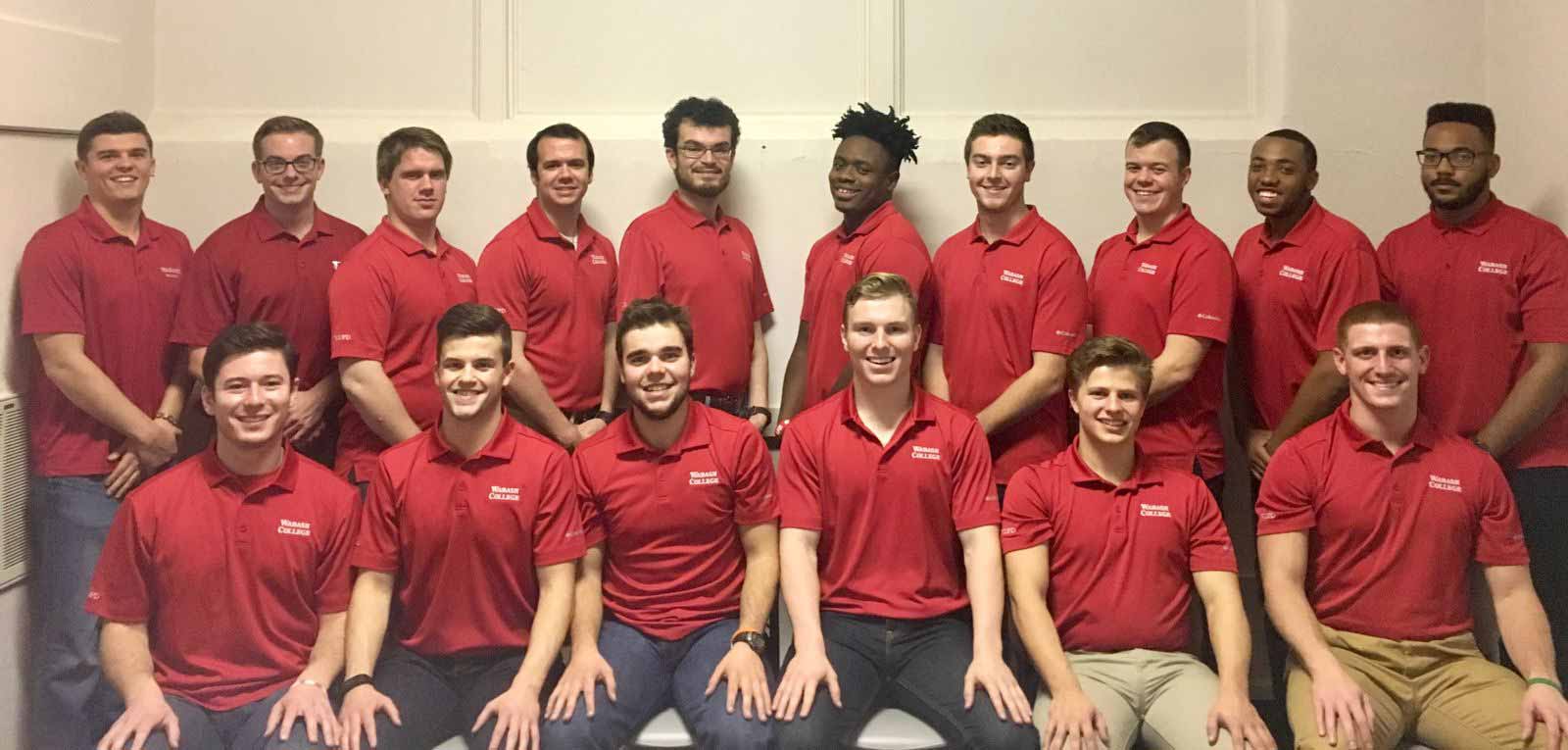 The Democracy Fellows program provides student leadership training to assist the work of the WDPD initiative and improve student engagement. The fellows are sophomore, junior, and senior students selected for a competitive fellowship that engages students in public problem solving through productive civic discourse. The Democracy Fellows function as consultants on designing and facilitating productive public conversations. Students present their research at Wabash College and have the opportunity to apply to present their research at regional and national conferences. In addition to collaborating with the faculty in WDPD during the academic year, Democracy Fellows have opportunities in summer months to collaborate with faculty on research projects, or intern with community and business organizations.
2017-2018 Senior Democracy Fellows
John Janak '19 returns to WDPD for his second year in the initiative, this time as a Senior Democracy Fellow. Originally from Zionsville, Indiana, he spends his time majoring in Rhetoric and minoring in Biology. He became interested in Wabash Democracy & Public Discourse initiative after taking the deliberation course during his freshman year with Professor Sara Drury. Growing up, John always tried to make a strong difference for the people and communities around him. He is extremely enthusiastic about this upcoming year. On campus, John is a proud member of the Sphinx Club, a brother in the Tau Chapter of Beta Theta Pi, and a representative in Sons of Wabash. John will be spending the Spring of 2018 in Cape Town, South Africa, where he hopes to immerse himself in another culture and spread his passion behind the importance of deliberation and free speech. After graduation, he plans to attend law school to focus on environmental public policy.
Ben Johnson '18 is an English major at Wabash College with minors in economics and rhetoric. He grew up in Hobart, Indiana, and is an alumnus of Hobart High School. Along with being a Democracy Fellow, Ben is also a brother of the Sigma Chi Fraternity and occasionally writes for The Bachelor. As a democracy fellow, he has worked with a number of organizations including the Indiana Public Health Association and Drug Free Montgomery County Coalition. This summer he interned at OneAmerica Financial Partners and hopes to pursue a career in business upon graduation. When he's not studying or working with the Democracy Fellows, Ben loves hiking, reading, and watching soccer, his new favorite sport.
Michael Lumpkin '18 is a political science major with minors in economics and Spanish. Michael hails from Muncie, Indiana. This will be Michael's third year in the initiative, and he is most excited to continue building upon projects and relationships both within the Crawfordsville Community and around the United States. Michael especially enjoys having the opportunity to spread the name of Wabash College in association with free speech and democracy, two vital components of a healthy society that are always a necessity to the continuance of a free society. On campus, Michael is involved in Wabash College Dance Marathon, the Sphinx Club, and Sons of Wabash. Following graduation, Michael plans to pursue a Fulbright Fellowship and then attend law school.
Deonte Simpson '18 returns to the initiative for his third year. He is a rhetoric major and business minor. This year, Deonte takes on the role of a Senior Fellow. He remains motivated to empower communities and help other Democracy Fellows with their professional development. In the summer of 2017, Deonte was able to showcase his strong interpersonal skills as an Executive Team Leader Intern for Target in Tempe, Arizona. He attributes much of the ability to connect with others to his experiences as a Democracy Fellow. Outside of the initiative, Deonte is a brother of the Malcolm X Institute of Black Studies student organization, and he is a member of the Wabash football team. Following graduation, he wants to pursue high-level management positions.

2017-2018 Democracy Fellows
Waleed Elrefai '20 is in his first year with the initiative and is a double major in political science and Spanish. Waleed is excited to get the opportunity to have hands-on interaction with the democratic process as a Democracy Fellow. He also feels that the initiative will assist in his professional development and leadership skills. This year, he is serving as the director of campus events for Wabash College Dance Marathon. After graduation, Waleed hopes to do non-profit work in Central America before attending law school.
Artie Equihua '20 is a biology major with minors in chemistry and German. Artie is originally from Crown Point, Indiana, and he initially became interested in WDPD after participating in a deliberation his freshman year. This will be his first year in the initiative, and he is most excited about using communication in order to assist community partners in finding solutions to pressing issues. Along with serving as a Democracy Fellow, Artie was also engaged in community-wide communication and education through his internship with the Montgomery County Health Department. After graduation, Artie plans to applying to medical school in hopes of becoming a physician.
Charles Frey '19 is excited to be in his first year with the initiative. A junior hailing from Frankfort, Indiana, Charles is majoring in English Literature and minoring in Education and French. He has organized service events as the Philanthropy Chair of Phi Gamma Delta and as Vice President of Service for Alpha Phi Omega. Along with philanthropy and service, he is a staff writer for the student newspaper, The Bachelor. Charles joined WDPD because of the impact deliberation can have in communities of any background, and sees the potential it has for youth empowerment, engagement, and voice. He aspires to join Peace Corps, Teach for America, or a Teach Plus Fellowship post-graduation.
Jaleel Grandberry '19 returns to the WDPD team for his second year. Jaleel is a rhetoric major and a creative writing minor. After taking a public discourse class and getting a preview of the change a public deliberation can create, Jaleel was eager to become a part of the initiative. Born and raised on the south side of Chicago, Jaleel has a passion for sports and entertaining. After Wabash, he plans on entering the field of sports journalism, while also starting his own organization that focuses on athletic training and civic engagement. He hopes to one day become a big time host of a sports talk show. Over the summer, Jaleel was an intern for the Wabash liberal arts immersion program. This program brings in a select amount of incoming freshman over the summer to start their Wabash education early with a rigorous English class. During the month-long program, Jaleel served as a teacher's assistant, writing tutor and mentor to the students. Jaleel is also a member of the Wabash football team, member and Chairman of the Malcolm X Institute of Black studies, and works with Brent Harris in the broadcast and journalism department.
Walker Hedgepath '19 is excited to be returning for a second year of service as a Democracy Fellow. Born and raised in Munster, Indiana, Walker is a history major with minors in Asian studies, rhetoric, and education triple minor. Outside of class, Walker also serves as the Vice President of the International Students Association, sings in the Wabash College Glee Club, and participates in Phi Alpha Theta, Circle K, and College Mentors for Kids. Last year, Walker had the privilege of attending conversations ranging from a community health improvement event with the Montgomery County Health Department, a global health conference at Purdue, and even discussing law enforcement in Gary, Indiana. These experiences have solidified Walker's commitment towards bringing together people from across the world and understanding new perspectives. He spent this past summer studying Khmer (Cambodian) language at the University of Wisconsin-Madison and will be studying abroad in Cambodia this spring. Walker plans to attend graduate school for history in southeast Asian studies.
Jack Kellerman '18 is a pre-law student pursuing a double major in political science and rhetoric. He grew up in the northeast of Indianapolis, but has family in the local community surrounding Wabash College. Civic engagement has been a big part of Jack's life. From involvement in his local church to an active career in student government in secondary and post-secondary school, he has continued his passion to help others. Jack recently completed his term as the Wabash College student body president and the opinion editor in the school newspaper, The Bachelor. During his sophomore year, Jack worked with the Attorney General of Indiana to promote civic engagement and civic health, and he traveled to Delaware with other Democracy Fellows to facilitate difficult conversations over issues such as race. This is Jack's third year as a Democracy Fellow, and he has also worked with Dr. Sara Drury on deliberation research, and with a law firm in downtown Indianapolis as an office assistant.
Ahad Khan '19 joins the initiative as a first-year fellow. Hailing from Lahore, Pakistan, he is a junior majoring in political science and minoring in religion. Issues pertaining to global politics and religious freedoms captivate Ahad's interests, and he believes that a robust sense of community engagement is the cornerstone of successful democracy. On campus, he is involved with The Bachelor, the office of Career Services, the pre-law society, student senate, and Sons of Wabash. Ahad also chairs the Diversity and Inclusion Committee. He is on the pre-law track and aspires to go to law school after Wabash. Last summer, Ahad worked with a non-profit in South Bend, Indiana as a consulting intern. There he worked closely with the city government and the community to resolve issues facing citizens' daily lives.
Michael Krutz '18 returns to WDPD for his second year in the initiative after recently studying abroad in the United Kingdom. Michael is a Senior from Valparaiso, Indiana, majoring in economics with a minor in rhetoric. On campus, he is also involved as an active member of Sons of Wabash, the Wabash College Investment Club and is the former Philanthropy Chairman of his fraternity, Beta Theta Pi. Michael has facilitated conversations on campus, in local communities and has presented at the Global Liberal Alliance Civic Engagement conference. Michael recently worked as a summer analyst for Goldman Sachs in the Risk division of the investment bank.
Marlon Lewis '20 is a first-year Democracy Fellow currently studying art and rhetoric. After a brief module the summer before his freshman year exposed him to the power of rhetoric, he was excited to be apart of the initiative. Marlon was born and raised on the Southside of Chicago, and had had a passion for learning about everything the world has to offer. Marlon is also a brother and the Treasurer of the Malcolm X Institute of Black Studies. After graduating from Wabash, Marlon plans on pursuing a career as an artist and lending his skills to the underrepresented and those in need.
David Segovia '19 joins the WDPD team for his first year. Born from Chicago, Illinois, he is majoring in political science with a minor in rhetoric. He became interested in Wabash Democracy & Public Discourse after taking the deliberation course with Professor Sara Drury. David has always been passionate about making a difference in his community. In addition to serving as a Democracy Fellow, he is also involved on campus as a brother of the Malcolm X Institute of Black Studies, a member of the Sphinx Club, and a member and former president of Unidos Por Sangre. David is also an active brother in the Alpha Alpha Chapter of Tau Kappa Epsilon, where he serves as the Academic Chairman. After Wabash, David plans to join the Navy JAG Corps' Student Program and attend law school, with his goal of becoming a civil rights attorney. David believes that the initiative can help him gain valuable skills working with a team to help communities talk about difficult issues and work through them together.
Tanner Skeel '19 is in his second year with the initiative. He is a rhetoric major with a minor in business. Tanner feels that the initiative can help him immensely in regard to his professional and social development. He believes that working as a team to help communities is one of the greatest benefits of being a Democracy Fellow. Last summer, Tanner worked with a group of professional inspectors to assess storm damage for insurance companies. He gained valuable experience working as a team and believes that can help him while working with WDPD. In the Spring semester of 2018, Tanner will be interning with the U.S. Marshals Service, Southern District of Indiana, in Indianapolis. Tanner serves as the house manager for Lambda Chi Alpha. Alongside that, he plays quarterback for the Wabash College Little Giants football team.

Democracy Fellows Alumni
Tyler Andrews '15 – political science and art major
Max Nguyen '15 – political science and Spanish major
Cole Crouch '17 – rhetoric major
Greg Sklar '17 – rhetoric major
Kyle Stucker '17 – rhetoric major
Alex Wimber '17 – rhetoric major