2016-2017 Democracy Fellows
Liberal Arts Plus
2016-2017 Democracy Fellows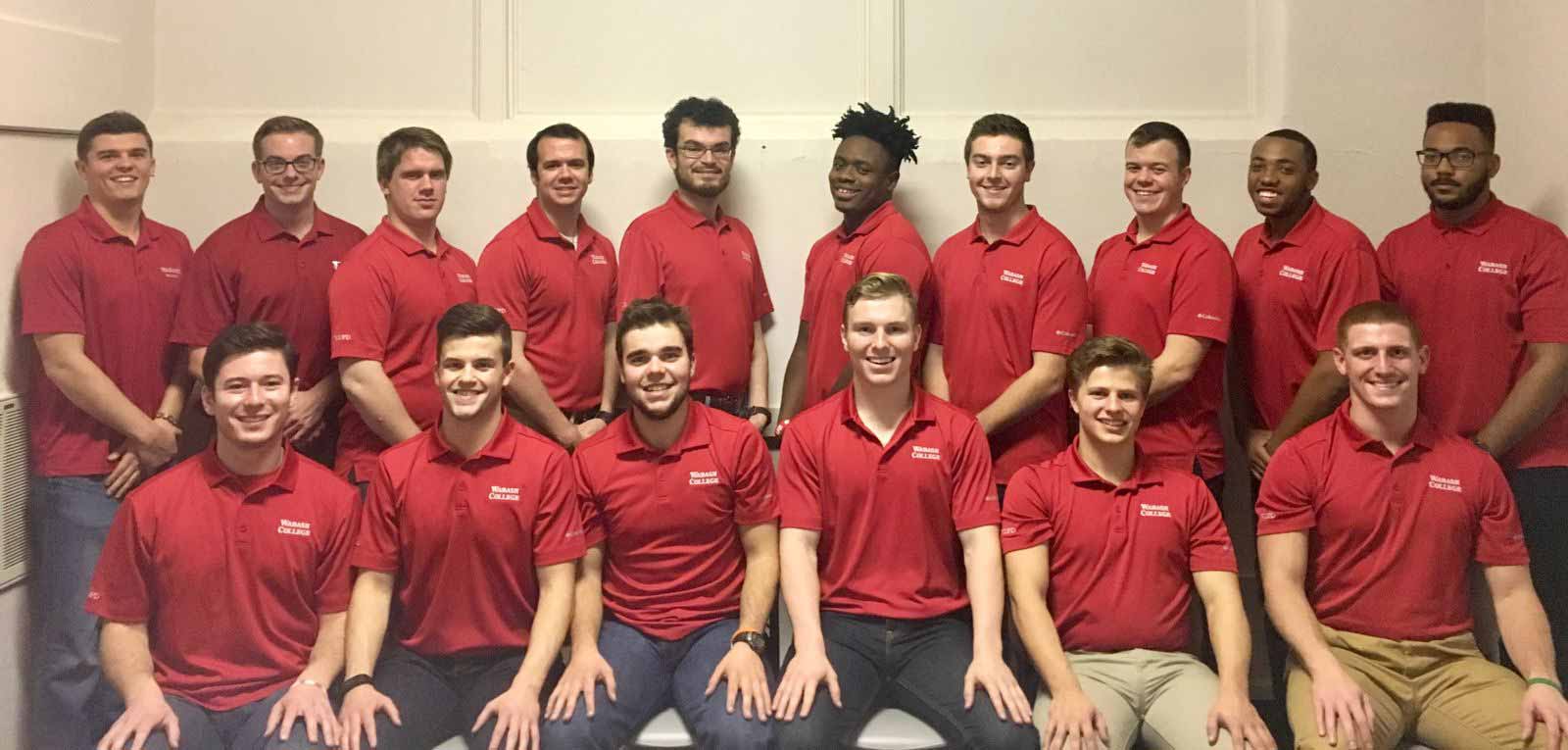 The Democracy Fellows program provides student leadership training to assist the work of the WDPD initiative and improve student engagement. The fellows are sophomore, junior, and senior students selected for a competitive fellowship that engages students in public problem solving through productive civic discourse. The Democracy Fellows function as consultants on designing and facilitating productive public conversations. Students present their research at Wabash College and have the opportunity to apply to present their research at regional and national conferences. In addition to collaborating with the faculty in WDPD during the academic year, Democracy Fellows have opportunities in summer months to collaborate with faculty on research projects, or intern with community and business organizations.
2016-2017 Senior Democracy Fellows
Adam Burtner '17 returns to WDPD for his third year in the initiative, this time as a Senior Democracy Fellow. He is a senior from Brownsburg, Indiana, majoring in Rhetoric and minoring in Political Science and Religion. Adam has worked for the governments of Brownsburg and Indianapolis, on multiple campaigns, for lobbying groups, in HR consulting, and has facilitated conversations on and off campus. Adam also completed a summer research internship with Professor Sara Drury and this past year was the Wabash Freshman Orientation Manager. Adam is the founder and president of the ONE Campaign at Wabash and the No Labels Wabash Club, Vice President of the College Republicans, Vice President of Sons of Wabash, a political opinion writer for The Bachelor, and a member of the Pre-Law Society. After graduation, he plans to attend both law school and public affairs school with the hopes of entering public service.
Isaac Empson '17 returns to WDPD as a Senior Democracy Fellow. Originally from Peoria, Illinois, he spends his time at Wabash majoring in Biology with minors in both Economics and Chemistry. After early exposure to deliberation his freshman year, he remained involved by volunteering for events and forums that WDPD hosted. Since becoming a Democracy Fellow in 2015, he is always impressed by the passion that participants show for their community when he facilitates conversations. By giving interested citizens an opportunity to voice their ideas, not only does it increase community investment, but it also hosts a broad range of perspectives that may bring forward a solution never before considered. His favorite conversations include the genetic engineering deliberation, the University of Delaware workshop and race conversation, and the mental health dialogue. He brings those perspectives and skills from WDPD to Beta Theta Pi, the student senate, chemistry club, and eventually dentistry, which he hopes to practice.
Michael Lumpkin '18 is a Political Science Major and an Economics and Spanish Double Minor. Michael hails from Muncie, Indiana. This will be Michael's second year in the Initiative, and he is most excited to continue building upon projects and relationships both within the Crawfordsville Community and around the United States. Michael especially enjoys having the opportunity to spread the name of Wabash College in association with free speech and democracy, two vital components of a healthy society that are and will continue to be under attack. On campus, Michael is the President of Wabash College Dance Marathon, a Social Chair at his fraternity Beta Theta Pi, a member of Wabash's Sphinx Club, and a member of the Sons of Wabash. Michael will be spending the Spring of 2017 in Valencia, Spain, where he hopes to further develop his Spanish language skills and use them to promote the importance of deliberation, free speech, and finding your voice.
Wesley Virt '17 is a senior from Greenfield, Indiana, who is majoring in Financial Economics and minoring Rhetoric. At Wabash, Wesley is very involved in strengthening the relationship between Wabash College and Montgomery County. He has initiated many new philanthropy events within his previous role of Alpha Phi Omega President and his current role of the Phi Gamma Delta Philanthropy Director. Outside of Wabash, Wesley is passionate about improving the education system through deliberations with teachers, students, and administrators. He appreciates hearing all of the opinions and viewpoints that deliberation brings to the table, and believes that through deliberation, wicked problems can be effectively addressed. Last year, Wesley was able to plan a facilitation for the City of Crawfordsville around the Pike Street Pocket Park, as well as travel to the University of Delaware with the WDPD initiative.
2016-2017 Senior Democracy Fellows
Vincent Bowden '17 returns to Wabash Democracy and Public Discourse as a second year fellow. He is from Jamestown, Indiana, and is majoring in Rhetoric and minoring in Economics. Vincent returns to the program this year after completing many projects within the WDPD last year. His favorite WDPD projects include holding the mental health deliberation on Wabash's campus and commuting to Fort Wayne to hold a conversation at the local university. Vincent enjoys the work that WDPD is doing within communities, and is excited about the vast changes that can come of the initiative's work. At Wabash, he is also plays football, attends a number of different clubs, and hangs out with his friends. Vincent hopes to continue his impact with the fellowship and ultimately effect more change in the area and surrounding communities. After college, he hopes to find a job in human resource and continue to practice the techniques that he has acquired through the WDPD.
Anthony Douglas '17 is a senior pre-medical student majoring in psychology with a biology and chemistry minor. Originally from South Bend, Indiana, he became involved in civic engagement activities immediately, serving as a facilitator for community conversations in a dialogue on substance abuse and other campus conversations. Anthony is returning for his third year as a Democracy Fellow. In addition to his commitment with the WDPD initiative, he is also a member of the Sphinx Club, Sons of Wabash, Malcolm X Institute, Psi Chi Honor Society, Alpha Phi Omega, and an Orientation Mentor. This past summer, Anthony spent his time working in Appalachia, in Leslie County, Kentucky, and served in several different fashions learning about rural medicine. After Wabash he plans to attend medical school with a specific interest in emergency medicine, and non-for-profit startups to address sociological factors affecting recurrent health ailments.
Jaleel Grandberry '19 joins the WDPD team for his first year. He is a rhetoric major and creative writing minor. After taking a public discourse class, and getting a preview of the change a public deliberation can create, Jaleel was anxious to become a part of the initiative. Born and raised on the south side of Chicago, Illinois, Jaleel has a passion for sports and entertaining. After Wabash, he plans on entering the field of sports journalism, while also coaching football. He hopes to one day become a big time host of a sports talk show. Over the summer, Jaleel was an intern for the Wabash Liberal Arts Immersion Program. This program brings in a select amount of incoming freshman over the summer to start their Wabash education early with a rigorous English class. During the month long program, Jaleel served as a Teacher's Assistant, writing tutor, and mentor to the students. Jaleel is also a member of the Wabash football team, member and PR chair of the Malcolm X Institute of Black Studies, and works with Brent Harris in sports broadcasting and journalism.
Walker Hedgepath '19 is thrilled to be joining the initiative for the first time. Born and raised in Munster, Indiana, Walker is contemplating becoming a History major and Rhetoric minor. Outside of class, Walker also serves as the Vice President of the International Students Association, sings in the Wabash College Glee Club, and participates in Alpha Phi Omega, Model United Nations, and Parliamentary Union. Given that he is just starting in the initiative, Walker is excited to learn more about the mechanics of productive public discourse and create positive change within the Wabash College, Crawfordsville, and Indiana statewide communities. This past summer, Walker served as an intern with the Thorntown Public Library and Heritage Museum cataloging historical artifacts into a database and developing new marketing strategies to widen the Museum's audience. His past experiences and new skills to be gained from the initiative will be instrumental in helping him decide between his goals of either becoming an attorney or entering into graduate historical research.
John Janak '19 is a sophomore from Zionsville, Indiana, majoring in Biology and double minoring in Spanish and Rhetoric. He became interested in Wabash Democracy and Public Discourse after taking the deliberation course during his freshman with Professor Sara Drury. Growing up, John always tried to make a strong difference for the people and communities around him. He is extremely enthusiastic for this upcoming year as this is his first year with the WDPD team. On campus, John is a proud member of the Golf Team, a brother in the Tau Chapter of Beta Theta Pi and a writer for The Bachelor. After graduation, he plans to attend law school and business school.
Ben Johnson '18 is a junior English major at Wabash College. He grew up in Hobart, Indiana, and is an alumnus of Hobart High School. Along with being a Democracy Fellow for the WDPD, Ben is also a brother of the Sigma Chi Fraternity and a staff member of the school newspaper, The Bachelor. He serves as philanthropy chair and news editor respectively. When he's not studying or working with the Democracy Fellows, Ben enjoys nature hikes, reading, and being with his family and friends. After college, Ben plans to work in business for a couple years then pursue his education further in either law. His ultimate goal is to go into labor law.
Jack Kellerman '18 is a pre-law student pursuing a double major in Political Science and Rhetoric. He grew up on the Northeast of Indianapolis, but has family in the local community surrounding Wabash College. Civic engagement has been a big part of his life. From involvement in his local church to an active career in student government in secondary and post-secondary school, he has continued his passion to help others. Jack currently serves as the student body President and the opinion editor in the school newspaper, The Bachelor. As a sophomore fellow, Jack worked with the Attorney General of Indiana to promote civic engagement and civic health, and also traveled to Delaware with a group of fellows to facilitate difficult conversations over issues such as race. This is his second year as a Democracy Fellow.
Jack has also worked with Dr. Sara Drury on deliberation research, and worked as an office assistant in law firm located in downtown Indianapolis.
Michael Krutz '18 is a junior from Valparaiso, Indiana, majoring in Economics with a minor in Rhetoric. In addition to WDPD, he is also involved on campus as a treasurer within the Wabash College Student Senate and a member of Sons of Wabash and the Investment Club. Michael is also an active brother in the Tau Chapter of Beta Theta Pi, where he serves as the Philanthropy Chairman. After taking a course in deliberation, he became intrigued how it can be used as a tool to make a profound impact in local communities and improve effective communication in business. Michael has interned for a Fintech Consumer Finance Startup as well as a Boutique Financial Services and Investment Firm. After Wabash, Michael intends to pursue a career in finance. He will be studying abroad in the spring 2017 semester in the United Kingdom.
Blair Littrell '17 hails from Kokomo, Indiana and is a Political Science major and History minor. His interest in WDPD was sparked by the positive impact that the initiative has had on campus and in the Crawfordsville community, as well as the initiative's commitment to the First Amendment. As a first year Democracy Fellow, he is excited about the potential of making a positive impact both on and off campus by helping others talk about difficult issues and work through them together. Along with his studies and his involvement in the WDPD, Blair serves as the Vice President of Fundraising for the Wabash chapter of College Mentors for Kids, is the Chapel Coordinator for the Sphinx Club, and is a brother of Phi Kappa Psi. After spending last summer interning with the tech start-up PoliticalBank, he plans on pursuing a career in business while remaining active in the politics of the liberty movement.
Mac Norton '17 is a double major in Rhetoric and Spanish. He first became interested in the Wabash Democracy and Public Discourse initiative after taking a deliberation course his freshmen year with Professor Drury. He has been involved with the Democracy Fellows since their first year, and has experience leading and analyzing various deliberations and forums. Mac enjoys every aspect of Democracy Fellow work, and takes most pride in helping groups or organizations handle issues through deliberation so that they may begin to think about steps to solvency. After graduation he plans to attend law school, and pursue a career in music law and management.
Tanner Skeel '19 is in his first year with the initiative. He intends on majoring in Rhetoric with a minor in Business. Tanner feels that the initiative can help him immensely in regards to his professional and social development, and that working as a team to help communities is one of the greatest benefits of working with the initiative. Last summer, Tanner worked on a team of professional roof inspectors to assess damage for insurance companies. He gained valuable experience working as a team and believes that can help him while working for WDPD. Tanner serves as the kitchen manager and assistant house manager for Lambda Chi Alpha. Alongside that, he plays quarterback for the Little Giants football team.
Deonte Simpson '18 returns to the initiative for a second year. He is a Rhetoric major and Business minor. Deonte feels that he took a great leap in his professional develop by joining the Democracy Fellows, and he returns for the love of the work and to help the new members grow just as he did. He also discovered a strong interest in marketing last year, and he took part in marketing and content creation as an intern for Global Access Point in South Bend, Indiana, during the summer of 2016. Outside of the initiative, Deonte serves as Chairman of the Malcolm X Institute of Black Studies student organization, and he is a member of the Wabash football team. Following graduation, he wants to begin working in either marketing, PR, or communications.
Democracy Fellows Alumni
Tyler Andrews '15 – Political Science and Art major
Max Nguyen '15 – Political Science and Spanish major
Cole Crouch '17 – Rhetoric major
Greg Sklar '17 – Rhetoric major
Kyle Stucker '17 – Rhetoric major
Alex Wimber '17 – Rhetoric major