Special Events and Conferences
Pastoral Leadership
Special Events and Conferences
ECUMENICAL LUTHER CONFERENCE
---
Wabash College, 11-13 August 2014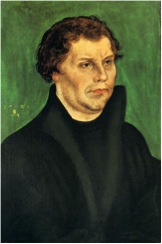 In anticipation of the 500th anniversary of the Reformation, the purpose of this ecumenical gathering is to address the theological and church-historical legacy of Martin Luther (1483-1546). The conference brings together notable theologians and church historians from a variety of Christian traditions, as well as several Lutheran respondents. The one conviction shared by the participants is that Luther, as a doctor of the Church, is a voice worth hearing even in the very diverse Christian landscape of today, and a voice that likewise remains in need of being addressed, even from the vantage point of the early 21st century. This said, the very make-up of our gathering is witness to the fact that we do not believe Luther can be heard as a single voice; nor do we imagine or expect that Luther can be addressed from a single perspective. Our goal, rather, is to reflect on Luther's legacy as refracted, vigorously engaged, received, contradicted, and/or transformed.
What do we hope to achieve? Given the ecumenical scope, we certainly hope to encourage mutual understanding and appreciation between other Christian traditions and those that claim Luther's legacy. But it is our hope that doing so through a specific focus on the Wittenberg reformer himself, his life and his thought, will render more complex the reciprocity of ecumenical encounters. Even if Luther should have nothing surprising to teach all of us, then perhaps he at least still challenges all of us to constructive engagement with our own Christian identities and the broader Christian tradition. The Lutherans, for one thing, may come to understand themselves better, and perhaps even more self-critically, through other traditions' engagement with Luther. And in the process they may come to appreciate those traditions, not least through the way those traditions lay claim to Luther or respectfully push back. We trust similarly complex understanding of self and the other can be gained by non-Lutherans. To see Luther both as a voice in the church catholic, a voice to be reckoned with, and as a forerunner, for better and for worse, of another tradition that claims his legacy may prove to be a source of deeper insight into one's own identity; more than that, it may offer ways of enriching one's identity and of deploying it more successfully in dialogue with Christian brothers and sisters across denominational lines.
We should note, with gratitude, that the idea for the conference was inspired by the rules with which Cardinal Avery Dulles sought to articulate the nature and goals of ecumenical dialogue; in his particular case it was dialogue between Catholics and Evangelicals. (Cardinal Dulles' essay, "The Unity for Which We Hope," was originally published in 1995; it was recently summarized in a blog post by Timothy George, which can be found at http://www.firstthings.com/web-exclusives/2013/07/averys-ten-rules.)
Our conference, of course, has a wider, ecumenical scope. At bottom, we trust that ecumenical and multi-voice engagement with Luther will enrich our reflection on our own respective traditions, as we all learn from and about each other. We further hope that this mutual learning will model Christian witness, not as uniformity at all costs but as reflective, appreciative, critical and constructive dialogue – with those adjectives applying equally to the other and to one's own tradition.
Presenters:
David Tracy, University of Chicago (Roman Catholic)
Jared Wicks, S.J., Pontifical College Josephinum, Columbus OH (Roman Catholic)
Johannes Zachhuber, Oxford University (Evangelische Kirche in Deutschland, "uniert")
Brian Brewer, Baylor University (Baptist)
Randall Zachman, University of Notre Dame (Episcopalian)
Susan Wood, S.C.L., Marquette University (Roman Catholic)
Matthew Myer Boulton, Christian Theological Seminary (Disciples of Christ)
Matt Jenson, Biola University, Los Angeles (Evangelical Covenant Church)
Anna Case-Winters, McCormick Theological Seminary (Presbyterian)
Respondents:
Ian McFarland, Emory University
Paul Hinlicky, Roanoke College
Ted Peters, Graduate Theological Union
Conveners:
Derek Nelson, Wabash College (ELCA)
Piotr Malysz, Samford University (LCMS)
More information, including paper topics and speaker bios, is forthcoming.
NOTA BENE: The conference proceedings, expanded and edited, are scheduled to be published by Fortress Press in 2015.
Piotr J. Malysz (Th.D., Harvard University) hails from Poland. He teaches systematic theology and the history of Christian Thought at Samford University's Beeson Divinity School in Birmingham, Alabama. Malysz is the author of Trinity, Freedom and Love: An Engagement with the Theology of Eberhard Jüngel (T&T Clark, 2012). He has also authored a number of articles on Luther and the Lutheran tradition, including a chapter on "Luther and the Lutherans" in the forthcoming Oxford Handbook to the Reception of Christian Theology.
Derek R. Nelson is Associate Professor of Religion and Director of the Wabash Pastoral Leadership Program. He earned degrees from Wabash College, Yale University and the Graduate Theological Union. Along with Timothy Lull (now deceased) he is the co-author of the forthcoming intellectual biography of Martin Luther, tentatively titled Luther: Resilience and Reform (2015). He is also the author of Sin: A Guide for the Perplexed, What's Wrong with Sin, and co-editor of Theologians in Their Own Words and A History of Christian Theology, and is an ordained pastor in the Evangelical Lutheran Church in America.