Parents
Family Day
Hey, Mom, Dad, Brother, Sister, Friend, it's time to visit Wabash! Catch up on the first half of the semester and give your Wabash Man a big hug. We know you miss him…and he misses you, too. Check out a full day of activities on campus to share with your entire family.
October 20, 2018 - Schedule
Moot Court Competition: 8:30 AM - 1:30 PM
Watch preliminary rounds of the 25th annual Wabash College Moot Court competition. Wabash students engage in legal argumentation with training and support from fellow Wabash Alumni who are now practicing attorneys.
Baxter Hall
More information
Swimming: 9:30 a.m.
Wabash Swimming and Diving will take on other Indiana Div III teams in competition.
Class of 1950 Natatorium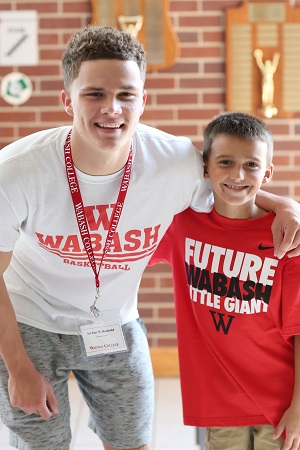 Family Day Registration/Check-In: 11:00 a.m. - 1:30 p.m.
Check in with the Alumni and Parent Relations Staff, pick up your buttons and more.
Knowling Fieldhouse, Allen Athletics and Recreation Center
Wabash Family Day Photos With Wally: Noon - 1:00 p.m.
Gather everyone for Family Day pictures with Wally in Knowling Fieldhouse.
Soccer: Noon
Cheer on the Little Giants soccer team as they take on Oberlin.
Fischer Field
Dorktoberfest Game Day: Noon – 11:00 p.m.
The Dork Club (Wabash Gaming Club) hosts a mid-semester community gaming celebration that welcomes all. Join the fun and play an old tabletop favorite like Risk, Clue, Life, Sorry, Monopoly, or Jenga …or you could also learn something totally different like Star Wars Armada, Warhammer Kill Team, Zombicide, X-Wing, Ticket to Ride, Settlers of Catan, Formula De, Heroscape, or Munchkin. Tabletop games and food will be provided.
Hays Science Hall 001 and 002
Lunch with your Wabash man: 11:00 p.m. - 1:15 p.m. **
Enjoy some great football, food, and drinks as well as the company of other Wabash alumni, students, parents, staff, and friends in the comfort of Knowling Fieldhouse.
Knowling Fieldhouse
**Most of the fraternities are planning lunches and/or tailgates. Parents of fraternity men should check with your son on those plans.
Football: 1:00 p.m.
Experience the electric atmosphere of football Saturdays at the College and join our loyal fans for the football game against Oberlin.
GET TICKETS HERE
Sewell Field at Hollett Little Giant Stadium
Oktoberfest: 3:00 p.m. – 6:00 p.m.
Celebrate fall with the German Club!
Sparks Center West Courtyard
Theater Production – Frankenstein: 8:00 p.m. – 10:00 p.m.
Directed by Jim Cherry
Childlike in his innocence but grotesque in form, Frankenstein's bewildered creature is cast out into a hostile universe by his horror-struck maker. Meeting with cruelty wherever he goes, the friendless Creature, increasingly desperate and vengeful, determines to track down his creator and strike a terrifying deal. Frankenstein by Nick Dear premiered at London's National Theatre in 2011.
Order your free tickets at wabash.edu/boxoffice.
Ball Theater
Please contact the Office of Alumni and Parent Relations at (765) 361-6369 for details.