Parents
Parents of Current Students
"The May 2015 Graduation Celebration"

Order Graduation Announcements through Herff Jones at: www.herffjones.com/college/graduation
Wabash Ring Sale at Wabash Bookstore or online at www.herffjones.com/college/rings
Wabash Diploma Frames available at the Wabash Bookstore or online at www.framingsuccess.com

For questions please contact:
Patrick Cavazos
317.578.8130
or pacavazos@herffjones.com
Email Addresses Requested!
Email addresses for parents are important in an emergency.
Please send your email address to parents@wabash.edu. Include your first and last name and your son's name and class year.

Let us know if you have a change of address or email address parents@wabash.edu

You might find this web site helpful:
http://www.universityparent.com


WABASH COLLEGE STUDENT HEALTH CENTER
Below are other web pages and the links to forms that you can download:

Student Health Center

Incoming International Student Letter
Incoming Domestic Student Letter

Student Health Record form -Pages 1 thru 5
Student Family History form
Meningococcal Vaccine Information form

*Parents of ALL students need to send a copy of their insurance card (Copy of front and back of card) along with date of birth and SS# of card holder to Carol Lamb (College Nurse), Wabash College, PO Box 352, Crawfordsville, IN 47933. You can contact her with questions at lambc@wabash.edu or 765-361-6265. This information is required by St. Clare and Athens billing dept. in the event the student needs to be sent out for an x-ray or if we need to send blood work out for testing.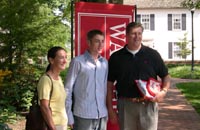 Wabash parents are extremely important members of the Wabash community. From the time they decide to send a son to Wabash, parents entrust a sizable portion on their son's education and development to the other members of our on-campus community – our faculty and staff. In much the same fashion, our parents turn to our alumni and friends when their sons make the transition from college student to alumnus. Our parents know there's a greater network of the Wabash community off-campus that will help a young alumnus in any way possible.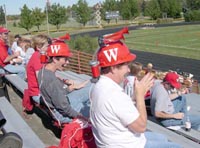 At Wabash, parents aren't just four year members of the community – we welcome them for life. Parents catch the Wabash fever in the same way as our young men. Anyone who has traveled to an away sporting event knows the reputation of our sports fans – alumni, parents, and friends alike. The term "Wabash Always Fights!" applies to everything we do as a community.
The Alumni and Parent Relations office supports the inclusion of Wabash parents in virtually everything the office does. Parents receive the Wabash Magazine, are invited to all regional association events, and are welcome to virtually every on-campus program or event.