Waterman Wins Title, Posthauer All-American
by Howard W. Hewitt and Brent Harris • March 9, 2013

Share:
NAPERVILLE, ILL. – Senior Jake Waterman became Wabash College's first-ever, two-time national track champion with a dominating win in the 800 meter run at the 2013 NCAA Division III Indoor Track and Field Championships.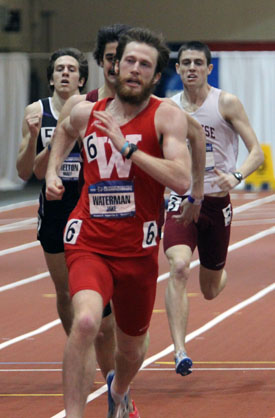 Waterman crossed the finish line in 1:50.30 to win the men's 800-meter run. Sophomore Ronnie Posthauer took fifth place in the 60-meter hurdles to earn his first All-America honors.
"I wanted to win but my initial plan was to go for the meet record which would be point -six seconds faster," Waterman said, just minutes after his second national title. "I'm not thoroughly content with how I did but I'm glad to win."
Head Track Coach Clyde Morgan had to remind Waterman of the significance of his accomplishment. "I told him 'You're a two-time national champion. You are Hall of Fame material and not just Wabash.' I think that hit him because he knows I'm on the committee. I told him to soak it up because you're not given the outdoor title (later this spring) or even a race tomorrow. I'm just very proud of him."
Waterman may not have been a prohibitive favorite but he did post Friday's fastest qualifying time and the field knew he turned a blistering sub-1:51 time earlier this year.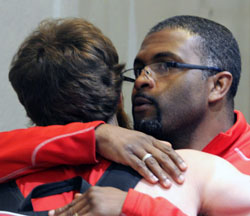 "The way the race went was about how I expected," Waterman said." I can't say I expected somebody to pass me but I felt like I didn't panic. When I got passed on that first lap, Coach Morgan had coached me up to be ready for anything and I felt like I responded properly."
Waterman also said a second title, and this one indoors, validates any athlete's versatility. "This is my first indoor championship and you never want to be known as just an indoor runner or just and outdoor runner. So it pleases me quite a bit that I could come out here and get the win."
Waterman is the first two-time national track and field champion in Wabash College history. He joins former teammate Kevin McCarthy (indoor mile champion in 2012), Tom Puschak (hammer throw, 1989) and Ray White (steeplechase, 1972) as Little Giant athletes who have claimed NCAA national track and field titles.
Waterman sat in second place through the first lap of the 800 meters before pushing to the front to capture his second national title. Waterman was the 800-meter champion at the 2012 Outdoor Nationals last spring. The Wabash senior was the national runner-up in the event at the past two indoor championships (2011, 2012) after finishing seventh as a freshman, giving him All-American honors in the 800 in four straight indoor seasons.
Waterman's time set new Wabash and Al B. Carius Fieldhouse records. He owned the old Wabash record of 1:50.87 set in 2011. His qualifying time of 1:52.39 in Friday night's finals also broke the record at the North Central College facility.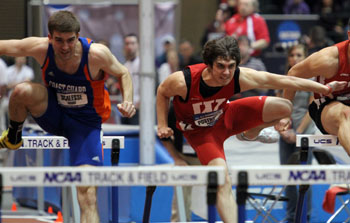 Posthauer advanced to the finals for the first time in his career. He finished in 8.22 to take fifth place overall. He competed at the NCAA Championships for the second time in his young career. Posthauer raced at the 2012 NCAA Division III Outdoor National Championships but did not qualify for the finals.
"I had the intensity," Posthauer said. "I had everything going for me. I didn't get the time I wanted in the finals but I was just a little off. I'm happy I got here and fifth place in the nation is not bad.
"Last year I made it to nationals but didn't make it into the finals. So this year I did that and with outdoor season coming up I'll see if I can improve even more."
"I'm a researcher and I researched everyone who got in the meet a month ago," Morgan said of Posthauer's race. "We talked about the meet and I told Ronnie he was the most consistent. I told him he would get to the finals. But I also told him he had to make a statement. My palms are sweaty I'm so excited for him. He did what got him here, he came in fourth or fifth and he finished fifth. You look at the championships and that rarely happens with nerves and all. For a sophomore, he just held himself together."
More News
---
---
Photo Galleries

Waterman National Champion