Alumni Honored at 2011 Homecoming Chapel
by Jim Amidon • October 1, 2011

Share:
Professor of English Tobey Herzog and Sports Information Director Brent Harris were named honorary alumni of the College at the 2011 Homecoming Alumni Chapel. The event serves as the annual meeting of the National Association of Wabash Men, and allows that body to honor its own — and welcome new members to the alumni ranks.
NAWM President Greg Castanias '87 served as master of ceremonies of the Alumni Chapel, which honors the spirit of the late Byron P. "Barney" Hollett '36.
Castanias also presented the NAWM's Alumni Awards of Merit, including the Clarence Jackson Career Service Award to Tim Padgett '84. Kevin Clifford '77 earned the Frank W. Misch Alumni Service Award for his contributions to the College, while M. Ashraf Haidari '01 received the Fredrick J. Urbaska Civic Service Award for the work he's done for the government of his home country, Afghanistan. Clifford and Haidari were unable to attend the celebration.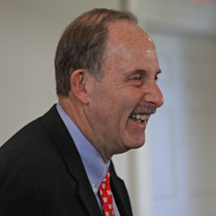 When presenting Herzog with his honorary sheepskin as a member of the Class of 2011, Castanias pointed out the Illinois Wesleyan grad's commitment as a teacher, scholar, and involved colleague for more than 35 years.
"In you, our students have a model of a liberally educated man who can easily quote Wordsworth and Sassoon, tour them through the streets of London, and beat them off the dribble in the Noontime Basketball Association, Wabash's own NBA," said Castanias. Your classroom is a comfortable place where young men feel free to learn, grapple with troubling issues, test their theories, and discover what it means to be men of integrity…
"On this Homecoming when we celebrate all that is good and great about Wabash, we lift you up for your excellence as a teacher, scholar, writer, communicator, and servant, and pay tribute to your achievements by welcoming you into the ranks of Wabash Men."
Harris, who became the College's Director of Sports Information and Marketing in 1999, chose to align himself with the guys he came in with — the men in the Class of 2003. Harris said he felt particularly close to the seniors on the record-setting 2002 football team, including Jake Knott, Ryan Short, and Nate Boulais.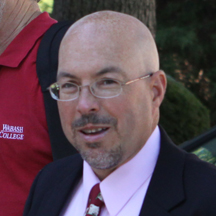 Castanias celebrated Harris' dedication, work ethic, and tireless good spirit. "R. Brent Harris, for spending more than half your life in service to Wabash as volunteer and sports information director extraordinaire, for your love of and passion for Wabash athletics, and for so carefully and positively mentoring the young men of Wabash, the National Association of Wabash Men is pleased to name you an Honorary Alumnus in the Class of 2003."
While Padgett was the only Alumni Award of Merit winner able to attend Homecoming festivities, he made the most of his time on campus. He attended Chapel Sing, conducted a workshop with Bachelor editors and reporters, gave an alumni colloquium talk, attended classes, and caught up with many of his professors.
Padgett, who has spent 25 years covering Latin America for Newsweek and Time magazines, has covered the Western Hemisphere's most important events of the last quarter century.
Castanias said of Padgett, "You once said, 'Objectivity is an illusory aim for any chronicler — but fairness, which is really the edifying goal we aspire to, isn't.' The National Association of Wabash Men is proud of your fairness, the integrity with which you've pursued the truth, and for demonstrating for all the world the beauty of the liberal arts in action, and for which we honor you with the Clarence A. Jackson Career Service Award.
Kelly D. Pfledderer '96 received the Young Alumnus Award — presented for only the second time — for his career achievements in Indianapolis. Pfledderer left a position in IT Services at Wabash to start his own firm, Apparatus, which is one of the fastest growing firms in the Midwest. Pfledderer is an active community volunteer, and just finished his first year on the Wabash College Board of Trustees.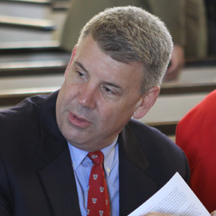 In other presentations, Castanias presented Alumni Admissions Fellow citations to Jim Dyer '83 for his work in St. Louis and to John Fox '64 for his recruitment efforts in Lake Forest, Illinois. Fox was unable to attend the Alumni Chapel.
Castanias said of Dyer, "The folks in our Admissions Office pay you the highest possible compliment when they say that if they had only one wish, it would be that they might be able to clone you. For in you, they have discovered the ideal alumni volunteer who is willing to make sacrifices, facilitate alumni communication, and do the heavy lifting of attending college fairs, writing letters, and making phone calls."
Roland Morin '91 was named an Alumni Career Services Fellow for driving the Marketing Immersion Program since its inception, and for directing the College's Summer Business Immersion Program in the summer of 2011.
"Students referred to you as 'fun' and "motivating,' and also 'very serious and insightful,' and said you created the perfect environment for learning — informal, participatory, and instruction based on real experiences," Castanias said in tribute to Morin.
More News
---
---
Related
---
Photo Galleries

Wabash 49, Kenyon 0 (10-01-11)

2011 Chapel Sing - KJ 2