Wabash Theater Performs Universal Robots
by Jim Amidon • February 20, 2018

Share:
What does it mean to be human in an age of technology?
That question — so timely today — was unpacked nearly a century ago when Czech playwright Karel Capek wrote Rossum's Universal Robots, a piece of science fiction theater that introduced the world to the concept of a robot doing the work of humans. In that tale, all goes horribly wrong.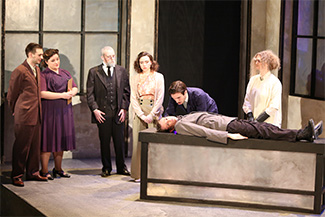 The Wabash College Theater Department will take up that question — and plenty more — when it stages Mac Rogers' 2009 adaptation of the play, Universal Robots, which opens February 21 and runs nightly through February 24 in Ball Theater in the Fine Arts Center. Curtain is at 8:00 p.m. and free tickets can be reserved online through the Fine Arts Center Box Office.
"Mac Rogers is a friend of a friend, and I've been wanting to do this play for some time," said director James Cherry. "This is a play that asks so many big, philosophical, moral, ethical questions. It's a perfect play to do at Wabash because these are questions of the liberal arts; these are enduring questions."
Among them: What does it mean to be human? What is the role of technology in contemporary society? What is work? Is it okay to commit evil to prevent another larger evil?
Cherry's production — guided by costumer and puppet maker Andrea Bear, set and lighting designer Bridgette Dreher, digital artist Matthew Weedman, and sound designer Tim Melville — explores the issues of rapid technological change in Europe in the period immediately after World War I. The adapted script takes Capek's original story and plants it in an alternative history.
"This is a massive, deeply collaborative, cross-disciplinary project," Cherry said.
Rogers places the original playwright at the center of his adaptation. Karel Capek (played by Austin Ridley) is a famous playwright basking in the glow of post-war artistic intellectualism spreading across Czechoslovakia led by its president, Tomáš Masaryk (played by Nathan Muha). "Nathan is fantastic in this role — he's such an old soul and plays the 75-year-old president perfectly. But it's really an ensemble piece, and every member of the cast has worked very hard to bring this show to life."
The cast includes: Tim Fields as One; Austin Ridley as Karel Capek; Betsy Swift as Jo Capek; Patrick Carper as Vaclavek and Sulla; Louis Sinn as Radosh; Chris Szostek as Salda and Primus; Nathan Muha as President Masaryk; Jared Cottingham as Peroutka; Selena Van Baber as Helena; Brea Carlson as Rossum; Isabella de Assis-Wilson as Minerva and Kratos; Teague Meiers as Theseus; Nicholas Kobs as Bernard Baruch; and Mark Elrod, Anne Fisher, Helen Hudson, Stephen Morillo, Julia Phipps, and Annie Strader as Citizens.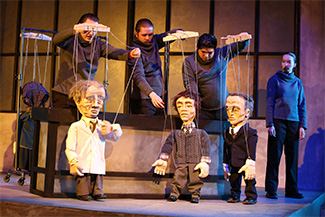 Zachary Anderson, fresh off directing Jungle Book at the Vanity Theater, serves as a Puppeteer along with Taylor Starks.
The play is directed by James M. Cherry with Costume and Puppet Design by Andrea Bear, Scenic and Lighting Design by Bridgette Dreher, Sound Design by Tim Melville, and Digital Projection Design by Matt Weedman and Louis Sinn.
Aaron Boyd serves as Stage Manager with assistance from Anthony Williams.
Universal Robots podcast

This week's edition of the "Wabash On My Mind" podcast talks to "Universal Robots" director Jim Cherry, dramaturge Jared Cottingham '18, stage manager Arron Boyd '20, and costume designer Andrea Bear. The quartet discusses a number of topics, including theater at Wabash. Just click the red arrow in the graphic below to enjoy an aural preview.
More News
---
---
Photo Galleries

Universal Robots at Wabash College—2