Always Means Always
by Christina Franks • November 12, 2016

Share:
"Wabash Always Fights."
That's the motto the football team clung to Saturday, as Little Giants fought their way back into the game after an early 14-point deficit, eventually taking its first lead with six minutes left in the 123rd Monon Bell Classic, and reclaiming it with just over two minutes to play..
But DePauw answered with a touchdown 38 seconds remaining, ending Wabash's seven-game win streak in the series.
"First of all, you have to give tremendous credit to DePauw," Wabash Head Coach Don Morel said. "They played an amazing game. And so did Wabash — to come back with two minutes left and take the lead. But then for DePauw to drive the ball 90 yards in two minutes in amazing. It's a tribute to a great Division III rivalry. Playing in that game, we did everything we wanted to but win it at the end."
Several drives throughout the game came down to kicker Andrew Tutsie '17. Though he missed a field goal early in the contest, his continued efforts put his team ahead late in the fourth quarter. All he could do after that was watch from the sidelines.
"It's hard – I can't even put it into words," Tutsie said. "When we were up three points with two minutes left, I thought we were about to close it out. But I guess that's football."
Wide receiver Oliver Page '18 said the entire team was playing for their seniors. Each time they clawed their way back into the game, it was to send the seniors out on the right note.
And even though they didn't win, quarterback and captain Connor Rice '17 could not have been prouder of his team.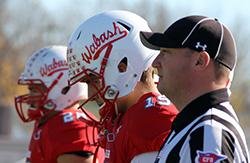 "No matter what the score is, we believe in ourselves," Rice said. "It's a game, but it hurts because this means so much to us. I'm really proud of our seniors, really proud of the school, and really proud of how we responded. We have a great team, and it sucks to lose, but we fought hard today. We got to see the character of our team, and I'm extremely proud of them."
Wabash still leads DePauw in the rivalry, 60-54-9. Though it's heartbreaking for everyone now, Coach Morel said this will be used as motivation for the underclassmen. As for the seniors? They always will have a great career to look back on.
"This is a senior group that has played a lot of championship football," Morel said. "They are such great guys. That's going to be tough on them, but hopefully not for the rest of their lives. They'll move on, get married, have kids, and grandkids."
Still, he said, Wabash men have so much pride, and, "Wabash Always Fights.
More News
---
---
Related
---
Photo Galleries

2016 Monon Bell, No. 3