Another Impactful Celebration
by Richard Paige • January 29, 2016

Share:
It's all right there in the title: research, scholarship, creative work.
And for the last 16 years, Wabash College students proved themselves worthy, as the school hosted its annual Celebration of Student Research, Scholarship, and Creative Work Friday in Detchon Center.
In simply passing by any of the 32 poster presentations or either of the six classrooms that hosted 41 oral presentations, it's easy to see that the event accomplishes two keys. First, it brings together the whole of the liberal arts, all academic divisions were represented today, while also recognizing the excellence of the student-generated research over the past year.
"It's important to show student research and the opportunities that Wabash students have," said Aaron Wirthwein '17.
Those opportunities often lead to impacts that go far beyond what appears on a poster or in a presentation.
Brian Hayhurst '16 and Mason Keller '17 presented "Adaptively Weighted Least-Squares for Fluid Dynamics," which uses physics -- the least-squares finite element method -- to approximate the way fluid flows in large waterways like municipal water systems, for example.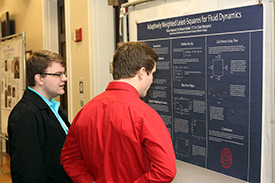 While it's important to know the speeds at which water will flow through a pipe, Hayhurst also acknowledged the scholarly benefits as well, saying, "It's nice to be able to get your work out there. It helps other people to have something to look at when they have a similar problem. It helps to build a body of knowledge and to promote the field."
The interesting revelation for Hayhurst was the enjoyment he got out of the eight-week summer project. "It was so much cooler than I thought it would be," he gushed. "It was so cool to work on this project."
For Justin Miller '17 and Wesley Deutscher '17, the ability to work with fluorophores proved to be illuminating in more ways than one. In addition to studying the chemical compounds that light up when excited, the duo (along with Kyle Stucker '17) also discovered a career path en route to presenting "Development of Novel Rhodamine Dyes and Utilizing Computer Modeling as a Means of Predicting Observed Solvent-Dependent Equilibria."
Miller put in two summers' worth of work on the project, and after presenting to his peers was looking toward applying the lessons learned to postgraduate work.
"As scientists, we don't always understand where our research takes us, so we're kind of along for the ride," he said. "I want to think about new ways to do even simple procedures and apply them to different models, not be so narrow minded, especially as I look toward grad school, and be able to say, 'here is what I know; what can I do with it.'"
Deutscher stressed the patience needed to meticulously prepare and run the trials. The waiting and the required precision led him to this eventuality.
"To be able to stick with it long enough to get something positive out of it was a nice thing to come about," he said. "It was an eye-opening experience about what research can be and what I want to do with my life. It's given me a direction."
Jack Kellerman '18 and Connor Rice '17 used applied rhetorical criticism to discover how essential deliberation is to our society. Designing that process with opportunities to exchange information can have positive impacts, as noted in "The Technical Sphere's Effect on the Public Sphere in Deliberation."
"It's allowing a group of people to convene and talk about issues," said Rice. "We found that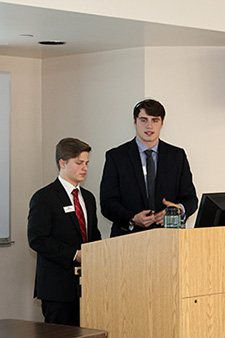 participants brought up issues that were important to them. We learned that deliberation is something our society needs to resolves issues that pertain to communities."
Their goal is get eventually get something published in a scholarly journal. In fact, the pair has been selected to present at the Central States Communication Association convention in Grand Rapids, MI, in April. Friday's Celebration was a great reason to give the key components of that paper a test run.
"Presenting is my favorite part, you never know what's going to happen," said Kellerman. "We're being judged on how well we articulate points. You have to be more sophisticated, make sure you know your arguments. Presenting (today) was intimidating, but I really enjoyed it."
For Rice, who quarterbacked the Wabash football team to the NCAA Division III quarterfinals last fall, a successful Celebration presentation felt like a Saturday afternoon on the gridiron.
"We're competitive in the classroom here, too," he said.
More News
---
---
Photo Galleries

Celebration of Student Research Album II

Celebration of Student Research 1, 1/29/2016