Guys and Dolls Rolls Into Weekend
by Jim Amidon • November 4, 2014

Share:
Nathan Detroit is setting up the biggest craps game in town and Sky Masterson is willing to bet on anything — including love — when the Wabash College Theater Department presents the Tony Award-winning musical Guys and Dolls.
The show runs through Saturday nights with performances at 8:00 p.m. each evening. Though it is sold out, patrons are invited to come to the Ball Theater lobby to get a spot on the wait list. Reserved tickets not picked up by 7:50 p.m., will be released to those on the waiting list.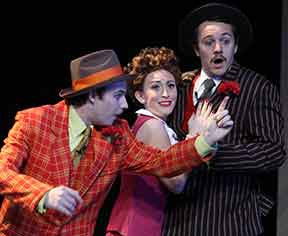 This sprawling, popular American musical is the biggest production mounted at Wabash in at least three decades, and the complexity is not lost on Director Michael Abbott.
"I've never done anything this big before," Abbott said. "Sure, we've done some big shows, but nothing with as many layers of complexity. We've got a live orchestra, follow spots, microphones, costume changes, and lots and lots of dancing.
"I'm tremendously excited!"
Guys and Dolls is Frank Loesser's celebrated musical that swept the Tony Awards in 1951 and ran for 1,200 performances on Broadway.
It's a "guy" heavy show with a dozen gamblers in zoot suits. But it also includes plenty of "dolls," which at Wabash sometimes poses a significant challenge.
"We really wanted this production to feel like a community effort, and I feel that it has been exactly that," said Abbott of his 25 actors and 15 musicians.
Wabash rarely does musicals and nobody around can ever remember the pit in Ball Theater being used for an actual orchestra. Undaunted, Abbott collaborated fully, including enlisting Dr. Richard Bowen and the Wabash Glee Club. Bowen is the musical director of the show and conducts the orchestra, which is made up of Wabash students, local musicians, and friends of cast members from Indianapolis and Lafayette.
"We really had to lean on the Glee Club for this show since so many of our actors are members of the Club, and we've had to coordinate rehearsals to allow our students to perform in this play and with the Glee Club," Abbott said.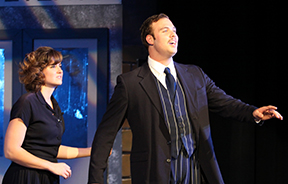 Senior Pierce Velderman, a veteran of the Glee Club, plays the leading role of Sky Masterson, the cocky, bet-on-anything gambler. Nathan Detroit, played by Patrick Kvachkoff, is trying to stage a massive craps game but needs $1000 to secure a joint. So he bets Masterson that he can't get super-straight Sergeant Sarah Brown (Kelly Cassady) of the Save-A-Soul Mission to go out to dinner with him in Havana.
Sarah is struggling in her work at the mission to round up enough souls that need a-saving, and Masterson realizes it. Masterson promises to deliver a dozen drunken gamblers for a midnight meeting at the mission if — and only if — Sarah will go on that date with him.
Meanwhile, Nathan Detroit's squeeze, Miss Adelaide (Elizabeth Hutson), is a singer and dancer at the Hot Box Club. She's utterly frustrated that Detroit won't marry her after seven years of engagement. She's lied to her mother and told her they are married in hopes of pressuring Detroit to take the plunge.
Hilarity ensues when Big Jule (Joe Mount) rolls in from Chicago looking to shoot craps… or else. The show takes the audience from New York to Havana and back to the sewers under Times Square, where the legendary craps game is finally played. There are stunning dance numbers that involve Wabash students, local women, and even a Wabash professor.
"The key moving part in this production is the choreography," Abbott said. "Kathleen [Hickey] has come in here as our choreographer and done genuine, Broadway-style dance numbers with lifts and jumps.
"We have guys in featured dancing roles in this show who wrote on their auditions forms, 'Can't Dance!' Kathleen just won them over. She's got a lot of experience working with novice dancers. She's patient, but demanding, and very precise, and our students have really embraced that."
Abbott said the men in the cast started working on the dance numbers in late August, and said he doesn't remember ever rehearsing a show as long as this one.
Well-known and beloved musical numbers from Guys and Dolls include "Luck Be a Lady" (sung by Sky Masterson during the craps game in the sewer), "A Bushel and a Peck" (from Miss Adelaide's nightclub act), and "If I were a Bell" (sung by Sarah after kissing Sky in the streets of Havana).
Guys and Dolls at Wabash College
November 5-8, 2014 at 8:00 p.m. each evening in Ball Theater of the Fine Arts Center. Tickets are free, but must be reserved at boxoffice@wabash.edu or by phone (765-361-6411).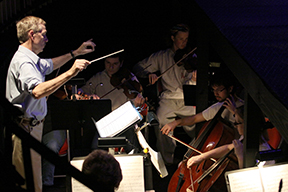 Directed by Michael Abbott; Musical Direction by Richard Bowen; Scenic and Costume Design by Andrea Bear; Choreography by Kathleen Hickey; Lighting Design by Laura Glover; Technical Direction by Cody Grady; and Box Office Manager Eileen Bowen.
Starring: Jared Cotthingham (Nicely-Nicely Johnson), Nathan Muha (Benny Southwest), Sam Vaught (Rusty Charlie), Kelly Cassady (Sarah Brown), Sarah Swick (Agatha-Mission Band), Heidi Walsh (Martha-Mission Band), Zachary Anderson (Calvin-Mission Band), Clayton Lengerich (Harry the Horse), Eddie Pingel (Lt. Brannigan), Patrick Kvachkoff (Nathan Detroit), Elizabeth Hutson (Miss Adelaide), Pierce Velderman (Sky Masterson), Chris McCloskey (General Cartwright), Joe Mount (Big Jule), Sammie Amidon (Mim-Hotbox Girl), Brea Carlson (Hotbox Girl), Carrie Olofson (Vernon-Hotbox Girl), Donovan Whitney (Angie the Ox), Greg Dallinger, Tyler Regnier, Rory Willats, and Sam Heidorn (Crapshooters), and John Blair (Arvide Abernathy).
Guys & Dolls: A Podcast

This week's edition of the "Wabash On My Mind" podcast talks to "Guys & Dolls" director Michael Abbott and cast members Pierce Velderman (Sky Masterson), Jared Cottingham (Nicely-Nicely Johnson), and Patrick Kvachkoff (Nathan Detroit). The quartet discusses a number of topics, including musicals at Wabash, the lasting influence of the songs in this production, and what it's like to be a part of the oldest established permanent floating crap game in New York. Just click the link at the bottom of the graphic to enjoy a vocal preview.
More News
---
---
Photo Galleries

Guys and Dolls at Wabash College - 2