Little Giants 8-0 After Hiram Win
by Howard Hewitt • November 1, 2014

Share:
The march through the NCAC conference schedule to get to Wittenberg is over. The Little Giants are 8-0 after dismantling Hiram Saturday, 41-10. Tyler Holmes keyed the northeast Ohio romp with 122 yards on 19 carries. He had one long touchdown run called back because of a hold. Shamir Johnson added 72 yards after Mason Zurek was shaken up in the first half.
"It felt like we had about two touchdowns called back in the third quarter and about 150 yards of offense but that's life," said Coach Erik Raeburn. "It was a little sloppier than we would have liked but I'm really impressed with how we played in the first."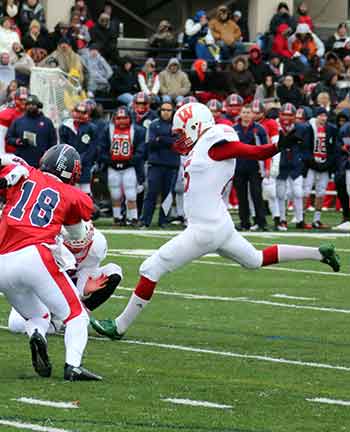 Despite a fumble deep in Hiram territory to open the game, Wabash jumped out 14-0 on a Holmes 4-yard run and a 28-yard pass to Houston Hodges. Each of those two would add another score later in the game.
After a Hiram field goal, the Little Giants blew the game open. The rout started when defensive end Tyler McCullen stripped the ball from a Terrier runner. Austin Brown was there for the pickup and 72-yard return, 28-3.
"I just saw the ball fall on the ground," he said. "It rolled through some lineman's legs and I picked it up and ran. There was nobody there so it was pretty exciting."
The other offensive standout was placekicker Andrew Tutsie who hit field goals of 27 and 25 yards. He also made all five of his extra-point attempts, giving him a streak of 53 straight. That number ties the Wabash College record held by Frank Kolisek '82.
The game was played in less than desirable conditions at 37 degrees, strong winds, and rain. By the end of the contest, the precipitation had turned to sleet and snow.
"We kind of get spoiled," Raeburn said. "It seems like we get great weather every week but this type of weather you expect to have late in the year. You have to make sure you handle it."
Quarterback Michael Putko threw for 161 yards and two scores. The running game was the key though with six LGs combining for 310 yards.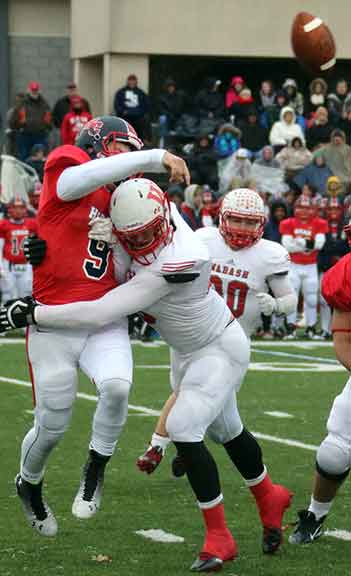 The Little Giant defense kept standout Hiram quarterback Robert Partridge in check. He hit on just 4-of-12 passes for 77 yards and left in the first half with an injury. His backup Alec Wells hit just 1-of-4 passes for 20 yards.
AJ Akinribade and reserve Conner Lenahan had 5 tackles apiece to lead the Little Giants. Several defensive players had 4 stops. It was the first contest Wabash failed to record a sack but Hiram only attempted 16 throws.
"They've got a great pass offense but obviously this weather was not conducive to that," Raeburn said. "But I thought we played good pass defense and got some pressure on the quarterback."
And despite the lack of sacks, the defense did have nine hits for a loss.
So with the season's first cold weather game and another win, it's on to Wittenberg.
"It was our first time in cold weather and it's good to get used to that," Brown said. "We have a huge game next week but we were really trying to just concentrate on this week and do what we had to do. Now obviously we need to get ready for Witt."
The Little Giants head to Springfield Saturday for what has become the annual showdown for the NCAC championship and likely automatic NCAA tournament berth. Wittenberg is 7-1 overall and 6-0 in the conference.
More News
---
---
Photo Galleries

Wabash 41, Hiram 10