Little Giants Steamroll Yeoman
by Jocelyn Hopkinson '15 • October 25, 2014

Share:
Oberlin's last Crawfordsville visit was a 31-16 upset victory over Wabash on a rainy and windy day. In the Yeomen's return to Hollett Little Giant Stadium Saturday, Wabash routed Oberlin 70-10 under beautiful October skies.
"I thought our guys were locked in and ready to roll," Coach Erik Raeburn said. "I'm really proud of their focus."
Wabash didn't waste time. The Little Giants scored touchdowns on their first six drives and left little doubt about the game's outcome with a 42-3 halftime lead.
"I felt like we had a great week of practice and certainly it showed today," Raeburn said. "Last year, we moved the ball well, but struggled in the red zone (at Oberlin). Today, we played well and finished our drives when we got in there."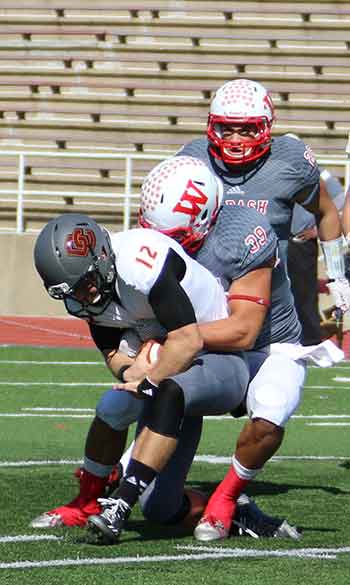 Raeburn rotated quarterbacks for the third-consecutive game as Michael Putko '16 and Connor Rice '17 each had multiple scores. Putko threw two first-half touchdowns, one to Eric Downing '15 and one to Drake Christen '17. Rice threw a laser to Houston Hodges '15 for a touchdown, and each quarterback ran for another. Tyler Holmes '14 added the sixth Little Giant first-half touchdown while Erikson Andrews drilled a 41-yard field goal for Oberlin.
Downing made a shoestring grab from five yards out for his first-career score. Wabash emphasized red-zone scoring.
"I thought Putko was going to run it in, but then he just chucked it at me," Downing said. "I just had to scoop it off the ground. We used last year's game as fuel for this year's game. We know they stopped us a bunch on the goal line so we made sure that wouldn't happen again."
The Little Giants scored on five of their six red-zone visits.
Wabash started fast in the second half as well. The Little Giants scored on the opening drive thanks to a 31-yard pass by Putko to Christen, 49-3. The backups then played the rest of the way.
"I'm sure when we watch film we'll find little things that we can work on," Raeburn said about his quarterbacks. "But for the most part, I thought those guys did a good job running the offense."
The quarterbacks combined for seven total touchdowns and just two incompletions. Putko passed for 156 yards and three touchdowns. He also rushed for 28 yards and a score.
After Oberlin scored its lone touchdown in the third quarter, Rice ran for his second rushing touchdown early in the fourth, 56-10. He threw for 96 yards and a touchdown, and ran for 89 yards.
A blocked-punt-turned touchdown and a 22-yard scoring run by Shamir Johnson '17 finished the scoring. Andrew Tutsie's '17 10th extra point set a new Wabash record for made point-after attempts in a game.
"My leg is a little sore," Tutsie mused. "But that's all credit to the offense. It played ridiculous today, and the snapper and holder were on point all day. "It's definitely hard to stay focused the entire game, especially when the score is so lopsided. I just try to stay with my routine and it usually ends well."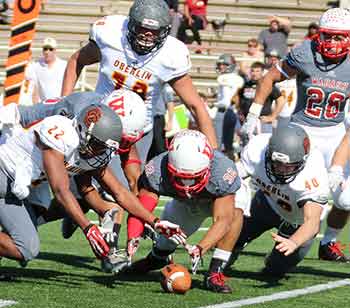 Tutsie had previously shared a three-way tie with assistant coach Olmy Olmstead '04 and Ian MacDougall '14 with nine extra points made in a game.
"It's really special to be able to break the record with Olmy there as my coach and Ian was in the house as well," Tutsie said. "My roommate (Johnson) is the one that scored the 10th touchdown to break the record so that was awesome."
Holmes led all rushers with 99 yards on nine carries and a score. Johnson carried the ball 12 times for 54 yards and a touchdown.
Christen led receivers with eight catches for 99 yards and two touchdowns while Hodges caught four passes for 97 yards and one score.
AJ Clark '16 paced Wabash in tackles with seven. The Little Giants sacked the Yeoman quarterback five times, led by Cody Buresh's '15 two sacks. He is now one sack away from tying the all-time career Wabash sack record.
The Little Giants will travel to Hiram for a 1 p.m. Saturday kickoff.
More News
---
---
Photo Galleries

Football vs. Oberlin 2- TR