Soccer Stuns Kenyon With 1-0 Win
by Brent Harris • October 18, 2014

Share:
Stojan Krsteski's goal in the 70th minute produced a signature win in a remarkable season for the Wabash soccer program Saturday afternoon. The 16th-ranked Little Giants handed second-ranked Kenyon its first loss of the season in a 1-0 contest.

Krsteski blasted a header into the net off a corner kick to tally the game winner. His shot ended the visiting Lords' undefeated season while helping Wabash rebound from its first loss of the season in a 2-0 contest at Ohio Wesleyan Wednesday evening.
"I'm extremely pleased with the way we played," Head Coach Chris Keller said. "We absorbed a little bit of Kenyon's pressure in the first 15 to 20 minutes. Then we settled into the game quite well.
"This really was a total team win. Everyone played the way we needed them to if we were going to win. We played well offensively and maintained our defensive composure. This is just a great way to come back from a mid-week loss at Ohio Wesleyan when we didn't play our best."
Wabash fans honored seniors Evan Coudriet, Ethan Dove, Blake Jennings, Steve Magura, Ivaylo Mantchev, George Vinihakis, and Zach Woloshin prior to kickoff.
"We got a great game from a veteran group of guys," Keller said. "It was certainly a great way to celebrate Senior Day."
The underclassmen did their part, as well. In addition to the goal from the freshman Krsteski, sophomore goalkeeper Dayton Jennings made five saves to record his eighth shutout this season and 10th of his career. Wabash put four shots on goal in the match with attempts by junior Adam Antalis, and sophomores Riley Pelton and Rodrigo Porras in addition the goal by Krsteski.
While the Wabash soccer team claimed its victory over the Lords in Crawfordsville, the football Little Giants routed Kenyon 52-10 on the road. Read that story here.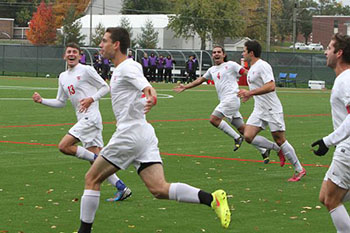 Wabash improved to 11-1-2 overall, one win shy of the school record 12 wins set by the 1990 Little Giants and matched by the 1996 squad. Wabash is tied with Kenyon for second in the North Coast Athletic Conference standings. Both teams trail Ohio Wesleyan. The Battling Bishops are 4-0 in league play and travel to Allegheny for a Saturday evening match.
Wabash will play at Wittenberg University (5-8-1, 0-5 NCAC) at 7 p.m. Tuesday.
"We can't get too excited about today's win," Keller said. "Now we will go back to the drawing board and try to figure out a plan for Wittenberg. We can't have a letdown after getting this win over a very good Kenyon College team."
More News
---
---
Photo Galleries

Wabash Democracy and Public Discourse Keynote Speaker: David Kendall '66