Wabash Day Enriches Communities
by Howard Hewitt • October 13, 2014

Share:
Wabash men across the country lived humanely this weekend and gave of their time, talents, and muscle to charitable causes in their community. Wabash Day, a day of community service, was celebrated coast to coast. Here are reports from a few of the sites. We'll update the next several days as reports and more photos come in.
Bloomington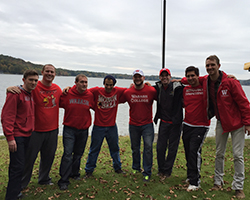 Friends of Wabash College in Bloomington helped the local Boys and Girls Club maintain campgrounds this past Sunday. Tasks ranged from preparing for the Club's November 1st 4k mud run to digging support for the new activities building next to Lake Lemon.
"It was great to meet up with alumni in the area and reminisce on Wabash—especially while coming together for a worthy cause," said law student Cory Kopitzke '14.
"Volunteers are huge part of what we do," said Jeff Baldwin, Executive Director of the Boys and Girls Clubs of Bloomington. "Thank you very much for coming out today."
Participants: Aaron Bonar, Alex Avtgis, Cory Kopitzke, Joel Bustamante, Mark Riffle, Reed Hepburn, Riley Floyd, Steve Henke, Ted Ferguson
Colorado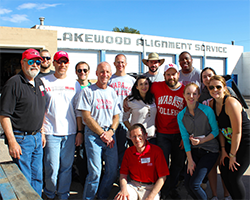 Wabash alumni, friends and family gathered on this pleasant Saturday morning in Lakewood, Colorado for their 10th annual Wabash Day.
We spent the day working in an assembly line fashion boxing nonperishable food items for distribution. In all, we were able to assemble nearly 500 completed packages. Afterwards, most of the volunteers got together at a local pub for lunch, refreshments and sharing of Wabash memories as well as recounting of our previous Wabash Day events held in Colorado.
This was the 7th year that the CAWM partnered with The Action Center in Lakewood. The Action Center was established in 1968 to help serve the needs of the west Denver community by breaking the cycles of poverty and improving the lives of families and individuals in need. They provide basic human services such as food, clothing and shelter. They also provide counseling to push their clientele on the road to self-sustainability. In 2013 The Action Center provided 61,000 five day meal boxes, 6,000 nights of shelter and served over 4,000 children through their Santa Shop.
Colorado Wabash Day Participants: John Panozzo, '89, Douglas Ross II, '05, Jerry Schaefer, '67, Harry Phillips, '65, Andie Panozzo, Kristen Mendoza, Corin Panozzo, Darin Graber, '05, Todd Mikesell, '87, Tim Gagen, '76, Jon Conkright, '01, Stephen Abbott, '09, Alex Barefoot, '04, Courtney Barefoot
Crawfordsville
Alumni, faculty, staff , and 120 Wabash students spread across Crawfordsville to complete 10 different projects for Wabash Day. The two photo albums above are from the Crawfordsville Wabash Day projects.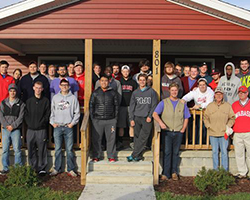 Herm Haffner '77 - It was a great day! The weather was crisp and our volunteers made us proud. We did everything from painting inside and out to yard work including building a shed. We stripped and reroofed a church and help clean and organize a local community theater. We helped the Mayor clean up litter in the city and the Park and Rec. department do yard work at the Rec. Center. Still we were not done. We painted, did more yard work, cleaned cages and walked the dogs at the Animal Shelter and did interior and exterior cleaning at the Old Jail Museum. Finally more yard work and painting at Pam's Promise and the Family Crisis Center.
So our small army of volunteers made a major impact in helping various not for profit groups get ready for winter and knock off some needed projects.
Participants included: 7 Fraternities; other student organizations represented: APO, Independent Men, MXI and Football; 10 Alumni; 9 Volunteers from the Community; 3 Volunteers from Purdue's student Habitat Chapter; 3 Dates; 2 Language TA's Faculty /Staff; 1 College President
Dallas, TX.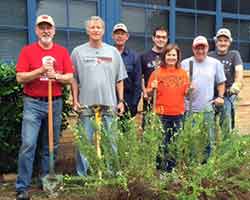 Mike Gregory '70
- A damp and chilly day in Irving, Texas did not deter a hardy band of Wallys (and one Wallyanna) from returning to a favorite community location. Cheryl's Garden of Learning at John R. Good Elementary School was once again the focus of our efforts. Named after a retired and beloved principal at the school, the garden serves as an outdoor learning venue for the students, most of whom have never enjoyed the luxury of their own garden. Two new flower beds were dug, and several salvia plants were relocated to them. Other existing beds were trimmed and cleaned up. Thankfully, the overnight rains softened the ground, making our task much easier (but muddier!).
The group gathered at Arturo's, a local Mexican restaurant, to share stories, fabrications, and other such nonsense. Thanks to David, the average age was 59. The veterans charged David with rallying the younger local alums to get involved and pick up the mantle of leadership from us old codgers!
Participants were Mike Gregory, 1970; Dan Susie, 1968; Terry Schuck, 1970; David Peden, 2009; Lynn Thomas (H1973); Jim Thomas, 1973; and Jim McDaniel, 1974.
Hendricks County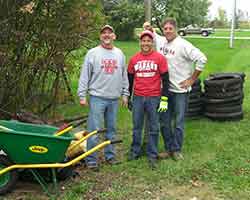 Dave Jackson '87 - This was the seventh year for WABASH Day helping out the B&O Trail near Avon & Brownsburg in Hendricks County. A small group of three Wabash alumni and three B&O volunteers cleared thick brush and trash from several hundred yards of newly purchased abandoned railroad corridor land. The trailblazing results were visually dramatic as seen by the before and after pictures. This land was recently purchased by the B&O Trail group using Bicentennial Grant money from the State of Indiana as part of Indiana's upcoming bicentennial celebration in 2016.
Once this section is completely cleared the B&O Trail will consist of nearly four linear miles of continuous recreational trail in Hendricks County. Thanks to Bill Blanco '87 and Jim Kerr '92 for a Little Giant job well done.
Indianapolis - The Villages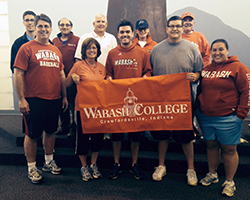 Wabash men and women worked together successfully Saturday afternoon to paint a large interior hallway at The Villages in Indianapolis. The Villages provides services such as, Foster Care, Adoption, quality Child Care and Early Childhood Development Services at this Indianapolis location. The state-of-the-art Center also provides Child Care Services to children six weeks old to kindergarten age.
This is the tenth year in a row that we have completed various projects at The Villages including painting interior walls, spreading mulch throughout the playground area and painting the playground equipment. Denise Ferrell, onsite Director at The Villages stated that our work over the last ten years has saved The Villages thousands of dollars and that these savings will help those that are less fortunate to continue to utilize the child care services that The Villages are able to offer.
Indianapolis - Mapleton-Fall Creek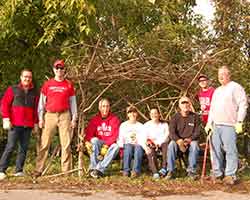 Josh Tatum '03 - WABASH Day volunteers gathered in the Mapleton–Fall Creek neighborhood in Indianapolis Saturday morning to work on two projects for the Mapleton-Fall Creek Development Corporation. Mapleton – Fall Creek Development Corporation is a nonprofit that helps preserve Mapleton–Fall Creek's old homes and ensure affordable housing in the area. This is the seventh WABASH Day that has helped improve the midnorth, urban neighborhood.
The volunteers split into two groups. One group of volunteers removed invasive species from the side of the Monon Trail between Fall Creek Parkway and Fairfield Avenue as part of an effort to improve the area. Called Destination Fall Creek, the initiative aims to transform nearly four miles of Fall Creek that runs through the neighborhood into a recreational, residential, and commercial destination with access to art, nature, and beauty for every citizen every day. Since 2012, the Mapleton-Fall Creek Development Corporation has worked with residents to raise awareness about Fall Creek. The Monon Trail access site that these volunteers helped on is a priority area for Destination Fall Creek. WABASH Day volunteers moved a bench created by public-art nonprofit Big Car made of invasive plants to the side of the trail. They also removed some of those same invasive, like Honeysuckle, Japanese Knotwood, Garlic Mustard, Mulberry, and Tree Heaven.
A second group painted playground equipment at a pocket park on Park Avenue about a block north of Fall Creek Parkway. Mapleton–Fall Creek Development Corporation had worked with KaBOOM to install new intergenerational playground equipment, and the existing swing set needed a new paint job.
Five Wabash alumni, three friends, and three neighborhood leaders helped at the two locations.
Doug Rogers '80, Josh Tatum '03, Brandon Clifton '04, Sam Ladowski '06, Jim Leuck '09, Abby Tatum, Nancy Tatum, Don Elsner, Kelli Mirgeaux, Brittanie Redd
Chuck Madden
Michigan - Grand Rapids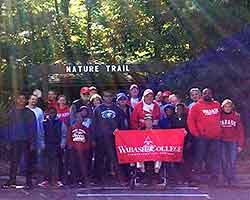 Kenyatta Brame '92 - Families, friends and Wabash men made it another stellar Wabash Day in Grand Rapids, Michigan. Over 25 volunteers came together again to assist the Grand Rapids Veterans Home on this special project. We were excited to work with the Veterans Home and to show the veterans a small token of our appreciation for all of the sacrifices they have made for all us and our country.
The Veterans Home is a state run agency continues to face a serious financial crisis and much of its funding has been eliminated. The Wabash team did not let the lack of resources damper the Wabash Spirit - the team pulled together to buy the supplies for the project. The project focused on beautifying the Veteran Home's nature trail. The nature trail is a refuge for many of the veterans, as it allows them to leave their rooms to enjoy a simple pleasure in life, the outdoors.
The Veterans Home is really appreciative of our work on the trail and we look forward to other projects in the future. The work we performed included: spreading mulch, planting tulip bulbs, cutting trees, planting flowers, and general cleaning. It was a great day and we are very proud of the community spirit shown during this project! Thank you for your Wabash Spirit and your dedication to our community.
Michigan - royal Oak
Scott Cougil '87 - Had a great Wabash Day doing some winter garden prep at Gilda's Club in Royal Oak MI yesterday. Solid organization providing support care to cancer patients and survivors and their families. (Yes, the Gilda is named for Gilda Radner).
Wabash men and their families from the greater Nashville area joined together to participate in W.A.B.A.S.H. Day at Second Harvest Food Bank of Middle Tennessee. The volunteers sorted more than three tons of donated food that will be distributed to families in need across 46 counties in Middle and Eastern Tennessee.
Nashville
Wabash men and their families from the greater Nashville area joined together to participate in W.A.B.A.S.H. Day at Second Harvest Food Bank of Middle Tennessee. The volunteers sorted more than three tons of donated food that will be distributed to families in need across 46 counties in Middle and Eastern Tennessee.
Participants: Scott Medsker '03, Harold Medsker, J.B. Bachman '61, Barbara Bachman, Andrew Van Landingham '06, Ashleigh Van Landingham, Nate Bell '05, Tim Morrison '88, Brad Baldauf '88, Lois Baldauf
Pittsburgh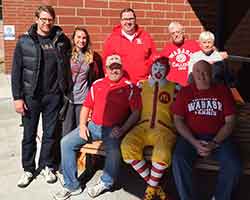 The Western Pennsylvania Association of Wabash Men volunteered Saturday, October 11, 2014 at the Ronald McDonald House in Pittsburgh. The group decorated a floor of the facility for Halloween, cleaned common areas, and prepared lunch for the families.
Participants included: Norm Beesley '61 and Jo Beesley; Walt Henry, son of Dr. Robert Henry H'59 and brother of Dennis C. Henry '67; Lyndall Huggler '83; Eriks Janelsins '02; Dr. Brock Medsker '05; Michael Spillson '10 and Lizzy McEntee. Financial support was provided by: Dick Cherry '49, Charlie Quillin '61, Bob Smith '66, and Steve Mihalko '69.
St. Louis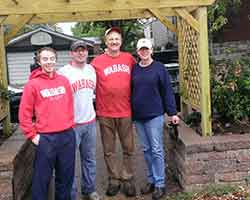 Kevin Pastore '95
- The Saint Louis area alumni of Wabash College braved the rain and chilly weather to assist Gateway Greening, a non-profit organization that works to advocate healthy living and helps to spread the idea of sustainable, urban agriculture. The target garden for 2014 was VAL Community Garden located in the Dutchtown South neighborhood. Throughout the morning, the group weeded and prepped a large section of the garden before spreading mulch in order to ready it for the Spring season. The garden currently supports local food pantries with a selection of vegetables and will expand that selection with a new bell pepper patch in 2015.
Alumni volunteers: Mike and spouse Edwina Kelley, Kenny Ferris & Kevin Pastore Garden coordinators: Grace Phillips and Larry Wiese
Zionsville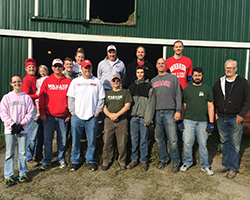 Sixteen willing, able and enthusiastic volunteers gathered at Morning Dove Therapeutic Riding Center in Zionsville to assist with a variety of construction and maintenance projects at Morning Dove's stables and facilities. Morning Dove serves individuals in central Indiana with physical, cognitive and/or behavioral challenges through equine-assisted therapies and activities.
This is the seventh consecutive year that Zionsville-area alumni, family and friends have worked at Morning Dove on Wabash Day. Wabash Day volunteers built and planted a landscaping box; poured a concrete threshold for a ramp in Morning Dove's indoor riding arena; moved and stacked hay bales; painted some areas inside the riding arena; and performed other miscellaneous maintenance tasks. We thank the outstanding staff at Morning Dove, including Volunteer Coordinator Lydia Phillips and Barn Manager Ellen Harrington, for a challenging and meaningful array of projects. All volunteers exemplified the positive, can-do attitude for which Wabash men are known. We enjoyed a rewarding and fulfilling experience -- not to mention the beautiful surroundings and fresh air!