Hodges' 3 TDs Too Much for OWU
by Howard Hewitt • October 11, 2014

Share:
Houston Hodges '15 finds his mojo playing at Ohio Wesleyan. Hodges' three-touchdown effort Saturday boosted Wabash to a 45-13 victory over the Battling Bishops.
"It's a really nice place to play I guess, there's a mojo about it," Hodges said.
In two games at Selby Stadium, Hodges has caught 10 passes for 191 yards and five touchdowns. Hodges quickly pointed out he snagged an interception two years ago at OWU, too.
After some back-and-forth action Saturday through the game's first 20 minutes, the10th-ranked Little Giants (5-0, 4-0 NCAC) buried the Bishops (3-2, 2-2 NCAC) with 35 unanswered points. Hodges' first score put Wabash up 17-13 midway through the second quarter and started the five-touchdown run.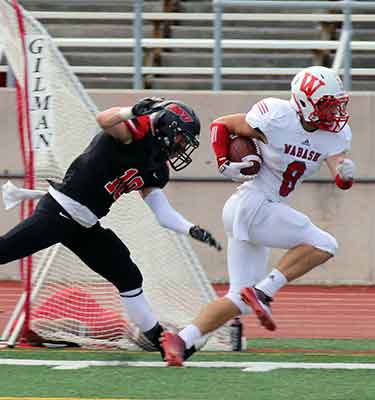 "We call it a 'PoGo' and I got him pretty good," Hodges said about the 35-yard touchdown. "I didn't think I was going to get him that good, but he bit on a post pretty hard. I had so much time looking back, I just told myself 'Don't drop this. Don't drop this ball.'"
Quarterback Michael Putko '16 connected with Hodges on each touchdown, but Putko did not take all of the snaps. Connor Rice '17 saw playing time, beginning in the second quarter.
"We just wanted to get Connor some action," Coach Erik Raeburn said. "I felt like he's done well when he's gotten in there and he's been practicing well. We wanted to get him in there earlier instead of late in some of the lopsided wins. It wasn't a reflection on how Michael played — I thought he played well. It was more to reward Connor for the good things he's done."
Putko threw for 168 yards and three touchdowns on 14-of-19 passing. Putko also rushed for 74 yards. In limited action, Rice completed 3-of-4 passes for 47 yards.
"They have a different tempo about them," Hodges said. "Connor likes to go a little faster than Putko. Connor's ball comes out a little faster too — he has an arm on him. They both commanded the offense really well."
Putko and the Wabash offense started fast. On their first drive, the Little Giants marched 65 yards in 13 plays as Tyler Holmes '14 capped it with a two-yard touchdown run. The Bishops responded on the ensuing drive as H-back Calvin Cagney scored on his own two-yard plunge. Wabash retained a 7-6 lead at the end of the first quarter after OWU failed on a two-point attempt.
Andrew Tutsie '17 hit a 26-yard field goal early in the second corner, then OWU quarterback Dominick Orsini rifled the ball to his receiver on a 56-yard score to give the Bishops a 13-10 lead. Orsini took a shot in the pocket, but placed the ball just beyond the defender's hands over the middle.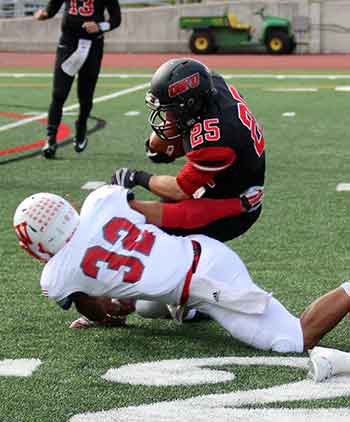 The Little Giants retook the lead on Hodges' first touchdown, 17-13. Wabash's defense pressured Orsini into an interception on the following series. Justin Woods '16 snagged a short, floating pass that led to Putko's and Hodges' second score, 24-13. The Little Giants closed the second quarter with Rice at quarterback, who led a quick-strike, three-play scoring drive for the 31-13 halftime score.
More of the same continued for the Wabash in the second half. Mason Zurek '16 scored on the opening drive to make it 38-13, then Hodges caught his final touchdown early in the fourth quarter, 45-13.
"The whole week Coach Raeburn was making sure we'd come out at halftime with the same intensity," Hodges said. "We've kind of been on a roller coaster this season. Every half has been different, but we made sure we didn't have that today."
Hodges added six catches and 71 yards to the three touchdowns. Drake Christen '17 led the team with eight receptions for 118 yards. Holmes led Wabash with 124 rushing yards on 21 carries and a score. Zurek added 105 yards and two touchdowns — Saturday was the second time this season the Little Giants had two 100-yard rushers.
While the Wabash offense enjoyed a mostly clean game, the defense settled in after a rocky start.
"We were OK with them getting the little short routes and stuff, but we don't want to get beat deep," cornerback Peter Fouts '15 said. "We weren't gap sound at times on the quarterback. I think we were kind of riled up getting into the game and made some mistakes early, but we fixed it all in the half."
Fouts played significant minutes after an injury knocked out the starter Woods. Fouts recorded five tackles and his second-career interception in the increased duty.
"As a backup, you just have to wait for your opportunity and when it shows up, you have to take advantage of it," Fouts said. "I had some butterflies that first drive, but as a senior I know what I'm doing."
Austin Brown '17 led all defenders with 15 tackles. Delon Pettiford '17 and Tyler McCullen each had eight for Wabash.
The Little Giants go back on the road Saturday traveling to Gambier, OH., to face Kenyon (0-5).
More News
---
---
Photo Galleries

Football vs. OWU 1 - TR