Little Giants Muscle Past Scots
by Jocelyn Hopkinson '15 • October 4, 2014

Share:
Autumn winds cooled Hollett Little Giant Stadium on October's first Saturday. The Wabash football team chilled the College of Wooster on Community Day in a 35-16 win.
"[Quarterback Richard Barnes] is a good player — we all dislike him, obviously, but we have to respect him," defensive lineman Evan Rutter '15 said. "He's hard to tackle — he got me on a couple. But we knew if we contained him well, we would come away with a W."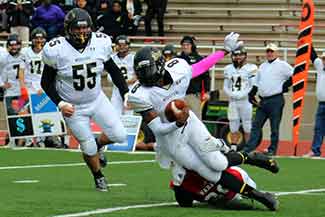 Barnes is one of five Fighting Scots to earn All-Conference honors last season. Wooster had averaged almost 40 points-per-game before putting up its lowest output of the season in Crawfordsville. The Little Giants held Barnes to 86 yards of total offense and sacked him seven times.
"He can get away from one guy, but if there's three, four, five guys coming after him he'll get flustered and sacked," Rutter said.
Barnes completed just 6-of-22 passes for 48 yards and a touchdown. The touchdown occurred on a 23-yard gimmicky hook-and-lateral with 12 seconds remaining in the game. It was Barnes' first touchdown pass against Wabash in five years.
The Little Giant defense had its way with the Scots early and often. Wooster punted on its first seven drives and garnered just 52 yards and three points in the first half. The Scots' inability to move the chains and poor punting allowed Wabash to have an average starting field position on Wooster's side of the 50.
The Little Giant offense took advantage of the tremendous field position. Mason Zurek '16 opened the scoring with a three-yard run. Then quarterback Michael Putko '16 found Sammy Adams '17 open over the middle for a 14-0 lead. In the second quarter, Putko connected to Adams again for a touchdown — off a slight deflection.
The 48-degrees and 27 miles-per-hour wind gusts made pass catching more difficult. "It was actually pretty tough today because this was the first cold day we've had," Adams said. "It was a little bit of an adjustment for the receivers, but we did a good job."
Wooster got on the board with a 26-yard field goal before Putko found Drake Christen '17 at the front corner of the end zone on a 21-yard strike to give Wabash a 28-3 lead heading into the locker room.
Putko finished 15-of-22 for 121 yards and three touchdowns. Christen led the team with six catches for 48 yards and a touchdown while Adams caught four passes for 34 yards and the two scores.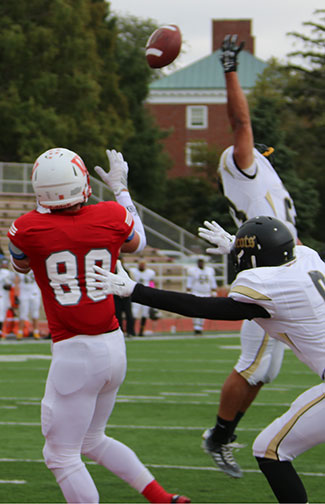 While the Little Giants were sharp in the first half, a messy second half put a damper on the win. Wabash committed eight penalties for 69 yards in the final 30 minutes, and allowed Wooster to amass 229 yards of offense.
"We shut down their run game real early and anticipated them to pass a lot more in the second half," Rutter said. "We put our 'money' package in, which is where we take a defensive lineman out so we're a little more vulnerable with the run."
Coach Erik Raeburn saw nothing he liked in the second half of Saturday's contest. "We played poorly," he said. "Our run defense was awful. We played poorly on special teams, and offensively we were completely inconsistent."
The Little Giants failed to score in the third quarter while the Scots added six points with a Darrian Owens three-yard run to make it 28-9 after a missed extra point.
"We just didn't come out focused," Adams said. "We didn't play like we should. Even when we're winning games, we need to play to our fullest potential. We need to play our best now in order to beat teams like Wittenberg."
Wabash responded in the fourth when Zurek tallied his second touchdown as he ran untouched from 15 yards out. Owens scored again for Wooster after he received the pitch on the hook-and-lateral in the waning seconds.
Zurek finished with 89 yards rushing and two touchdowns. Tyler Holmes '14 paced the Little Giants with 108 yards.
Austin Brown '17 led all tacklers with 17 tackles. AJ Akinribade '15 followed with 11 while Ethan Buresh '17 had nine tackles including two sacks and three stops for loss.
The Little Giants will hit the road for the next two weeks. They travel to Ohio Wesleyan Saturday then Kenyon the following week. Wabash will return home Saturday, October 25 against Oberlin.
More News
---
---
Photo Galleries

Wabash 35, Wooster 16