Zurek, Holmes Overwhelm Denison
by Jocelyn Hopkinson '15 • September 20, 2014

Share:
Two 100-yard rushing efforts helped Wabash Saturday overcome a sloppy start at Denison. Mason Zurek and Tyler Holmes' effort led the Little Giants in their NCAC opener, 31-12.
"It's tough having the bye week in between the first and second game," Coach Erik Raeburn said. "You have a long camp and you're looking forward to playing that (Hampden-Sydney) game, then you play one and it feels like you're back in camp again with the two-week break."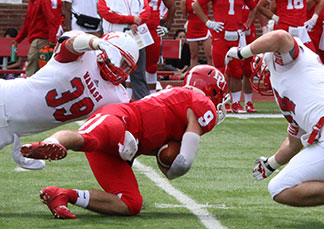 Denison doubled Wabash in yards and held almost a seven-minute time-of-possession advantage in the first quarter. The Little Giants were even though at 3-all.
"I think we came out a little flat," Receiver Drake Christen said. "Once we figured out some adjustments and got our heads in the game it went pretty smoothly."
Christen and the rest of the offense woke up in the second quarter. Mason Zurek scored the game's first touchdown on a 15-yard run, 10-6. The Little Giants pushed their lead to 11 later with a 15-yard score. Michael Putko connected with Christen, 17-6.
Christen ended the day with 5 catches for 77 yards and two touchdowns. The sophomore had been hampered by a hamstring injury throughout training camp.
"I think I'm 100 percent with the hamstring," Christen said. "It might be a little sore tonight, but it felt pretty good. We had to wait two weeks until we could get back on the field. It started out a little bit slow."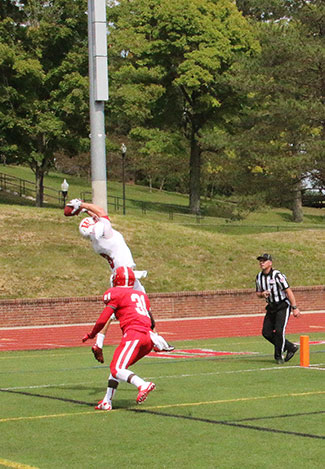 The Little Giants turned things up a notch to start the second half with more scoring from Zurek and Christen. Christen beat his defender deep for a 34-yard strike, then Zurek ran through the right side untouched for a 26-yard score as Wabash led 31-6. Zurek finished with 113 yards rushing on 12 attempts and two touchdowns. Fellow running back Tyler Holmes also eclipsed the century mark, going for 105 yards on 16 carries.
Putko completed 14-of-21 passes for 177 yards, 2 touchdowns, and an interception. Backup quarterback Connor Rice took the snaps in the fourth quarter after Putko was shaken up.
"Michael was pretty banged up and took some shots, and he didn't play his best game by any stretch," Raeburn said. "But we felt like we had a big enough lead to get him out of there. He took a couple of hits; he's a tough kid but we needed to get him out of the game.
"Connor hasn't gotten to see a lot of varsity snaps — that was a benefit. If it would have been a two-point game, we would have had to keep Putko playing."
The Little Giant defense mirrored the offense's early struggles. Denison marched 50 yards on its first drive and converted on a 33-yard field goal. The Big Red found success between the 20-yard lines, but fizzled out in the red zone.
"They were throwing a lot of hitches against our cover three so the flats were open," Denzel Wilkins said. "They were beating us on that, but we didn't get beat deep and they only got the field goals early."
Although the pass defense denied the big play, Raeburn was concerned.
"Defensively, we have some issues when we're not getting to the quarterback," Raeburn said. "Our coverage isn't very good so we have to improve that. But, the most important thing is the number of points you give up and we did a pretty good job of holding them down in the red zone."
Denison quarterback Brandon Sklenar threw for 241 yards on 28-of-45 passing. He also rushed for 23 yards and the Big Red's only touchdown. A week after throwing 6 interceptions, Sklenar avoided costly mistakes against Wabash.
"We made the quarterback very uncomfortable, but he scrambled a lot instead of throwing it like last week when he had six interceptions," Wilkins said. "He didn't give us many opportunities, but we have to get turnovers."
Wabash committed two turnovers, but avoided more disaster by jumping on three of its fumbles.
The Little Giants will return to Hollett Little Giant Stadium Saturday at 2 p.m. for the homecoming game against Allegheny.
More News
---
---
Photo Galleries

Football vs. Denison 2014