Wabash Wins Gentlemen's Classic
by Jocelyn Hopkinson '15 • September 6, 2014

Share:
Wabash's defense dominated the historic matchup of two all-male D3 schools in the initial Gentlemen's Classic. The Little Giants contained the touted Hampden-Sydney offense en route to a 34-21 season-opening win.
"I felt like we were in good shape offensively," Wabash Coach Erik Raeburn said. "I thought we wore them out; they had to sub out a lot of their linemen."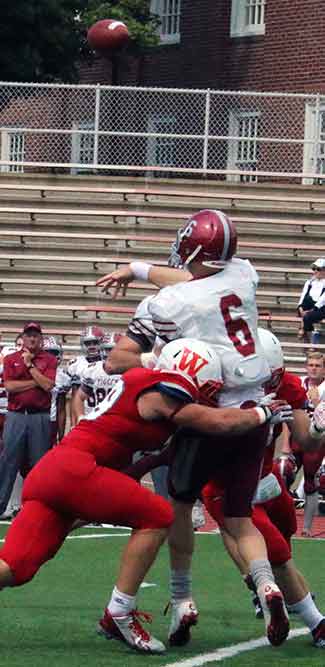 The game was the first meeting between the two schools on the football field, and was called "The Gentlemen's Classic" because Wabash and Hampden-Sydney are two of the four remaining all-male colleges in the country.
Hampden-Sydney (0-1) came out firing as it did in a second round NCAA playoff loss at Linfield last fall. All-American quarterback Nash Nance found his All-American receiver Holton Walker for a 60-yard scoring strike. The Little Giants (1-0) countered with an 11-play, 69-yard drive on the next possession. Tyler Holmes '15, back after missing eight games last year with an injury, capped the drive with a four-yard run to tie the game at seven.
After a Nance quarterback sneak, 14-7, the Tigers looked poised to take control. The HSC defense held Wabash to a three-and-out. But then sophomore Ethan Buresh stepped in front of a screen pass for an interception and returned the ball 41 yards for his first-career touchdown. The Little Giants never trailed the rest of the way.
"We were right where we thought we would be," Hampden-Sydney Coach Marty Favret said. "We had some momentum, then all of a sudden they pick it off and it's a tie game. We felt good at half time, but it just wasn't our day."
Buresh finished with six tackles and 1.5 sacks to go with the interception. Big brother Cody Buresh '15 made an impact as well. The All-American defensive end had six tackles and two sacks. The elder Buresh also forced and recovered a fumble.
On the next Tiger series, Nance appeared to miscommunicate with Walker, and Delon Pettiford '17 took advantage by picking off the over-thrown pass.
The turnovers helped Wabash hold a 12-minute and 23-second possession advantage in the third quarter alone.
"Up to the half we felt pretty good," Nance said. "We were doing everything we wanted to on offense — moving the ball, getting first downs. In the second half, we just struggled and had some big turnovers."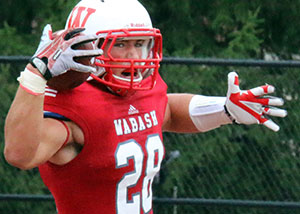 Nash completed 24-of-37 for 247 yards, two touchdowns, and two interceptions. Walker still managed to have a big day with 10 catches for 168 yards and two touchdowns.
The first Nance to Walker TD completion came over the top of Wabash's defense.
"They got that first one on me — I was in position, I just didn't make the play," cornerback Justin Woods '16 said. "But they didn't get much after that. I jammed him up at the line, and he got pretty frustrated."
Constant pressure and stiff run defense held the Tigers' offense in check. The Little Giants had six sacks and forced Hampden-Sydney into negative-five-yards rushing.
"We knew our young offensive line would be challenged by those guys up front and it didn't step up to the challenge," Favret said. "Nash got hit more than we wanted. I thought our defense hung in there, but we didn't get off the field in the second half and we didn't create any turnovers."
While the Wabash defense created big plays, the offense got nothing easy. The Little Giants averaged 4.2-per-play on 77 attempts.
"We didn't have many penalties on offense and we didn't have many negative yardage plays," Raeburn said. "We were able to kind of chunk it out. We didn't' get as many explosive plays as we'd like. They're a good a defense and really aggressive. They thrive on the big plays and turnovers like we do, so I thought that was key in the game — we didn't make those mistakes."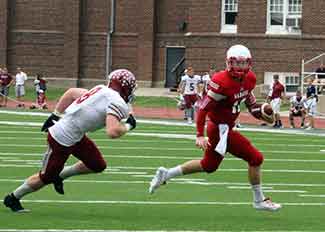 One of Wabash's biggest offensive plays was a third quarter 26-yard touchdown pass from Michael Putko '16 to Houston Hodges '15. Putko threw the ball to Hodges' back shoulder and the receiver managed to twist and catch the ball while getting one foot down in the corner of the end zone. The scored pushed the Little Giant lead to 24-14.
"They stopped us from making any big plays on offense," Putko said. "They made us earn everything we had. It seemed like we were just getting four yards every play — they did a really good job slowing us down."
Putko finished with an efficient 134 yards on 15-of-22 passing and the touchdown. Hodges was Wabash's leading receiver with nine catches for 78 yards and the score.
The Little Giants have a bye week Saturday before playing at Denison Sept. 20. Wabash will complete the Gentleman's Classic Sept. 5, 2015, traveling to Virginia to again face the Tigers.
More News
---
---
Photo Galleries

2014 Gentlemen's Classic Crowd Photos

HSC vs. Wabash 2

Wabash vs. Hampden-Sydney Feature Album 2