Wabash Rings In Class of 2018
by Richard Paige • August 23, 2014

Share:
The unbridled optimism that is a freshman class was ushered into Wabash College Saturday during its annual "Ringing In" ceremony in Pioneer Chapel.
As tradition dictates, 262 men sat in the Chapel balcony as President Gregory D. Hess welcomed the Wabash College Class of 2018 and their families to campus, and charged the students to reach their fullest potential.
Click here to view the Ringing in Ceremony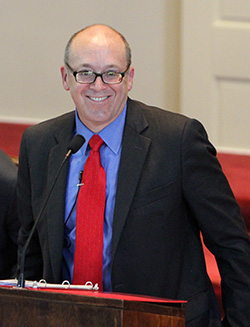 "This College saw greatness in each and every one of you and we promise that we will take you seriously in all that you do," Hess said. "We are a place of inspiration and expectations. We will expect great things from each of you and we will inspire and support you to reach your fullest potential."
The Class of 2018 also received sage advice from the campus' most well-connected sophomore, as the second-year president offered four pieces of advice to aid in the transition to college life.
"Get to work," Hess began. "You are here to work. Make that the priority. There is no better place to learn than in class with your peers and professors. Second, get involved. Discover the things that inspire you and about which you are passionate.
"Get to bed," he continued. "Bad decisions are made late at night. Decisions look much different in the morning. Use that as a guide post. Finally, get help. College is a set of big changes in your life. There are people here, no matter the problem, who can help you."
Hess encouraged the students to enjoy the journey and be confident in defining success as an individual. "Learn to swim in the current, and promise yourself each day that you will enjoy it, make new friends, and start to piece together how to define your success at Wabash."
Using the hand bell that once belonged to Wabash's first teacher, Caleb Mills, Dr. Hess rang in the class, which marks the official beginning of the students' lives as Wabash men.
Dean of Admissions and Financial Aid Steve Klein explained that among the freshmen are 52 legacies, including 13 whose fathers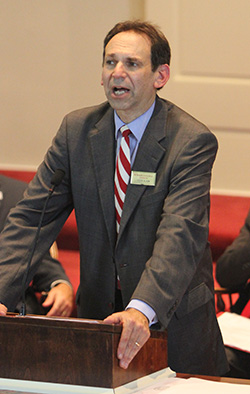 attended Wabash and 15 whose brothers are presently enrolled or have attended the College.
In keeping with tradition, Dean Klein reeled off some of the intriguing attributes of this year's freshmen. "From athletics to music, clubs and organizations to theater, from community service to world travel, you have much to offer Wabash and to each other."
There are 13 Eagle Scouts in the Class of 2018, 36 men who participated in Boys State, and collectively, a group that represents 20 states and 15 foreign countries.
A member of the Class of 2018 is an owner of an engine repair shop, another is a fashion designer, a playwright, and a teen court attorney. There is a bingo number caller and a three-time classical piano state finalist included within the group.
One Little Giant is a television anchorman, another is a three-time world qualifier in robotics competitions. There is a graduate of a junior police academy, a boat and automobile designer, an inventor of pollution-absorbing paint, and a co-founder of a growing nutrition company.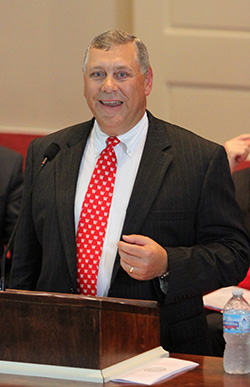 Greg Estell '85, the President of the National Association of Wabash Men, welcomed the students and their families to the Wabash community and spoke of the College's unique approach to educating young men.
"Your Wabash education is about much more than professional success," Estell said. "This experience is not about what you want to be, it's about who you will become. How you will not only learn the facts, but also learn to lead. It happens every day. Ours is a very intentional, and different, approach to educating young men."
Estell, founder of The Estell Group LLC, which provides sales and marketing services for manufacturers of engineered castings and machined components, alerted the freshmen to both the rigors and benefits that lie ahead.
"Your professors will be challenging, just like they were with my class," he said. "Your coaches on the field and directors on the stage will do the same. They will teach you, push you, demand more from you than you think you can produce, and help you when you fail.
"Alumni like me look back on their Wabash experience and recognize it as a fundamental turning point in our lives," Estell continued." We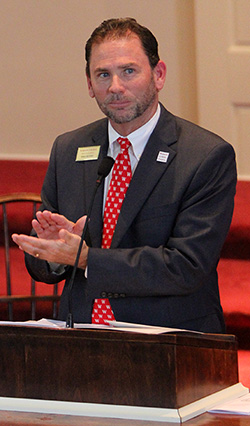 are grateful not just for the education we received, but the relationships that continue to shape our lives and make us better men."
Dean of Students Mike Raters '85 acknowledged the large step that this group of freshmen are about to undertake.
"While you are all successful in your own right with high school records to illustrate as such, we will push you to work harder, strive higher, and go farther than you may think or know that you can right now," he said. "This is good, hard labor -- student-centered work -- that you will find that we perform with passion and energy."
More News
---
---
Photo Galleries

2014 - Freshman Ice Cream with The President

2014 Community Service—Bethel AME

Exploring the Gentleman's Rule

Class of 2018 Ringing In Ceremony