62 Students Graduate from OLAB
• July 19, 2014

Share:
The 42nd edition of Opportunities to Learn About Business at Wabash College came to an end Saturday when 62 students were honored for completing the challenging program.
"It was an excellent week in every way," said program director Jim Amidon. "The students were curious, smart, focused, and really seemed to enjoy tackling all the work we threw their way. They were also a joy to work with and were extremely courteous to the faculty, counselors, staff, and volunteers."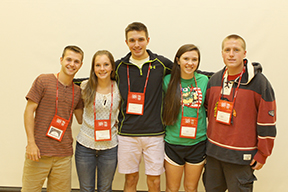 The students, who came to the Wabash campus from 16 states and France, were immersed in all aspects of business for a week, and learned — among other things — about production, finance, accounting, the stock market, group decision-making, public speaking, marketing, and advertising.
Competing in a computer simulated game, the students formed 13 companies focused on consumer electronics. Each team was to identify a target market and design a product and marketing strategy to sell their products in a very crowded market.
The students on team 11, Untouchable Industries, received the Shaheen Management Award for the overall best-managed firm. Untouchable lived up to its name, with sales eclipsing $15 million in the final quarter, some $60 million in sales for the game, and concluded the simulation with more than $7.4 million in total retained earnings and in excess of $25 million in assets.
Managing Untouchable Industries are Alison DeBruyn (Frankfort, IL), Kassie Braun (McCordsville, IN), Matthew Cox (Ann Arbor, MI), Reid Geiger (Bloomington, IN), and Patrick McQuinn (Palos Heights, IL).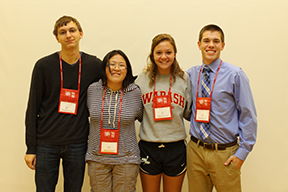 Team Eight, Aquatech, won the Tobey Award for developing the most focused and effective advertising campaign. The team of Chase Solys (Bloomfield Hills, MI), Melissa Chiaro (Griffith, IN), Ellie Stader (Westfield, IN), and Nathan Jent (Crawfordsville, IN) created the H2Optimus, the first-ever phone that charges with water.
Thirteen chief marketing took center stage Thursday morning. The CMOs, armed with nearly a dozen hours of lectures, games, and workshops related to marketing, presented their marketing strategies to two pairs of judges. In an OLAB first, there were three winners of the coveted Bingo Marketing Award, and the winners appear poised to enter the competitive and difficult world of corporate marketing. Bringing home the hardware were Dannick Boyogueno (Shakopee, MN), Madison Gourley (Thorntown, IN), and Nathan Jent (Crawfordsville, IN).
Luke Hallett (Carmel, IN) gave the Commencement address, while Tiffany Mi (Plano, TX) was honored for giving the best introductory speech.
The Labbies also had to create stockholders' speeches at the end of the week. They were charged to give an eight-minute speech wrapping up the week's ups and downs, and focusing on the positive. Winning the coveted Bull Thrower Award was Simone Siew (Crown Point, IN) in what Professor Todd McDorman said was one of the most competitive sessions ever.
Counselors selected Angela Wu (Carmel, IN) as Ms. Labbie and Patrick Smith (Raleigh, NC) as Mr. Labbie for their all-around efforts to get the very most out of the program.
Primary faculty for the program included Greg Shaheen (Game-Master), Humberto Barreto, Todd McDorman, and Jim Amidon. More than 20 volunteers also donated time as speakers, judges, and labor negotiators.
The program is funded in large part by the Goodrich Trust, but also receives funding from the D.J. Angus Scientech Foundation, Carmel Rotary Club, Mr. and Mrs. James Price, and the Indiana Sports Corporation.
The 2015 edition of OLAB will be held July 12-18, 2015.