Warner Receives McLain-McTurnan-Arnold Award
by Richard Paige • May 2, 2014

Share:
Rick Warner, a 15-year teaching veteran at Wabash College, received the McLain-McTurnan-Arnold Excellence in Teaching Award Thursday at the College's annual honors convocation, Awards Chapel.
Warner holds the Evans Chair in the Social Sciences at the liberal arts college in Crawfordsville.
With a penchant for meaningful conversation, Warner "is universally regarded as an outgoing advocate for the liberal arts, for teaching excellence, and for students," said Dean of the College Gary A. Phillips in presenting the prestigious award. "Students describe the classroom experience as friendly, welcoming, engaging, rigorous, a place where any and all questions can be asked, a safe space for contested ideas, where different opinions, persons, and experiences can be encountered and respected, a common ground for debating the meaty social and political issues of our time."
The Excellence in Teaching Award honors the memories of Reid H. McLain '27, Clair McTurnan '10, and Kent Arnold '29, and has been given annually to a member of the faculty who has distinguished him or herself by innovative and engaging teaching since 1965.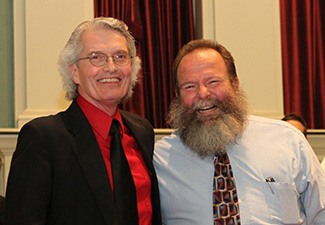 "A liberal arts school," said Dr. Warner, "is an ideal place for students to take full charge of their education. I endeavor to learn what I can about each student's learning style, so that our connections can be more genuine. I can talk all day about [my interests] because I have a fire in my belly for it, but I will not reach students for long unless I understand something about how they are interpreting my banter. To understand one another, we must come to know one another."
Warner joined the Wabash faculty in 1999 after completing bachelor's degrees at the University of Vermont and the University of California, Santa Cruz; and a master's degree and Ph.D. at UCSC. Prior to his arrival at Wabash, Warner was a visiting assistant professor at the University of Utah.
His teaching centers on Latin American, African, and World History with a focus on the indigenous history of Mexico, Latin American religious history and more recently, the global history of food. The latter becoming a seminar spotlighting Mayan archaeoastronomy.
Warner carries an impressive administrative record, as well. He is the Chair of the History Department, served as the associate Dean of Students from 2008-09, and chaired the Off-Campus Study, Faculty Development, Teacher Education, and International Studies Committees at Wabash.
In addition to outstanding work in the classroom at Wabash, Warner serves as the faculty coordinator for international programs, and serves or has served as a faculty advisor for Unidos Por Sangre, the Independent Men's Association, and sh'OUT.
"Rick goes to extraordinary lengths to meet the student where he is and to speak with him; he does the same with staff, alumni, and faculty," said Dr. Phillips. "The recipe is the same: invite the student, the colleague, to engage, to conjure, to stir up new ideas, to imagine how we together can make Wabash a vibrant home where all can thrive and teach and learn from one another."
His teaching covers all levels, from surveys to seminars and he has presented or published more than 45 papers and received 10 grants or fellowships. Additionally, he is president-elect of the World History Association and has been an advance placement consultant for the Educational Testing Service for 13 years.
Warner is passionate in his belief that learning is an active and on-going process. The experience only begins in the classroom.
"The learning process at Wabash only starts in the classroom," Warner said. "The classroom is a spark. My goal is never to change somebody or convince somebody or make them believe or understand, but to open up questions because that's the life of the mind. That will happen in some cool ways on immersion trips, over lunch, in my kitchen, in some random meeting on the mall, and after they graduate. I feel blessed to do what I enjoy so much and to be surrounded by so many people who teach so well."
Outside of his academic interests, Warner is an accomplished chef and organic gardener whose soups produced for social science colloquia have become legendary on campus.
More News
---
---
Photo Galleries

Student Honors Chapel Album 2