Little Giants Force Eight Miscues in Win.
by Jocelyn Hopkinson '15 • October 26, 2013

Share:
Wabash endured chilling winds and an early Oberlin score Saturday to rally for its seventh win, 27-10. Eddie Cmehil '16 scored his first-career touchdown on an interception return and Sean Hildebrand '14 caught two scores.
"We played well offensively [in the first half], we just didn't have the ball very much," Raeburn said. "But when we did, we scored on most of our possessions. We still squandered a couple of opportunities in the first half."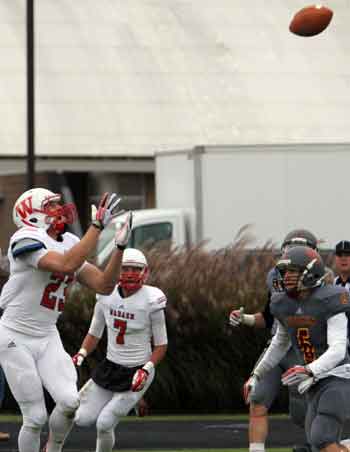 The second half was another story. The Yeomen stalled the Little Giant offense twice on the goal line.
"We weren't blocking up front like we needed to," Raeburn said. "Tight end, o-line not getting the blocking done. Twice we had second-and-one, but we couldn't punch it in. It's an embarrassment. We've run the ball well to this point in the season, so to play so poorly in the second half because we couldn't run it was real disappointing."
The Little Giants started shaky too. Their defense forced a punt on Oberlin's first series, but Justin Woods '16 fumbled the return gave the Yeomen excellent field position. Erickson Andrews converted on a 28-yard field goal and Wabash trailed for this first time this season.
The lead did not last. Michael Putko '16 engineered a quick scoring drive culminating in a nine-yard pass to Hildebrand. On the next Oberlin possession, Cmehil stepped in front of a short pass for a 44-yard interception return, 14-3.
"I was actually in the wrong coverage," Cmehil admitted. "But I ended up sinking on the route and taking the ball. I heard a couple of pads popping on the return so it was a team effort."
Ian MacDougall '14 connected on a 31-yard field goal and the Putko-to-Hildebrand connection worked again before halftime, 24-3.
MacDougall added a third-quarter field goal, but the kick was the only Wabash second-half score in seven possessions.
Oberlin finally broke through the Wabash defense early in the fourth quarter. Quarterback Logan Poggiali made plays with his arm and feet on a nine-play, 80-yard drive.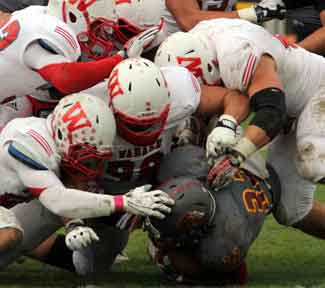 Wabash responded by forcing Oberlin turnovers on its next two possessions. The Little Giants took the ball away eight times.
"Obviously with losing 31-16 last year, there was a big emphasis to come in and not play flat," Cmehil said. "It wasn't pretty, but we got the job done."
Grant Klembara '15 led Wabash in rushing with 109 yards, but Saturday marked the first time a Little Giant running back did not find the end zone. Putko picked up the slack with his two touchdown throws and 12-of-20 passing for 156 yards.
Defensively, AJ Akinribade '15 recorded a team-high 8 tackles. Klembara doubled as a nickel back and paced the Little Giants with 2 sacks. Denzel Wilkins '15, Austin Brown '17, and Delon Pettiford '17 each intercepted a pass.
The Little Giants return home next week for a Family Day matchup against Hiram. Kickoff will be at 1 p.m.
More News
---
---
Photo Galleries

Wabash vs. Oberlin - Ian Baumgardner