Wabash Runs Over The Gators
by Howard W. Hewitt • September 28, 2013

Share:
MEADSVILLE, Pa. – Revenge? Redemption?
Or was it just taking it one game at a time?
Wabash (3-0, 2-0 North Coast Athletic Conference) dominated winless Allegheny here Saturday in every phase of the football game. The 65-0 score might have been the least impressive statistic. The Little Giants clearly wanted the satisfaction of thumping the Gators after last year's 20-17 Gheny upset.
Dominating can be an overused adjective in sports but not so for this game. Wabash out-rushed the Gators 385-3. The difference in first downs was 19-2. Total offense was just as lopsided, 495-55. Allegheny (0-4, 0-3 NCAC) crossed the 50 just once against Wabash's defense, and that was due to a penalty. The homecoming hosts were 1 of 15 on third down conversions.
"This was redemption," said junior linebacker AJ Akinribade, who led Wabash with six tackles. "This was us taking back what was taken from us last year. We know what happened last year was last year and we shouldn't worry about it but those guys took what belonged to us. We wanted to come in here and get it back. We shut them down in all phases. We let them have it. We let them have it."
Wabash scored on a blocked punt, an interception, a bad snap to the quarterback, on long runs and long drives.
"We talked to our guys about redemption all week, not revenge but redemption," Coach Erik Raeburn said. "They obviously beat us last year. They out-coached us, out-played us and out-hustled us. And we didn't want that to happen again.
"I think our guys are doing a pretty good job of staying focused. I hope we obviously learned our lesson from last year."
From the outset it was clear the Little Giants would play with a purpose.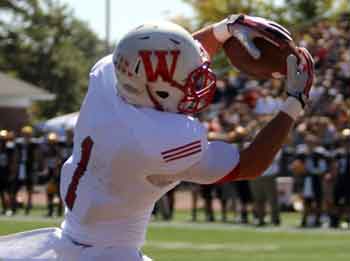 Quick scores from Mason Zurek running and an Andy Walsh to Houston Hodges 14-yard score set the pace. But then things got a little weird for the hosts. A center snap sailed past the quarterback who was still barking out signals and ended in the hands of Cody Buresh who carried it into the end zone, 21-0.
Anthony Stella scored on a three-yard run to open the second period. That was immediately followed by a Delon Pettiford 25-yard return of an interception --- his second of the season. Ian MacDougall hit a 34-yard field goal and then Zurek hammered the final first-half nail in the Gator's coffin. The sophomore burst up the middle for a 70-yard run and a Wabash 45-0 halftime lead.
"That long run was nothing special," Zurek insisted. "I just saw the hole and no one was there. And I just started running, fast."
Indeed, the sophomore who was stepping in for the injured Tyler Holmes had a huge day. He gained 158 yards on 12 carries with the two touchdowns.
"It felt pretty good," he said of his first collegiate start. "It was nice to get more confidence under my belt with Tyler out. I was nervous and didn't get a lot of sleep last night. It was nice to come out, run a few plays and score."
Offensive and defensive starters saw just one series apiece in the second half. The first offensive series ended with another MacDougall field goal of 30 yards.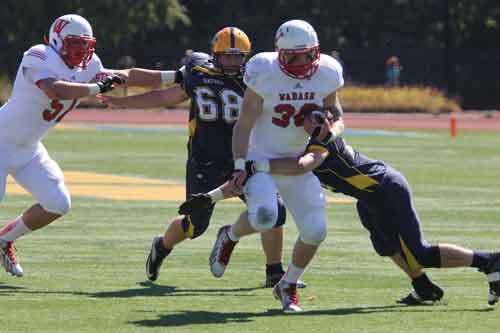 The Little Giant underclassmen then took over with little drop off. Freshman quarterback Connor Rice, making his first appearance, took off on a 50-yard scoring run with a beautiful cut back across mid field.
Brock Smith picked up a blocked punt and carried it for 26 yards. The scoring ended with at 2:42 when freshman backup placekicker Andrew Tutsie hit a 31-yard field goal, 65-0.
"The guys we started the game with played fantastic and built us a sizable lead," Raeburn said. "We gave them one series to start the second half to get used to coming out after halftime. We put those young guys in on defense and I thought they did an incredible job. The young guys up front blocked well, did a good job controlling the line of scrimmage and we continued running the ball and the clock.
"We're real proud of how hard those young guys who got in there the second half played and how they executed."
Besides Zurek's big numbers, Stella rushed 7 times for 60 yards, Matt Gibson carried nearly every down of the fourth quarter for 13 attempts and 56 yards. Walsh, getting the start in place of Michael Putko, finished with 10-13 passing and 96 yards. Putko was sitting out with a suspension for violation of team rules. Cameron Belton was 2-2 for 14 yards. Hodges caught six passes for 54 yards. Jon Laird had two catches for 20.
Nate Scola and Cody Buresh backed up Akinribade on defense with five stops apiece.
The Little Giants will stay on the road and travel to the College of Wooster next Saturday.
More News
---
---
Photo Galleries

Wabash 65, Allegheny 0