Little Giants Muscle Past Hanover
by Jocelyn Hopkinson '15 • September 14, 2013

Share:
Wabash opened its season Saturday with a convincing 69-0 win over Hanover. The 69 points was the most in eight years.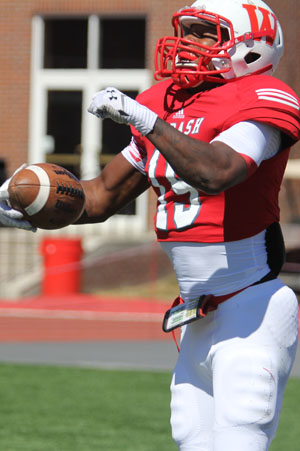 Freshman Delon Pettiford shone in his college debut and Sophomore Michael Putko excelled in his first start as a college quarterback. Putko completed an efficient 12-of-15 passes for 129 yards and two touchdowns. He also added a third touchdown running.
Pettiford, an Indianapolis Lawrence Central graduate, scored touchdowns on a blocked punt and interception return. Pettiford's interception was one of six for the Little Giant defense. The defense compiled an impressive 15 tackles for loss and five sacks.
"His last high school game was winning the state championship, and first college game he scored two touchdowns on defense and special teams so he got off to a pretty good start I guess," Coach Erik Raeburn said, a little tongue-in-cheek perhaps.
Pettiford scored the first touchdown of the Little Giant season recovering a blocked punt in the end zone after Hanover's first series. Pettiford also ended the Panthers' first series of the second half intercepting an Adam Gutermuth pass and returned it 32 yards for the touchdown.
Pettiford explained in the Wabash cover two defense the play was designed to bait Hanover into throwing the ball into the flats giving defensive back a chance to jump the route.
Putko orchestrated five scoring drives on his first seven series, leading the offense to 31 of Wabash's 38 first half points.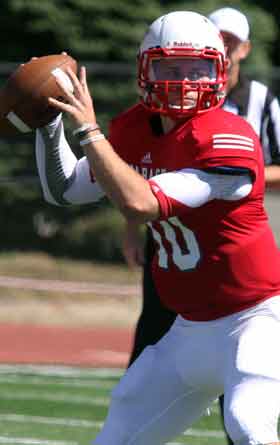 "When we're getting the ball inside the 30 every time, there's not much to it," Putko said. "Just execute and the rest will take of itself."
Putko earned his first touchdown on a bubble throw to Houston Hodges, who knifed his way into the end zone from seven yards out.
On the first play of the second quarter, Putko made perhaps his best throw of the day threading the ball into tight coverage for a 26-yard score to Sean Hildebrand, 21-0. Hildebrand caught four passes for 66 yards.
Wabash then turned to its ground game. Tyler Holmes carried the ball eight times in the second quarter for 96 yards and two touchdowns, including one 71-yard run that came up just short of the goal line. He finished the day with 146 yards on 19 carries.
Ian McDougall converted a 31-yard field goal late in the quarter to give the Little Giants a half-time lead of 38-0. McDougall converted two field goals and made all nine extra point attempts.
As Putko noted, the Little Giant defense and special teams made life easy. The Panthers crossed midfield just once in the first half, and it was only to the Wabash 49.
"We feel like our defense can have a really strong year," Raeburn said. "We have a lot of talent and experience on that side of the football. We were happy to see it pick up where it left off last year."
Nate Scola set the pace for the defense with six tackles including two sacks and two more for loss. AJ Akinribade posted similar results; he had five tackles, two sacks, and two-and-a-half for loss.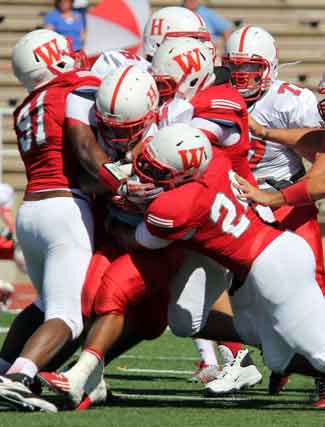 Pettiford, Eddie Cmehil, Jack Montgomery, Andrew Gibson, Denzel Wilkins, and Peter Fouts each snagged interceptions. The group added up 103 return yards — 58 more than the offensive output for Hanover. Raeburn felt the pass rush was just as responsible for forcing the interception as was the coverage.
"No matter how good the quarterback is, he's going to struggle if he has pressure," he said.
Wabash starters only committed one penalty in the first half — a vast improvement compared to last year's opener at Hanover when the team caused 15 thrown yellow flags.
"When you play the first game, that's a huge fear as a coach," Raeburn said. "We had some penalties and very few mental errors. Particularly considering it was the first game, I thought our guys were focused in."
The Little Giants host Denison Saturday Denison. Kickoff is scheduled for 2 p.m.
You can watch the entire game video cast here.
More News
---
---
Related
---
Photo Galleries

Wabash vs. Hanover 2013 2

Football VS. Hanover -Corey Egler '15

Wabash Football Senior Day Album 2

Wabash Football Senior Day Album 1