41st OLAB Program Wraps Up with Honors
by Jim Amidon • July 19, 2013

Share:
The 41st Annual Opportunities to Learn About Business program (OLAB) wrapped up Saturday with Commencement and the presentation of awards.
The 2013 OLAB program featured 64 students from 12 states and Spain, nine counselors, 15 volunteers, and a half-dozen faculty members. After learning the principles of finance, accounting, production, marketing, advertising, and public speaking, students were broken up into teams or companies and competed in a computer-simulated business game.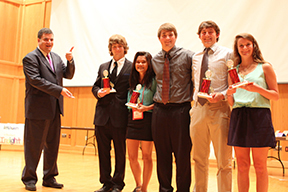 In a year marked by promising strength in a fledgling industry, Team 12, Clairvoyance, emerged Saturday as the OLAB Best Managed Firm Award for 2013. Clairvoyance had sales eclipsing $8 million in the final quarter, some $60 million in sales for the game, and concluded the simulation with more than $6 million in total retained earnings and nearly $24 million in assets.
Game Master Greg Shaheen of OSM Consulting said Team 12 "took advantage of every opportunity including higher productivity, with solid management and decision logic at every turn." Shaheen noted the industry sold more than three million units for the game — a record with sales exceeding $600 million for the full period.
Team 12 (pictured) was comprised of Nick Beeson of Park Tudor School (Carmel, IN), Emily Dickey of St. George's Independent School (Germantown, TN), Jacob Huff of MSD Shakamak (Jasonville, IN), Nolan Morse of Crawfordsville High School (Crawfordsville, IN), and Yosita Yeerong of Mira Mesa High School (San Diego, CA). Team 12 received trophies and $100 Nike gift cards for capturing top honors.
In addition to managing finances and making hundreds of business decisions during the week, students also had to develop marketing strategies and execute creative advertising campaigns.
Executives from Team 10 — behind the innovative Magic Wand device — celebrated after learning that the advertising campaign for their product had swept the Tobey Advertising Awards. Team 10 was comprised of Thomas Gardner of Park Tudor School (Indianapolis, IN), Luke Gunderman of Carmel High School (Carmel, IN), Chris White of Herron High School (Westfield, IN), Garrett Emerick of North Montgomery High School (Crawfordsville, IN), and Kevin Griffen of Brownsburg High School (Brownsburg, IN).
Top Marketing Strategy Presentations were awarded the Bingo Marketing Awards. Winning in 2013 were Shashwat Kala of Waterford High School (Waterford, CT) and Matt Paluszny of Carmel High School (Carmel, IN).
The counseling staff, headed by Dean of Students Brittany Craft, selected two students as Mr. and Ms. Labbie for their outgoing personalities and willingness to dive into all aspects of OLAB. Named Ms. Labbie was Baylee Crum of Frankfort High School (Frankfort, IN). Winning Mr. Labbie was Michael Quiroz of St. Lawrence School (Waukegan, IL).
The program's top speakers were honored with iTunes gift cards. The top speaker was Carlton Anker of Carmel High School (Carmel, IN). Also honored were Meredith Hess of the Webb School (Claremont, CA), Chineme Obiefune of Elmwood Park High School (Ellicott City, MD), Brady Quackenbush of Fishers High School (Fishers, IN), and Emily Dickey of St. George's Independent School (Germantown, TN).
Brady Quackenbush was elected the Commencement Speaker.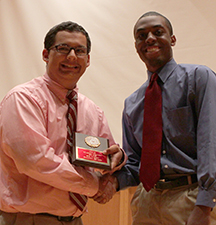 The final award presented at Commencement was the Bull Thrower Award, which is given annually to the OLAB student who slings the most bull during stockholder speeches. Winning going away was Adam Berman of St. Mary's School (San Antonio, TX).
The 2013 OLAB faculty were: Game Master Greg Shaheen, Economics Professor Humberto Barreto, Advertising and Marketing Director Jim Amidon, and Rhetoric Professor Todd McDorman. Labbies also received workshops led by Indianapolis attorney Chris Cotterill (business ethics), investment banker Steve Stapleton (stock market), and Nike's JoAn Scott (Nike's advertising strategy for London 2012).
Sponsors for the 2013 OLAB program were the John B. Goodrich Charitable Trust, D.J. Angus-Scientech Educational Foundation, Eugene and Marilyn Glick Family Foundation, James and Charlotte Price, Kiwanis Club of Crawfordsville, Nucor Steel, and Carmel Rotary Club.
More News
---
---
Photo Galleries

2013 OLAB Teams and Faculty