Why Are We Wabash College?
by Beth Swift • July 17, 2013

Share: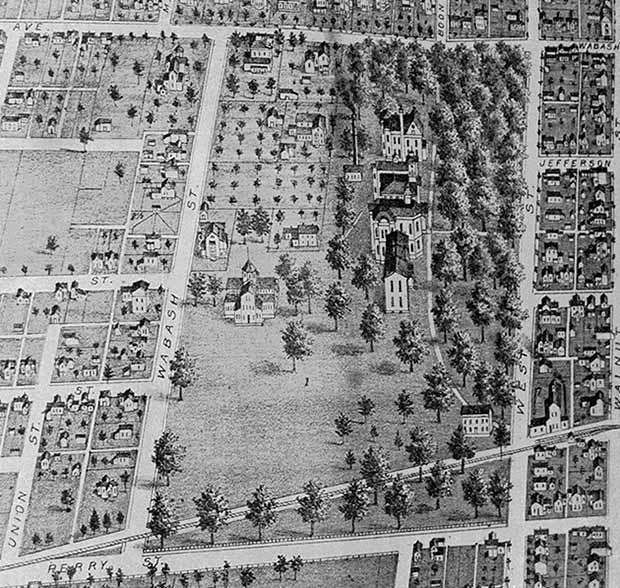 Image shows Wabash in the late 1870's.
Why are we Wabash College? We are not on the Wabash River, or in the town of Wabash, Indiana. The founders (all good Presbyterians) wanted to make a college for the education of teachers and preachers and locate it in the Wabash country. That is the source of the name. This was a section of the west notable for its ignorance and illiteracy. It was thought that to ensure enough teachers and preachers to make a difference, it was necessary to create them out of local men.
Why is Wabash in Crawfordsville? It is due to the gift of Williamson Dunn, a remarkable man. Dunn was passionate about education, he donated the land for Hanover and also donated land for what became Indiana University. The little graveyard by the Chapel at IU is the Dunn Cemetery. Dunn served as an agent for the government land office in Crawfordsville and donated fifteen acres of land he had purchased here in this area. Our first campus was about 6 blocks north, and that is where Wabash began. A timber building was the first college as bricks were beyond the means of the founders. This is Forest Hall which was held classrooms and served as the first dormitory. It was built over a walkout basement which served as cafeteria and living quarters for the caretaker. In this building Caleb Mills called the first class to order with a school bell, again in use by our presidents. Dr. Hess will ring in the freshman class this fall and ring out his first class of seniors at commencement in the spring with that historic relic.
Decades after Wabash moved to our present site, Forest Hall was given to the college by Caleb Mills. A substantial land developer, Mills purchased the old college site which included Forest Hall. This old frame building has been moved several times and in the Archives there is a picture of it on wheels sitting on the football field!
Edmund O. Hovey was among the nine founders. A Dartmouth man, Hovey came to Indiana as a missionary. He joined with others and together they decided to found an institution of higher learning in this area. Hovey served as founder, trustee, treasurer, fund-raiser, librarian and faculty member. When the College needed a teacher Hovey wrote to his friend from Dartmouth and Andover, Caleb Mills, and persuaded him to come to the Wabash Country. When Wabash needed a president, Hovey secured Elihu Baldwin. When Baldwin died unexpectedly, Hovey recruited his wife's brother-in-law, Charles White, a successful minister from New York State. Hovey and his very dear friend Caleb Mills were never separated for long. They lived and worked side by side. It was a very good partnership and benefited Wabash handsomely. Mills was the inspired visionary and Hovey the quiet maker.
Center Hall was designed by architect William Tinsley. He also designed buildings for IU, Butler and Kenyon. He designed the small church on the Circle in Indianapolis. He is credited, for good or ill, with introducing the College Gothic Style of architecture to this country. He was from Ireland.
The east side (arboretum side) of campus was the front for most of the first century of its existence. If you look at Center Hall this is apparent from the plainness of the mall side. The public side of campus was the setting for rallies, ceremonies and even commencement. There were not as many trees and each fraternity had its own tennis court there. It was also the setting for the yearly Greek plays.
This area is now an arboretum which was the brainchild of Parrish Fuller, a trustee. It was implemented in splendid fashion by Robert O. Petty, faculty member in biology. A new addition to this area is Petty's Patch. Funded by an alum, it is intended to honor Petty's accomplishments in conservation and education of the beauty of native Indiana woodland plants.
Penicillin and D-Day Andrew J. Moyer (W1922)
Penicillin was discovered in England in 1929. Alexander Fleming knew that it killed bacteria, but could not get it to grow in sufficient quantities to enable the treatment of even one patient. When England was under attack from German bombers, it was decided that this penicillin research should be moved to a safer location. It was brought to Peoria, IL where our man Moyer was working in a USDA lab there. He was working on growing molds using large scale fermentation equipment. Moyer was assigned the task of getting the penicillin to grow in sufficient quantities to enable it to be produced for wartime use. In four months Moyer had produced a ten-fold increase in production. He then increased yields again and by 1944 Pfizer began mass production, in time for penicillin to be used as the first antibiotic. It was carried with the troops onto the beaches at D-Day.
Will Hays, Sr. (W 1900) was the Chair of the Republican Party in the 1920's and was appointed to head the Office of Censorship for the Motion Picture Industry. He was the Hays Commission which decided who could say what, and do what, to whom in the movies. Another lesser known alum is Byron Price (W 1912) Price was the President of the Associated Press when WWII started. FDR called him and asked him to become the war time censor. Price was in charge of newspapers, radio and magazines. He instituted an amazingly effective voluntary system of censorship for the duration. Between these two men, all media in America at the time of WWII passed through a Wabash filter.
Goodrich Hall is the result of two very determined men and a wager. The challenge came from former Governor of Indiana, James Putnam Goodrich. Goodrich was a member of the Board of Trustees from 1904-1940. He was a fiscal conservative and the fact that Wabash was running a deficit bothered him greatly. Goodrich told President Hopkins that if the college would balance the budget for three years running, Goodrich would fund a new science building. This was during the Great Depression and with extreme cost cutting measures, this was achieved. Faculty salaries were cut and all maintenance was put off. It is said that the mall was cut once a summer, just before the students returned to campus in the fall. The buildings were left unpainted and all other non-essential expenditures were put on hold.
Wabash and the West Wing - Eric Gugler
The Library, Sparks Center, Baxter Hall, now demolished Waugh Hall, and the older part of the Allen Center were all designed by Eric Gugler. Gugler was a visionary architect who was closely connected to Lee McCanliss, President of the Board of Trustees for 15 years. When Wabash began to build at the end of WWII, it was Gugler who did the designing. If you look at a Gugler building here on Campus, notice the iron work at the top, you will see the intertwined G's that mark his work.
Teddy Roosevelt's administration built the first Oval office, but the much enlarged bureaucracy of FDR's administration required significantly more space. So the West Wing was demolished and rebuilt. The architect in charge was Eric Gugler. There is still a piano designed especially for the white house by Gugler and it can be seen on the White House web-site, as the Gugler Steinway.
There are a million stories about Wabash. I hope you have enjoyed these. As always, if you have questions or comments, please feel free to call (765.361.6378), e-mail (swiftb@wabash.edu) or stop in the Archives.