The students on campus for the Opportunities to Learn About Business (OLAB) program got a taste of real life Wednesday while working through tough negotiations with Wabash alumni and friends of the College.
The 64 rising high school seniors had to work with Wabash graduates who are businessmen and lawyers to negotiate labor deals. The exercise is part of a comprehensive, one-week program designed to give the students a well-rounded introduction to all phases of business. Students are running 13 companies all competing in the cellular device industry and on Wednesday faced a fictional strike by their employees. That's when the lawyers stepped in.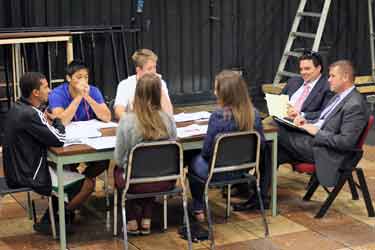 The Wabash alums take the task seriously but challenge the students with some fun as well. Specifically, the main items on the table are wage rate and employee productivity rates. But the negotiators argue for swimming pools, one brand of a soda over another, and (this year) scooters for all union employees in order to sidetrack the students from the real issues.
"I think these students are pretty bright and articulate," said Scott Benedict '98. "It's amazing to me how much real world knowledge they have for being 16-17 years old."
Benedict is a veteran of the program though he's not a lawyer. Attorney Brad Johnson is also a frequent participant and enjoys the give and take. "I've been doing this for close to a decade now and it's really inspiring to see how the kids get a real lesson in what it is like in the business world.
"It's really been fascinating to see how quickly they pick up on the idea that is a give and take and ultimately you're going to have to come to an agreement with the workforce. It's a lot of fun."
The program's tough exercises and realistic approach to business impresses newcomers each year. "I'm somewhat surprised at the sophistication of the material that is presented to the students," Briane House '79 said. "Like Brad [Johnson], I'm an attorney but I spent years in the corporate world where I had managerial responsibilities. I'm impressed high school students are getting exposure to this sort of learning opportunity.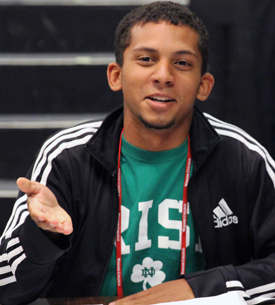 "I've had a lot of fun interacting with students to see how they react. Our mission is to push back pretty hard and so far they're rolling with the punches reasonably well."
Eric Lindley, who was representing the Goodrich Trust which helps fund the program, also came away with a good impression. "The students get to create business-type experiences." He said. "They get good exposure in terms of a business education and what businesses think of … and the negotiating is fun. It's a good day and a good experience."
The students are on campus for the week with former OLAB students as camp counselors. Wabash sophomore Seth Gunderman was a participant and is now a second-year counselor.
"It's such a great experience," Gunderman said. "Going into college I always wanted to go to medical school and be a doctor. But after coming to OLAB, it really sparked my interest in business. I plan on going into business after college. It's one of the major reasons I decided not to go into science but to major in rhetoric and German so i can hopefully someday go into international business."
The alumni, attorney's, and businessmen challenging OLAB students were Scott Benedict '98, Eric Cavanaugh '76, Aaron Cook '06, Tim Craft '00, Rick Dennerline (Duke University '71), Briane House '79, Brad Johnson '71, Eric Lindley of the Goodrich Trust, Jon Pactor '71, Ken Siepman '87, Mark Stuaan '78, and Bob Wright '87.
The program concludes on Saturday with Commencement at 2 p.m.