Wabash BIP Students Working With Alums
by Zach Canon '16 • July 3, 2013

Share:
Business Immersion Program students experienced stepping into the Lion's Den Tuesday. A panel of alumni businessmen and former Wabash Director of Development gave BIP students real-world feedback.
Alison Kothe, Dave Bowen '99, CEO of Market Maker 4, Brian Deyo '08, Associate Partner of Developer Town, and Michael Haugh '86, Managing Director of Corporate Strategy Planning with Eli Lilly &Co. provided the professional perspective.

The BIP students were split into four groups and challenged to create a viable business proposition. The students presented work to the panel of "investors." From product name to projected finances, the panel grilled each presentation. "We want to make the experience as close to reality as possible," Haugh said.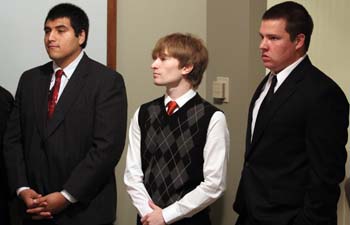 Group one presented research on what group leader Rudy Duarte '14 called "A first of its kind device that uses facial recognition software to prevent drivers from falling asleep at the wheel." With the software in place, assembly would be quick and easy, creating what "investors" called, "a legitimate business opportunity [if marketed well]."

Duarte, Ethan Groff '15, Jeremy Minor '16, and Tyler Munjas '16 believed their primary audience would be truck drivers, 16-25 year-olds, and insurance companies. Using that market, the group could separate their product from Mercedes' built-in auto-correction for veering vehicles. Groff's disclaimer to "investors" and future product users was, "though we believe in this product, there is no replacement for a good night sleep."

James Caum '14 described his team's business as "the only home and business food delivery service for restaurants that do not currently have delivery." Using Dine In Delivery based in Osceola, Indiana as a proven model, the group of four, Caum '14, Alex Hirsch '14, Ethan Dove '15, and Craig Brainard '16, targeted Fishers and Hamilton County. Strategically they would partner with local restaurants, hand out ad booklets, and sell their brand at local sporting event (t-ball, soccer, football).

Brian Deyo '08 encouraged the group. "It's a proven business model. Get the business running and off its feet and then sell it to a large name like Grub Hub."

Jonathan Anleitner '14, Michael Brendle '14, and Matthew Binder '16, explored the health care market. "[Our product] is a translation service provided through a smartphone application which is specifically tailored to the needs of emergency responders," Binder said. According to the group, partnerships in the medical field, NIMIA for instance (Northern Indiana Medical Interpreters Association), would give a competitive advantage over similar but less reliable competition.

Daniel Purvlicis '16 introduced the final group's project. "It's a revolutionary IPhone App that enhances a golfer's golf experience." The app would provide a mobile scorecard, GPS technology for shot distance, an innovative social network, and a slew of other tools. Purvilicis, Alex Rodriguez '14, Jocelyn Hopkinson '15, and Jiaxi Lu'16 made plans to market the product through apparel, free downloads to Country Club golf Pros, and social media. The fatal flaw came when "investors" claimed they already owned a similar smartphone application. "Investor" Dave Bowen suggested the group go big and focus on the GPS idea or downsize to a social media for golfers.

With $100,000 in fictional investment cash, the judges allocated their money in the following ways:

Group one (Device for drivers): $175,000

Group two (Delivery service): $20,000

Group three (Translation App): $115,000

Group four (Golf App): $5,000

Brian Deyo '08 told the group their presentations would hold up against the pros he frequently sees. "I see a handful of presentations every week. These presentations were great."

Michael Haugh '86 agreed, "It's very difficult to present your work to a body of investors and face scrutiny. You all did extremely well."
Roland Morin, Managing Partner for Innovate Consulting Group, Mishawaka, is the program's alumni instructor. Betsy Knott is the Director of Business Leadership and Immersion Programs.

The BIP students worked on several projects during the 8-week program. In addition to Tuesday's presentations, the group also collectively proposed an overhaul to Wabash's student self-help program (ESH), created business models for restaurants, and much more. This year's BIP represents the program's tenth year of existence. The BIP is made possible by a Lilly Endowment Inc.
More News
---
---
Photo Galleries

BIP Final Presentations, 2013