BIP Students Recommend ESH Overhaul
by Zach Canon '16 • June 24, 2013

Share:

A Latin phrase, more accountability, and a student work transcript were parts of a Wabash student presentation Monday for revamping Employment Self Help (ESH). The group even suggested a name change — using the Latin word OPUS — to emphasize campus jobs provide Opportunities to Plan, Understand, and Serve.
The students' overarching goal revolved around a change in culture for student workers' approach to on-campus work, achieve a more efficient and standardized system, and increase accountability for workers and their supervisors. Increased accountability will better prepare Wabash men for the job market.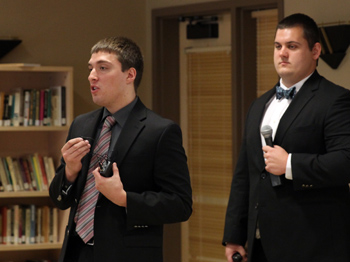 Wabash College's Business Immersion Program (BIP), an intensive summer program for Wabash students, tackles important business-related issues to provide solutions to real-world problems.
The BIP presenters emphasized that accountability is priority one. A survey of students garnered 170 responses which led the researchers to conclude some workers often show up late for their job and log deceiving hours. The group said a lack of motivation and meeting expectations sets a negative cultural campus work environment.
The hope is that students will treat their campus jobs with the same value they place on academics.
Measures of accountability proposed include a system of tiered pay according to job importance and time commitment per hour. They recommended student pay be set at $11, $10, and $9 per hour. Students with down time (or time available for homework) of 19 minutes or less per hour would receive OPUS 3 pay ($11) while students with down time of 42 minutes or less would receive OPUS 2 pay ($10), and students that sometimes have the full hour of downtime or study time, a library assistant for instance, would receive OPUS 1 pay ($9). While the student presenters acknowledged difficulty in categorizing jobs that fall under a gray area, they believe a system of rewarding harder work deserves a pay increase.
A worker's hours would be tracked via an electronic student ID swipe system. That system would force students to show up to work on time and refrain from leaving early.
In order to prepare students for life after Wabash, an interview process for each position would be conducted requiring an up-to-date resume and cover letter.
Workers would face similar consequences to the real world if they fail to do their job well. Consequences could include decrease in pay and hours, termination, and poor marks on the student's worker review sheet. That sheet would document the work history of a student and serve as a reference for any faculty member seeking to hire a student.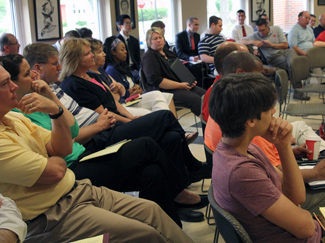 Incoming President Dr. Gregory Hess expressed plans to address the current state of ESH. He saluted the initiative taken by the BIP students to suggest a better system to prepare students for real-world employment opportunities as well as provide a viable medium for students to receive aid.
With the changes in mind for the new system, the BIP students also suggested the College hire an OPUS Director to oversee and run the operation.
The Business Immersion students hope to work in conjunction with President Hess to implement OPUS or at least several of the ideas.
"It went as expected," presenter James Caum '15 said. "Our presenters were professional and we received positive responses. We did not expect to please everybody; we just wanted to present our point of view based on the research." He continued, "There were only a few empty seats in the audience. It means a lot to us to work for six weeks and have a great turnout to hear our presentation."