Wabash Ready to Compete at T&F Nationals
by Brent Harris • May 23, 2013

Share:
One year ago the Wabash College track and field team celebrated a record-setting eight student-athletes heading to the NCAA Division III Outdoor Track and Field Championships. Another eight Little Giants will represent the team at the 2013 nationals this week at the University of Wisconsin-La Crosse, but there will be no celebration this year.
"We really had a chance to get a few a more guys to this meet," Head Coach Clyde Morgan said. "Nick Boyce just missed earning a place in the 3,000-meter steeplechase field, and we had a couple of throwers and a second relay that came close, as well. That shows the growth of this program as a whole The expectations of everyone on our team have been raised.
"We have a very nice group going to nationals this year, but they're also very young. They're young but also very talented. Now we have to remember to not just be happy with getting into the meet. We still have more to do."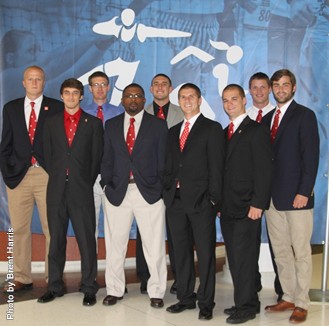 Make no mistake, the Little Giants are proud of the effort of their eight national qualifiers. Wabash will start on Thursday with Joel Whittington competing in the 400-meter hurdles at 5:25 p.m. (CDT). Matt Knox will participate in the pole vault in his first appearance at the NCAA championships. Whittington, Joey Conti, Chet Riddle, Sean Hildebrand, and John Haley will sort out which of the four will race in the 4x400-meter relay to close out Thursday's preliminary round. The Little Giants will have both Ronnie Posthauer and Nathan Mueller running in the 110-meter hurdles Friday evening before Haley races in the 400-meter dash.
Posthauer returns to the outdoor nationals for the second consecutive year, just a few months removed from a fifth-place finish at the indoor nationals in the 60-meter hurdles to earn All-America honors for the first time in his career. Whittington and Haley ran in the 1600-meter relay at last year's outdoor nationals, while Hildebrand served as an alternate for Wabash.
The combination of Posthauer, Mueller, and Whittington shows a continued growth of the hurdles program at Wabash under Morgan.
"These sophomore hurdlers have been amazing," Morgan said. "When I was recruiting them we talked about getting to the national meet and being all-americans. To see them reach that potential so early in their careers --- I have to be honest, it's a little scary. I've been blessed to have some great hurdlers, but I've never had a group like these guys."
Posthauer's path to the national meet took a detour two weeks ago. The sophomore utilized his skills as a German major during a trip to Germany that did not allow him to compete in any last-chance meets. Posthauer also needed to make arrangements to find a practice facility while studying overseas.
"The trip to Germany was awesome. I had never traveled outside of the United States before that trip. I met a lot of great people. I have to admit it was a little difficult to get motivated to do training some times, but I've put a lot into earning a trip to nationals. Coach Morgan helped me set up a practice routine and helped find a facility to be able to use during my time there. I feel ready to go this week."
Posthauer will race with Mueller next to him in their preliminary heat Friday. The indoor All-American is looking forward to gaining support from his teammate.
"I was really pumped when I learned Nathan made the meet," Posthauer said. "I'll have someone to keep me motivated and I think it will help my mindset going into the prelims to see a teammate right there with me."
Mueller earned his place in the field with a pair of solid times in the final week of the regular season. His time of 14.62 at North Central to gain a spot at nationals.
"I had some problems breaking through the 15-second barrier early in the season," Mueller said. "I finally really understood the concepts of snapping my leg and running hard between the hurdles. Watching Ronnie's progress and workouts this season has really helped me get better and has helped drop my times this season in dramatic fashion."
Whittington races as an individual at nationals for the first time in his career. He led off the Little Giants' relay team at last year's championship meet in California, so he knows what it will take to perform well this year.
"I'm ready to compete in the 400 hurdles," Whittington said. "I've spent a lot of time running with a really good group of 400-meter runners in practice this season. They've really helped prepare me for the season and for this meet."
Haley will also run as an individual for the first time in his career after two trips to nationals as part of a relay team.
"My previous two trips have helped me to understand how to prepare mentally and physically for nationals," Haley said. "I'll just keep doing the same things I've done for every meet. I ran really well at the conference meet, so I'll try to keep to that same sort of warmup."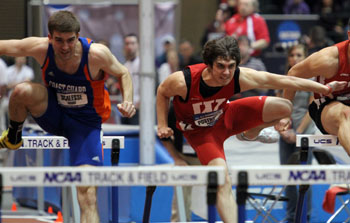 Conti, Hildebrand, and Riddle helped produce a season-best time last week in the 1600-meter relay with a 3:14.36 to pick up one of the 16 spots in the national field. All three are ready to turn in another great effort in an attempt to grab one of the top-eight places that will receive All-America honors.
"We have some great team chemistry," Conti said. "Whittington and Haley have been here before and Sean went with the team last year, so we really know what to expect. This really won't be any different from the big meets we've attend previously. We just have to go out and take care of business."
"I learned last year that anything can happen at nationals," Hildebrand added. "You have to be ready to go out and perform your best. There are always surprises, but if you come ready to compete you can walk away earning that All-America status."
Riddle heads to nationals for the first time in his career in what will be his last college race.
"This really means the world to me," Riddle said. "I came to Wabash I never really saw myself in this position. I always thought of the people competing at nationals as the elite of Division III track and field. After I studied overseas in Germany my junior year, I rededicated my self by working hard over the summer, running cross country in the fall to continue to develop my abilities, and keep up the effort this spring to reach that mark. Competing this week is the summation of all of that."
Knox set a Wabash record for the pole vault in the final weekend of competition at North Central, clearing 4.83 meters (15 feet, 10 inches) to get the opportunity to compete in the finals for the both the first and last time.
"I'm really excited," Knox said. "I didn't want my year to end. I just kept thinking how much I would love to have my senior year continue as long as possible. Now I'll get the chance to compete in the final meet of the season. It will be great to have all of my teammates cheering for me Thursday and to know that I can do the same for them Friday and Saturday. I'm looking forward to all of us accomplish some great things."
Live video of the NCAA DIII National Championships can be viewed here, while meet updates can be found here.