Dodd's Fifth Children's Book Available
by Howard Hewitt • May 16, 2013

Share:
Children's author Quentin Dodd '94, also Wabash's Network Services Manager, has published his fifth book.
It's called Tennis Camp of the Living Dead: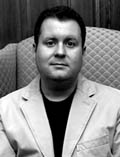 Stickley Smythe is spending the summer at Bright River Tennis Academy. He's playing against top competition and learning from the best tennis coaches in the country.
But something isn't quite right.
Everyone else thinks the camp is perfectly normal, but Stickley can't help asking questions, such as:
Why does the camp pro never go out in the sunlight?
Why are they building coffins in arts and crafts class?
Why do the villagers across the river fear the camp so much?
and, most importantly:
Why did he agree to come here in the first place?
As Stickley works to unravel the mystery, he realizes that he's staying at no ordinary summer camp.
Instead, he's stumbled upon the Tennis Camp of the Living Dead!
Dodd says the book is geared to older kids than his previous books, estimating fifth to eighth graders will enjoy the story.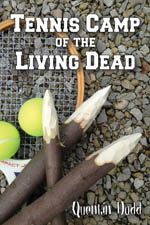 "The original idea for the book came from repeated viewings of the second-generation Universal monster movies, such as "Son of Frankenstein," "The Mummy's Ghost," and " House of Dracula," Dodd said. "In all those movies, I was struck by how resigned the villagers were to the coming mayhem. They knew that someone was going to open the tomb and revive the monster again, and they knew they were going to have to dig out the pitchforks and flaming torches and chase it down again. It was accepted. They had developed a businesslike attitude to the whole thing. I wanted to write something that showcased the lives of monster-movie villagers."
The camp in Dodd's latest book isn't from his active imagination but from visiting his then-girlfriend now now wife during the 1990s at Tippecanoe County's Camp Tecumseh.
"The book is a lot more funny than scary," he said. "It's not quite 'Abbott and Costello meet Frankenstein,' but I don't imagine anyone having nightmares over it. There are one or two spooky scenes, but I can't ever go very far without telling a joke."
You can read a bit more of the book at Quentin's website. The book is available through the Wabash College Bookstore and at Amazon in hard cover and e-book versions.