Wabash Wins Third NCAC T&F Title
by Brent Harris • May 4, 2013

Share:
Wabash picked up six first-place finishes on the way to a third straight North Coast Athletic Conference Men's Outdoor Track and Field Championship victory. Sophomores Derek De St Jean and Nick Boyce garnered Most Valuable Performer of the Meet honors.
"While I am so proud of the effort of our team, I'm really thrilled for all of the athletes that competed in this year's meet," Wabash head coach Clyde Morgan said after the victory. "So many athletes were turning in personal bests, conference and track records, and hitting big marks that it really had the feel of a national championship meet. Kids and fans were cheering every race and there were great finishes at the wire in almost every race. If you are a track and field fan, you saw great effort today by every competitor in both the men's and women's meets."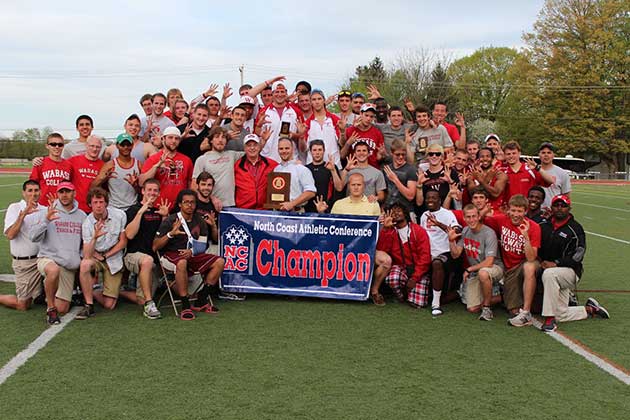 Wabash tallied 275.5 points to win its third straight outdoor title to go with three consecutive indoor championships. Ohio Wesleyan was the last team to capture three indoor and outdoor titles (2008-2010 in both). Allegheny holds the highest conference mark with outdoor and indoor titles in 2003, 2004, 2005, 2006, and 2007.
De St Jean received the Men's Field Athlete Award by recording his third individual victory of the meet on Saturday by winning the hammer throw with a mark of 52.86 meters (173 feet, 5 inches) --- the best effort of his career. He grabbed victories in the shot put and discus on Friday. De St Jean earned the award for the second consecutive season in addition to capturing the award at the 2013 indoor award.
Joel Beier took fourth place in the hammer with a throw of 44.22 meters (145 feet, 1 inch). Raymond Monroe scored three team points with his sixth-place finish in the hammer (41.55 meters; 136 feet, 4 inches).
Boyce set new NCAC, Wilder Track, and person-best marks with a victory in the 1500-meter run to earn Middle Distance/Distance Most Valuable Athlete honors. He crossed the finish line in 3:54.02 to better the conference record of 3:54.07 set by Dee Salukmombo from Denison at the 2011 championship meet. Fabian House took fourth place for Wabash in the 1500 with a career-best time of 4:01.62.
"Derek is so loose; I think that really helps him when he competes," Morgan said. "He can foul or not have good throw in his first two attempts and will just walk back with a big smile because he trusts his abilities. He'll come right back and produce a big throw over and over again.
"Nick has really developed confidence this season, starting with a good finish at the DePauw indoor meet in February. He's still trying to reach his potential, but just keeps getting better and better every time he races. In the 1500 Coach (Roger) Busch and I thought he might have made a move too early at the 300-meter mark. The second-place runner (Chad Kosanovich from Denison) started to push him late, but Nick just stayed in front and clipped him by four-hundreths of a second at the finish line."
More records fell in the 400-meter relay and javelin throw for Wabash. The quartet of Charles Smothers, Alfred Sambo, Sean Hildebrand, and Nathan Mueller turned in a time of 41.93 to win the 4x100. That time set a new Wilder Track record in addition to the modern, non-converted Wabash school record. Kenton Armbruster won the javelin with a throw of 59.38 meters (194 feet, 10 inches) to set a new Wilder Track record with that personal-best effort. Evan Groninger took third place to earn all-conference honors with a mark of 56.14 meters (184 feet, 2 inches). Matt Dickerson added a fourth-place finish with a mark of 53.32 meters (174 feet, 11 inches) for a person-best throw, as well.
"Kenton had not thrown the javelin until this year," Morgan said. "He was talked into it by Groninger. He's worked hard all season long, so it's great to see his efforts rewarded with a big throw at the conference meet."
Ronnie Posthauer cruised to a victory in the 110-meter hurdles with a finals time of 14.50 less than 24 hours after setting a new NCAC record with a prelims time of 14.36. Mueller took second place with a time of 14.87. Adam Wadlington finished fifth with a time of 15.59, while Joel Whittington took sixth place (15.59).
Adam Togami captured the final first-place finish for the Little Giants, winning the 3,000-meter steeplechase with a personal-best time of 9:35.73. Matt Avanatti's third-place time of 9:47.41 was also his best career time in the steeplechase. Jacob Caddick turned in a time of 9:54.96 to finish in sixth place. Zach Vega crossed the line in 9:56.43 to take seventh place.
Whittington, John Haley, Chet Riddle, and Joey Conti combined for a second-place finish in the 4x400-meter relay with a time of 3:14.84 to break the old Wabash school record of 3:15.07 set in 2010. The time also broke the old NCAC conference mark but was just trailing the first-place time of 3:13.09 turned in by Ohio Wesleyan. OWU's time is the fifth-quickest among NCAA Division III programs this season, while the Little Giants' time is ninth-best overall.
Haley crossed in second place in the 400-meter dash with a time of 47.99 for his best career time in four seasons to set a new Wabash school record. His mark bettered the previous NCAC championship record but trailed new record-holder and event winner Silas Jolliff with a time of 47.63. Riddle took eighth place in the event with a time of 49.62, also a personal-best time.
Whittington turned in his best career time to finish second in the 400-meter hurdles, crossing the line in 53.21. Billy Rosson took seventh place with a time of 58.39, while Wadlington turned in an eight-place finish (59.46).
Cole Hruskovich scored a second-place finish in the 800-meter run with a time of 1:54.83 for his best effort of the year. James Kervan crossed in 1:57.47 to take fourth place. Zach Huston took seventh place with a time of 1:58.57.
Kris Nickle cleared 1.88 meters (6 feet, 2 inches) for a second-place finish in the high jump. Grayden Gilmore's clearance of 1.78 meters (5 feet, 10 inches) earned him an eighth-place finish.
Arion Clanton tacked on team points in the triple jump with a career-best mark of 12.82 meters (42 feet, 0.75 inches) to finish fifth overall. Hildebrand added a sixth-place finish in the 200-meter dash (22.56), while Haley finished seventh (22.69). Billy McManus finished sixth in the 5,000-meter run (15:28.16), with Jared Burris crossing in seventh place with a season-best time of 15:32.15.
Smothers and Hildebrand turned in the final top-eight efforts for Wabash in the 100-meter dash. Smothers took sixth place (11.22) while Hildebrand finished seventh (11.30).
The Little Giants jumped out to an early lead in the team scoring Friday. De St Jean won two individual titles, while Jared Burris and Matt Knox scored first-place finishes at the first day of competition at Kenyon. Wabash leads the team scoring on the men's side entering the final day of events.
De St Jean doubled in the discus and the shot put. His mark of 45.nn meters (148 feet, 9 inches) earned him first place in the discus, while a throw of 15.25 meters (50 feet, 0.50 inches) won the shot put while also setting a new Wilder Track record at Kenyon. Beier picked up two All-NCAC awards by finishing second in the shot put (14.61 meters; 47 feet, 11.25 inches). He added a third-place finish in the discus with a mark of 43.44 meters (142 feet, 6 inches).
Tre Taylor finished fourth for Wabash in the shot put with a mark of 14.49 meters (47 feet, 6.50 inches). Monroe scored for the Little Giants in the discus, finishing seventh with a toss of 39.18 meters (128 feet, 6 inches).
Knox equalled his personal best in the pole vault, winning the conference title by clearing 4.70 meters (15 feet, 5 inches). For the second time this season Knox just missed the Wabash school record by a centimeter. While his height was not quite a Wabash record, Knox did set a new facility record with his effort. Trevor Young added 4-1/2 points to the Little Giants' team totals by tying for fourth place with a vault of 4.30 meters (14 feet, 1.25 inches). Jackson Reid scored two points by finishing seventh (4.15 meters; 13 feet, 7.25 inches).
Burris won the 10,000-meter run by almost 20 seconds, crossing the finish line in 32:47.26 ahead of Luke Hutchings-Goetz from Wooster in second (33:06.12).
Mueller picked up a second-place finish in the long jump with a leap of 6.85 meters (22 feet, 5.75 inches). Vann Hunt, a favorite to finish in the top-eight places in Saturday's triple jump, finished in ninth place in the long jump with a mark of 6.32 meters (20 feet, 9 inches) only to see his career end when he suffered a dislocated left elbow on his final jump.
Morgan and his staff --- Assistants Roger Busch, Cassie Busch, Steve Rogers, Aaron Selby, Horace Turner, Rob Johnson, Alex Moseman along with student assistant coach Brad Pusateri --- were named the NCAC Men's Coaches of the Year for the third straight season.
"My mentors have always told me to be successful you have to surround yourself with excellent people," Morgan said. "I have the best assistant coaches in the world. They care about these young men as athletes, as students, and as Wabash men. I know that they primary concern is that these young men succeed in life."
Morgan added an additional assistant for this conference meet. Wabash President Patrick White provided a motivational send-off speech when the team departed for the meet on Thursday. Saturday White attended the meet to help cheer the Little Giants to the championship.
"President White was like another coach," Morgan said. "I was worried about taking the pressure off the guys and trying to get them to relax before their events. President White took care of all of that for me. He kept the guys loose with his conversations, he broke the team down to begin the day, and celebrated with us at the end of the day. He was a great asset all day long. We were thrilled to have him join us."
Ohio Wesleyan finished in second place behind the 275.50-point effort of Wabash by scoring 148.50 points. Wittenberg finished third with 74 points, followed by Oberlin (68), Denison (62), Allegheny (59), Kenyon (51), DePauw (49), and Wooster (31).
The championship meet is the end of the season for many of the Little Giant athletes. Several will continue to compete at last-chance meets throughout the month of May in an effort to earn a spot at the 2013 NCAA Division III Outdoor Track and Field Championships to be held May 23-25 at the University of Wisconsin-La Crosse.