Chamber Orchestra Spring Concert Sunday Eve
• April 18, 2013

Share: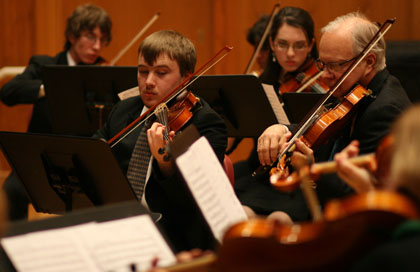 The Wabash College Chamber Orchestra will present a spring concert at 7:30 p.m., Sunday, April 21, in Salter Hall in the Fine Arts Center.

The orchestra opens with a performance of Les Preludes, a symphonic poem by Franz Liszt. Liszt is remembered primarily for his contribution to piano virtuosity, both through his own performances and a host of students. He was a veritable titan of the keyboard, and it was said of him that once having read a piece for the first time, no subsequent performance of his was limited by the musical notations of its composer. He would instead amuse himself by converting a simple melody into double octaves or tenths, and all compositions became a sort of springboard for his own improvisatory brilliance. His sight reading was astounding: He regularly read full symphony scores at sight, converting all transposing instrumental lines into a single coherent rendition for piano two-hands, all performed with the utmost ease and fluency.

WCCO closes with Beethoven's Symphony # 3 in Eb Major "The Eroica." One of the staples of the classical repertoire, this colossal work was originally dedicated to Napoleon Buonaparte. Beethoven was enchanted with the idea that this man of destiny would bring democratic values to a world long dominated by royalty. Beethoven himself felt keenly the irony of performing music, which he knew to be divinely inspired, for a society of princes, dukes and potentates who fancied themselves to be of divine origin. He chafed under the social restrictions that his common birth enjoined upon him. When Napoleon effectively renounced all democratic pretensions by declaring himself emperor, Beethoven tore up the dedicatory page of his symphony in a fit of outrage. But the work itself remains a testament to the ideal hero: a thrilling first movement; a monumental and profound second movement in the form of Marche Funebre (funeral march), which transcends the genre in every respect, with multiple fugues and an almost programmatic description of the final hours of a man's life on earth; a lively scherzo; and a fourth movement that is a daring theme and variations, replete with innovations of form and structure.

Under the direction of Alfred Abel, the orchestra has performed works by a wide variety of composers from the 16th to the 20th century including not only great masters like Bach, Bartok, Stravinsky, Beethoven, Brahms, Ravel, Vivaldi, Haydn, Handel and Mozart but also composers who are less frequently performed by today's orchestras, including very early composers such as Rameau, Mouret, Purcell, Byrd and Jenkins.

The concert is free and open to the public.