Thompson '13 Wins Baldwin Oratorical
by Jacob Burnett '15 • April 11, 2013

Share:
Wabash College possesses many unique traditions that define it apart from other liberal arts colleges. One such tradition allows the students to experience the unique opportunity to compete in one of the longest running oratorical contests in the country, the Baldwin Oratorical Contest. This year the Rhetoric Department presented the 139th Baldwin Oratorical Contest responding to the theme "Practicing Civic Engagement."
Corey Hamilton '14, Scott Purucker '16, Justin Taylor '15, and Zachary K. Thompson '13 were the finalists.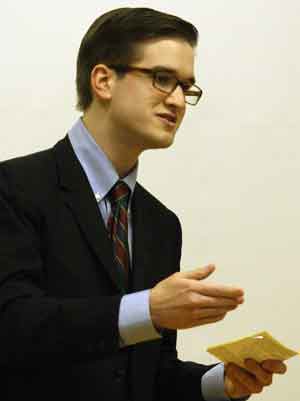 President of the College Patrick White, his wife Christine White, Donovan Bisbee '12, and Communications Director for Mayor Ballard Marc Lotter judged this year's contest.
The contest winner, Zach Thompson '13, gained valuable experience. "More than anything, I've gained the confidence that comes with writing a speech and giving it." Thompson said. "Public speaking can be nerve racking. But here I am, in my first Baldwin Contest, competing. I would like to stress that anyone in our Wabash community can take part in this contest, can try and can win it. Oratory in the United States was once a national obsession. I hope that it can be again."
Thompson '13 delivered his speech, "Two Easy Improvements for a Walkable Downtown." Zach first described what he meant "walkable" implied. Basically, individuals should want to walk and not drive. A walkable downtown provides health benefits and an opportunity to have unplanned interactions with the community. He gave vivid account of walking in downtown Crawfordsville to describe that better crosswalks and tress would encourage the community to walk to and through downtown Crawfordsville. Zach stated that these fixes could engage Wabash students to help plant and take care of the tress. These fixes could happen if people contacted the Deputy District Commissioner to see these renovations come true.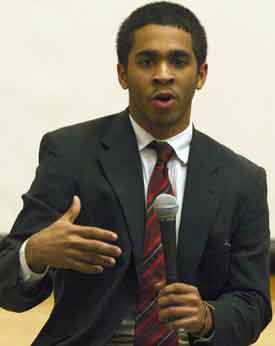 Justin Taylor '15 presented his oration "Oh brother, Where Art Thou?" for a second-place finish. He passionately discussed the history and evolution of homosexuality. From caveman drawings to the 21st century, homosexuality has existed but evolved from a non-marginalized identity to discrimination. Taylor described that young adults discovering their sexual identity tend to suffer emotional and cognitive dissonance, and that the youth is more than eight times more likely to commit suicide, and two times more likely to suffer from depression. He then gave a personal anecdote and related that to his experience at Wabash. He advocated that small changes like not inappropriately using "that's gay" as a put-down can have drastic and meaningful impacts. Taylor argues that at the College needs to encourage these behaviors because we are in fact, "a band of brothers."
Scott Purucker '16 titled his speech "Lacrosse at Wabash." He shed light on the need and benefits of incorporating the lacrosse club sport into a full varsity sport. Lacrosse has become the fastest growing sport in the nation at the high school and collegiate level. Scott said lacrosse has an important admissions aspect, eliminates the strain on the Student Senate and its budget, and needs to adopt lacrosse to keep up with a growing national trend. Currently, Wabash and only one other school in the NCAC don't have lacrosse teams.
Corey Hamilton ' 14 delivered his speech "Wabash Lives Humanely: Improving Homelessness in Montgomery County." Corey tackled a national issue and related it closer to the Wabash community. He discussed the fact that many homeless people in Crawfordsville may not appear homeless but live with friends and travel from house to house. Corey advocated that the best way for the Wabash community to help with this problem lied in volunteering with Habitat for Humanity, which provides accessible housing for homeless people. As part of living humanely, he encouraged Wabash students to volunteer with the Crawfordsville or Montgomery County Habitat for Humanity. The next volunteering slot is April 12th from 9 a.m. to 11 a.m. or 12 p.m. to 2 p.m. at the build sites next to the Goodrich Ballpark.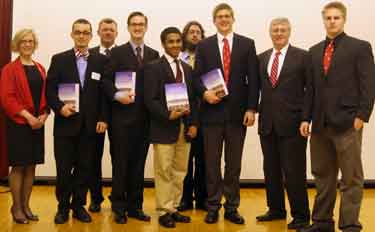 Student body President Jeremy Wentzel '14 said. the audience heard four speeches spanning a variety of issues and local solutions. "The four gentlemen who participated in the Baldwin Oratorical reminded the audience that important issues in the Wabash and Crawfordsville communities can most likely be addressed with ease," Jeremy Wentzel '14 said. "The results, however, have the potential to yield long term gains for our communities, all in the best spirits of humane living."
The Baldwin Oratorical Contest reinforces the benefit and need of quality oration to effectively and efficiently engage the community. "The Baldwin Oratorical Contest reminds us of the power of the spoken word to move audiences to do great things," Associate Professor of Rhetoric Dr. Jennifer Abbott said.
More News
---
---
Photo Galleries

139th Baldwin Oratorical Contest