President White to Lead Millikin University
• April 10, 2013

Share:
Wabash President Patrick White, who announced he was stepping down as the College's 15th president last May, will serve Millikin University as its Interim President beginning July 1.
Dr. White informed the Wabash community late Wednesday shortly after the news was announced at Millikin.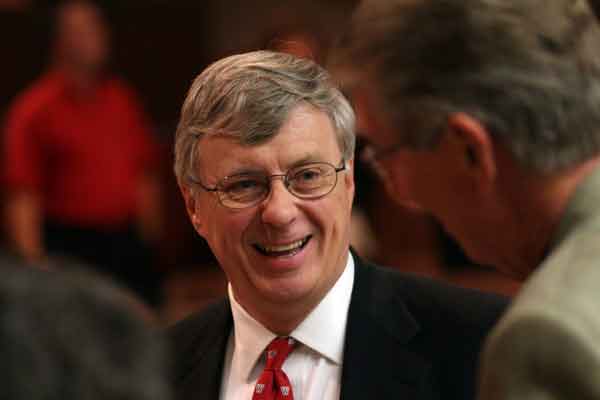 "We're pleased to welcome Dr. White to Millikin to serve in this role," said Chairman of the Millikin University Board of Trustees Van Dukeman. "We are confident that his expertise and experience in private higher education will serve him well as Millikin's interim president and will aid Millikin as we prepare to welcome our 15th president."
President White expects to serve as Interim President for 12-18 months while the university searches for a new leader. The position was attractive to Dr. White for a variety of reasons.
"Growing up in Dixon, Illinois, I have known about Millikin and its excellence all my life," President White said. "James Millikin's founding commitment at the start of the last century to an education that would join theory and practice, the liberal arts and professional life, creativity and knowledge finds expression now in the University's pervasive engagement in 'performance learning.' This dedication to putting ideas and methods into action drives students, faculty, staff, and alumni to make a positive difference as vital leaders shaping the next century."
Located about 100 miles west of Crawfordsville in Decatur, Illinois, Millikin is a private, comprehensive university with approximately 2,300 undergraduate and graduate students. A Millikin education features "performance learning," a unique learning approach offering students the chance to build the confidence to succeed before and after graduation. Students choose from more than 50 majors from the College of Fine Arts, College of Arts and Sciences, College of Professional Studies and Tabor School of Business.
President White was elected President at Wabash seven years ago. During his tenure at Wabash, Dr. White developed a student-focused strategic plan; guided the College through the financial turmoil of 2008-2009; completed a comprehensive academic program and unqualified Self-Study Report that led to reaccreditation; secured a number of grants to establish new programs; achieved success in the Challenge of Excellence capital campaign that exceeded its $60 million goal by $8 million; and completed a $6 million Athletics Field Campaign. He also secured significant grants to establish new Asian Studies and retention programs.
He is a member of the Board of Directors of Montgomery County Economic Development, the Indiana Academy, and is the President of the North Coast Athletic Conference.
President White and his wife, Chris, have been deeply committed to the Montgomery County community. Chris served as President of Crawfordsville Main Street and has been on the boards of the Montgomery County Community Foundation, Christian Nursing Service, and the Dr. Mary Ludwig Free Clinic.