Simmons '70 Searching for Future Novelists
by Steve Charles • April 9, 2013

Share: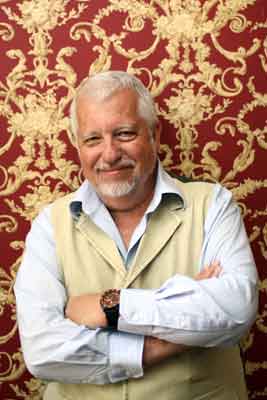 Dan Simmons '70 is on a quest.
The award-winning writer and genre-jumping novelist visits Wabash College this Thursday night to read from his work-in-progress, The Fifth Heart, and to offer a rare glimpse into his own journey of becoming a writer.
That same day he begins work with Wabash student writers in an intense three-day workshop, an effort he describes as a search for potential novelists.
"If I were to advertise my visit, I'd say, 'Full-time professional novelist Dan Simmons is hunting for a few good men to become the novelists of the future,'" Simmons said Monday from his home overlooking the Front Range in Longmont, Colorado. An award-winning teacher and educational innovator before he began writing full-time, Simmons is lending his expertise to developing those future novelists.
Wabash Professor Eric Freeze is looking forward to Thursday's presentation, but as a teacher in the College's creative writing track, he is most excited for the Wabash student writers who submitted their work and earned a place in this workshop.
"Dan Simmons brings to Wabash an understanding of the writing life that extends well beyond the classroom," Freeze said. "He has 30 years of professional experience as one of the most prolific novelists of his generation. Not only will students get firsthand instruction about writing and publishing, but they will also learn life lessons about tenacity and endurance."
Simmons' Hugo-Award winning classic Hyperion was recently voted #4 on Locus Magazine's list of the top science fiction novels of the 20th century, and critics are already comparing his upcoming thriller, The Abominable, to his 2007 New York Times bestseller The Terror, currently in development as a drama series for AMC. It's one of many of his books and stories that have been optioned for film, including the horror story Song of Kali, the historical novel/thriller Drood, and the detective novel The Crook Factory.
"His willingness to share his talents with Wabash undergraduates is rare for such a commercially successful writer," Freeze said. "If novelists are the marathon runners of the writing world, then Simmons is an ultra-marathoner. He's gone the distance over and over again, and our students will gain a tremendous amount from his instruction."
Simmons believes it will be time well spent.
"Being a graduate from a true liberal arts college like Wabash may be the perfect preparation for being a novelist," Simmons said.
Thursday's reading on the Wabash campus is free of charge, open to the public, and begins at 8 p.m. in Room 101 of the College's Baxter Hall.