200 Attend Fraternity Celebration
by Jim Amidon • April 8, 2013

Share:
Over 200 students, alumni advisors, faculty, staff, and administrators gathered Sunday to celebrate Greek life on the campus at the College's first Wabash Fraternity Day.
Dubbed "A Celebration of Greek Life," the event was organized by the Inter-Fraternity Council and the Wabash Fraternity Advisors.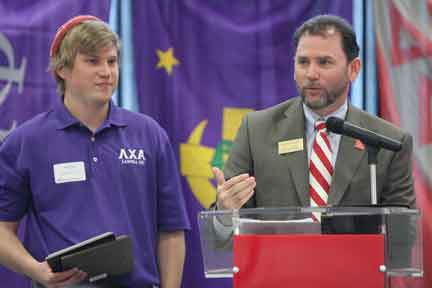 IFC President Sky King '15 and alumnus Jon Pactor '71 served as emcees of the event. The goal was to get fraternity men talking with one another to seize opportunities and solve problems.
During the course of the program, each of Wabash's nine national fraternities made presentations about successful ventures in community service, scholarship, and membership growth, while others spoke about challenges like budgeting and finances.
All of the fraternity men were assigned to tables so that each table would have what Pactor described as a "United Nations" feel — members of different chapters at every table. Fraternity advisors, faculty, and staff spread out to facilitate conversations that shared ideas about how the various fraternities solve problems.
"We often struggle to get brothers out of their houses to spend time with other members of other fraternities," King said. "This is one example of how the IFC is working to create a more united campus, one that will provide a great experience for all Wabash men."
The coalition of fraternity alumni advisors began in 2009 and since that time, alumni representing the College's fraternities have met frequently.
"We believe that no other college has a group of alumni advisors meeting regularly and working together to deal with any issue involving fraternity life," said Pactor. "That includes academics, risk management, governance, relationships with professors and coaches, housing arrangements, and anything else."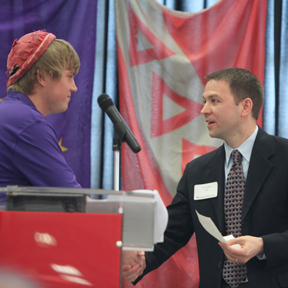 As president of the IFC, King shared his vision for the future of fraternity life at Wabash. "Wabash College is a school of problems. For a lot of people on campus this leads to bickering, blaming, and even sometimes leaving, but there is also a group of students here who view this as an opportunity. Now this may seem a little funny: the idea of problems being an opportunity. But in a school full of men who pride themselves on the idea of personal responsibility, this should be expected. Given the nature of our campus and the Gentleman's Rule, we are allowed to live in an environment that is almost a blank canvas —one where we can completely configure the social dynamics of this school. We can decide to step up and to take responsibility for our actions."
In addition to formal remarks from President Pat White and Dean of Students Mike Raters, fraternities were honored for impact, academic achievement, and community service. Dean Raters presented the campus GPA awards to Phi Gamma Delta, which had the highest GPA among freshman fraternity members and the highest overall campus GPA.
Judges for the other awards were members of the Wabash faculty — Professors Laura Wysocki (chair), Wally Novak, Elizabeth Morton, Sara Drury, and Jeremy Hartnett.
Psi Chapter of Phi Gamma Delta also claimed the Senior Impact Award. The citation read: "The Phi Gamma Delta Senior Class has displayed excellence in academic achievement while staying involved in a wide variety of campus organizations. Their leadership and innovation can be felt in athletics, student government, academic societies, clubs, and more. This senior class has been active in creatively implementing philanthropy here at Wabash and around Indiana, giving back to the campus and community at large. We appreciate all they have done to make Wabash College a better place in their time here."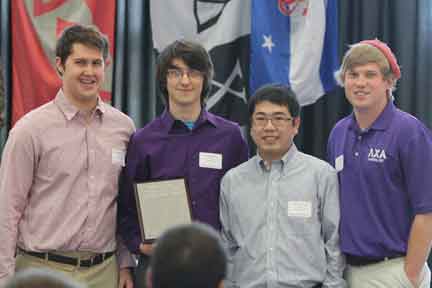 Kappa Sigma was honored with the Freshman Impact Award. The citation read: "The Kappa Sigma freshman have been impressive in their dedication to academics, their fraternity, campus involvement, and philanthropy. With seven freshmen participating in 35 different campus activities, significant community service, and several in-house leadership positions, they have already had an impact on campus and beyond, and we look forward to seeing them continue to excel."
The College's chapter of Theta Delta Chi captured the Philanthropy Award, which came as no surprise since it has won its national fraternity award for its service to the community.
The citation honoring Theta Delta Chi read: "The men of Theta Delta Chi have shown true passion when it comes to giving back to the community in many ways. With 100% participation from their members, it is not uncommon to see them raising funds at athletic events, organizing walks to benefit Breast Cancer Awareness or Autism Speaks, and volunteering in Crawfordsville. They take on large events and work with national organizations, but also contribute in many small, but invaluable ways to the local community. Their innovation and excitement is contagious and we celebrate their generosity of spirit."
King also invited Associate Dean for Advancement Joe Klen to the stage, and presented him with a pledge of $3,600 to the Annual Fund — money given back to the College by fraternity men.
Pactor provided his vision for Wabash fraternities going forward in his closing comments. "All of us have an obligation to preserve and protect our fraternities — an obligation none of us in this room can shirk.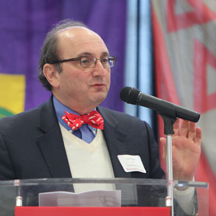 "Boys are risk-takers. When we come to Wabash, we take risks. A small liberal arts college for men is a risk. A small school is not popular; a liberal arts school is not popular; a men's college is not popular. Then, joining a fraternity is not popular. I am encouraging all of us to take still another risk—the risk of putting the highest priority on developing manly character and working toward the highest values of our fraternities, all subsumed by being a gentleman and a responsible citizen.
"We will continue to improve our fraternities. We will continue to give support to each other—academically, ethically, and socially. We will continue to learn how to deal with conflict resolution. We will continue to learn how to compromise and be self-governing. We will continue to learn to be morally courageous in dealing with complex problems. The general society needs fraternity men who hold those values and who can use those skills.
"Here is my vision for Wabash fraternities: Our fraternities will continue to develop gentlemen and responsible citizens and do it even better than we have."
More News
---
---
Photo Galleries

Wabash Fraternity Day (April 7, 2013)