Shane '70: Service a Strategy for Success
by Steve Charles • April 4, 2013

Share: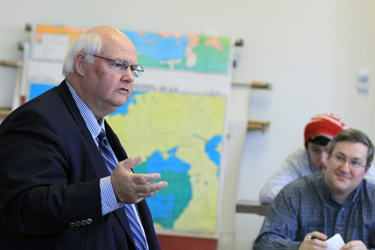 When Wabash College Trustee David Shane '70 was honored in Indianapolis last fall with the Charles L. Whistler Award for "serving the community in a way that brings together the public and private sectors for civic improvement," the chair of the award committee noted that Shane "embodies selfless, effective, private sector leadership."
"The sheer volume of Dave's civic contributions and the depth of community initiatives he has touched made him a perfect addition to the list of extraordinary men and women who have previously received this remarkable award and helped establish a culture of private-public collaboration so critical to the remarkable success of our great city."
Last Thursday as a guest speaker for the College's Callings initiative, Shane shared the philosophy behind not only those philanthropic efforts, but his career in business and law.
"Being other directed and service oriented is a good idea whatever you do, and whatever your calling may be," Shane said in a talk titled, "Service to Others As a Strategy for Life and Leadership."
In both business and law, Shane said, "service to others is a very useful strategy.
"In a courtroom or negotiation, woe unto the lawyer who doesn't think about the person on other side of the table, and it's a huge strategic advantage to the lawyer who does. If you understand your adversary, the firm with whom your contracting, the person you're trying to establish a partnership or merger with, you're way ahead. "
Shane then urged students to be other directed when it comes to finding one's calling.
"A calling is something you're drawn to, have a passion for doing, and over time do well because of that passion. I would add another element: Doing it for someone other than yourself."
The people he's come to admire, Shane said, "are always thinking about the person on the other side of the table. What they have done has been measured in someone else's life, not their own."
Recently retired as CEO of LDI, Ltd. LLC, Shane was previously a partner at Faegre Baker Daniels law firm. At the same time he worked for more than 20 years on educational issues in Indiana, serving most recently as an education and workforce advisor to Governor Mitch Daniels.
Shane told students and faculty that "listening to the person on the other side of the table" is what led to his work in education reform and charter schools.
"When I was representing Indianapolis schools in the 1980s, their lawyers historically had paid attention only to what they couldn't do. We took a different approach: We asked ourselves, does the law say we can't?
"What was in play was the ability to deliver a more effective education to students. It gave us the moral clarity to ask the question in a different way in service to the client thinking about their needs, not our interests. We developed a strategy that essentially dared someone to come forward and say we shouldn't do this us on behalf of teachers and students.
"So you start with these simple guiding facts: It's not about me, it's about you; it's not about image, it's about action; it's not about effort, it's about results. When you lay on top of that the notion of service and thinking about the person on the other side, you end up making more progress."
Shane paid tribute to his parents and several grade school and high school teachers who mentored him, then reflected on how his time at Wabash had shaped his vocation.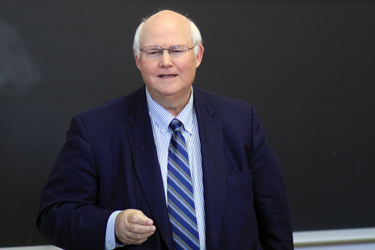 "I didn't have a clue about life when I showed up here, and I barely had a clue what I was doing when I left. What I didn't realize then is that I had accumulated over the course of my life to that point—at age 22—an enormous amount of modeling, influence, and flat-out teaching, all of which had changed me in ways that led me to the sense that the other was more important than the self, the result is more important than the effort, and that the only things that were worthwhile in life were service oriented."
Shane suggested that authenticity was essential, no matter what your calling.
"You can't fake this stuff," Shane said. "Interest is for amateurs, passion is for pros."
Shane currently serves on the board of the Global BrightLight Foundation, whose mission is to raise standards of living in the world's poorest communities.
The College's Callings program fosters sustained reflection on vocation among students, faculty, and staff, while providing students with experiential learning opportunities to help them explore their vocational identities.