Cheesesteaks for Charity
by Jim Amidon • April 3, 2013

Share: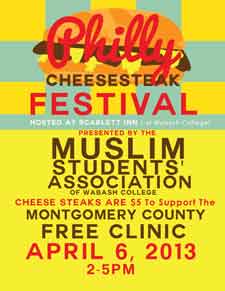 Inspired by his hometown, his faith, and a desire to help the people of Montgomery County, Wabash College student Rashaan Stephens came up with a pretty creative way to raise funds for a great local cause.
See pictures from the fund-raiser here.
The senior from Philadelphia loves his hometown's famous cheesesteak sandwiches. And convinced that this community will too, he and his brothers in the Muslim Students' Association are hosting a Philly Cheesesteak Festival.
All of the proceeds from the fundraiser will support the operational budget of the new Montgomery County Free Clinic, which is set to open in July.
The Philly Cheesesteak Festival will be held in the Scarlet Inn on the lower level of the Sparks Center on the Wabash campus this Saturday, April 6 from 2 p.m. to 5 p.m. Sandwiches will be sold for $5 with all proceeds going to the Mary Ludwig Clinic.
"I'm from Philly and we love our cheesesteaks in Philly," Stephens said. "But I also care deeply about this community. The students at Wabash wanted a way to demonstrate our care and concern for the people of Montgomery County, so we came up with the idea of a Cheesesteak Festival. We hope that people from the community will come to Wabash, have a cheesesteak, get to know us, and help us raise money for the Mary Ludwig Free Clinic."
The clinic, named for Dr. Mary Ludwig, will provide free healthcare to the uninsured of Montgomery County when it opens this summer. The clinic will replace the Christian Nursing Service public health clinics, which have served the community for over 40 years. The Free Clinic board decided to name the clinic for Dr. Ludwig because of her lifetime dedication of providing free healthcare to the citizens of Crawfordsville and surrounding communities.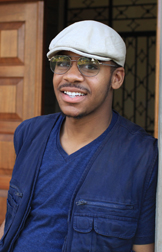 The public is invited and encouraged to support the clinic, engage the MSA at Wabash, and taste what Stephens describes as "the best sandwiches any where in the world."
The MSA at Wabash aims to raise awareness of Islam in the community and to dispel commonly held misconceptions of this world religion. The MSA accomplishes its goals through lectures, shared meals, readings, fund-raisers, and other types of formal and informal presentations.
Parking near Sparks Center is available on the west side of the College Mall, behind the Chapel, on the west side of Center Hall, and on adjacent side streets near campus.