Multi-Instrumentalist Todd Green in Concert
• March 26, 2013

Share: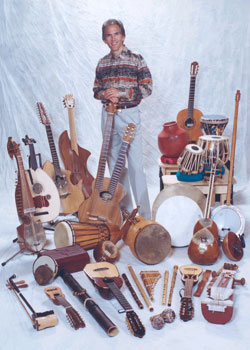 Wabash College's Visiting Artists Series will present Todd Green in concert at 8 p.m., Thursday, March 28, in Salter Concert Hall in the Fine Arts Center.
Todd Green began studying guitar at the age of ten and has been writing and performing his own music professionally since the age of fifteen. He studied composition and arrangement at Berklee College of Music in Boston. At the same time he was studying privately with Mick Goodrich, jazz guitar legend at New England Conservatory of Music, Pat Metheny, Grammy Award winning guitarist, and George Benson, international recording star. After spending five years in Boston, he moved to New York City where he performed with studio musicians and toured with bands throughout the United States, Canada, and Europe.
While in New York, he began studying Western Flute, East Indian Bansuri Bamboo Flute and Tablas (Indian hand drums) with Ray Spiegel. At the time he relocated to western Montana and decided to concentrate on acoustic music. After spending 10 years there he then moved to Northern Nevada near Lake Tahoe where he has lived since 2001.
The Thursday evening program will feature original compositions by Green, drawing on a variety of styles of world music. The selections will be a combination of composed pieces and improvisation. Using various combinations of his many unique and unusual instruments from all over the world, which he will explain throughout the concert, Green will take you on a musical journey, inspired by the styles of many different countries and cultures.
Seating for Visiting Artists Series events will be by general admission, though free tickets are required.
Contact the Fine Arts Center Box Office by email at boxoffice@wabash.edu; or phone: 765-361-6411. Box Office hours are 8:30 a.m. to 12 noon and 1:30 to 4 p.m. The box office will open 90 minutes before curtain time for Visiting Artists events. Tickets not claimed at the Box Office 10 minutes prior to curtain will be released to the general public.
In addition to his concert, Green will conduct a public workshop on Wednesday, March 27 from 12 to 1 pm in Salter Concert Hall in the Fine Arts Center.