Judge Hamilton Honored with 2013 Peck Medal
by Howard Hewitt • March 22, 2013

Share:
The 2013 Senior Peck Medal Award winner was humbled by the honor and surprised to discover his many Wabash connections. President Patrick White presented Judge David Hamilton with the Peck Award Thursday night.
The 40th Annual Peck Awards Dinner honors a distinguished contributor to the field of law and Wabash students preparing for careers in the field.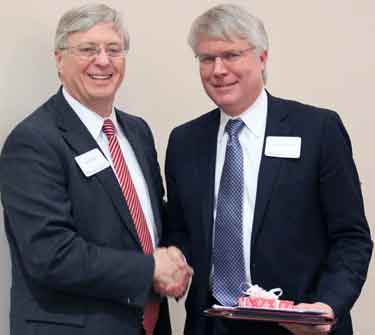 "This means more than I can say in all honesty and it's more than I expected," Hamilton told the packed Detchon Hall crowd. "I've practiced law for nearly 30 years and I keep meeting more and more terrific lawyers that I didn't know attended Wabash. It's very impressive to me what impact Wabash and Wabash grads have had on the profession."
President White called the Peck Dinner one of his favorite campus events. He presented the medal noting that the dinner annually places a recipient before Wabash students who offer "a life well lived in the law."
Hamilton's background as a Haverford College grad, Yale Law School, and Fulbright Scholar has earned him the respect of colleagues and the president. He was one of President Obama's first appointments, elevation Judge Hamilton form the federal trial court in Indianapolis to the federal appellate court in
Chicago, the Seventh Circuit.
But the night was also to honor Wabash students preparing for a law career. The top student award was presented by Pre-Law Advisor and Visiting Political Science Professor Scott Himsel '85. Himsel is also a partner in the Indianapolis law firm of Faegre, Baker Daniels. Senior Riley Floyd won the Junior Peck Medal. Floyd has been Pre-Law Society President, Moot Court winner and Bachelor editor among his many campus activities.
Matt Price '90 presented the James E. Bingham '11 Award to Jeremy McDonald '13 and Trevor Poe '13. Dustin DeNeal '04 presented Cory Kopitzke '14 and David Roaten '14 the Joseph J. Daniels Award in Constitutional Law. William A. Hahn II '96 presented the William Nelson White Scholarship Award to Michael Carper '13.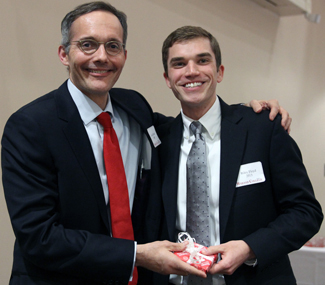 Junior Peck Medal Winner Riley Floyd offered his take on Judge Hamilton's lecture which proceeded the awards dinner.
Interpreting constitutional and statutory texts is no easy task—particularly in a political climate in which sound bites outweigh deeper analysis. Last night, Judge David Hamilton of the United States Court of Appeals for the Seventh Circuit delivered the 40th Annual David W. Peck Lecture and offered his perspective on "Law and Judging in Polarized Times."
The crux of Hamilton's lecture was that textualism and originalism aren't as simple as their proponents tout and that judging involves a complex process of weighing the competing ways of making a decision while remaining mindful of practical consequences. Often, difficult cases are difficult precisely because the legal texts that give rise to them provide no clear answer to the dispute. Instead of narrowing judicial discretion, approaches like textualism and originalism broaden it. And they do so under the auspices of narrowing it.
"There is no sound and reliable methodological shortcut to make hard cases easy," Hamilton said. "Where text and context point in different directions, it means the judge can't stop working with it. It means the judge must consider, wait for it, judgment."
"Restraint and humility are central to this broader approach to the law. [Judges must] act with respect for other branches of government despite a political system designed to make agreement difficult," Hamilton said.
Rather than articulate a result as "an exercise in deductive reasoning," Judges must be honest about the different ways in which their decisions can be made. If they consider history, they should acknowledge that there are different sources of history—making even historical inquiries ambiguous. That honesty involves a recognition that "appealingly simple theories are more complex and less determinate than [judges] are willing to admit," Hamilton said.
Hamilton cited Justice Learned Hand as a legal writer whose thoughts on this issue we should keep in mind: "The spirit of liberty is that spirit that is not too sure it's correct."
The David W. Peck Awards Banquet has been held each year since 1974. The event was established by long-time Trustee John P. Collett '24 in tribute to his dear friend and fellow Trustee David W. Peck '22. Peck enrolled at Wabash at age 16, graduated at 19, and had finished Harvard law by 22. He had a long and distinguished career as a judge and partner in the New York law firm of Sullivan and Cromwell.
More News
---
---
Photo Galleries

2013 Peck Awards