Rosenberg Named Collett Chair
by Jim Amidon • March 22, 2013

Share: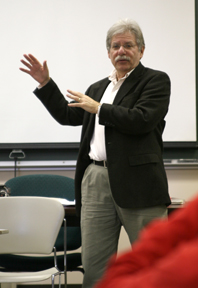 Wabash College English Professor Warren Rosenberg has been named the John P. Collett Chair in Rhetoric. Dean of the College Gary A. Phillips announced the honor at a faculty meeting this week.
A native New Yorker, Rosenberg joined the faculty at Wabash in 1980. He specializes in American literature, film, gender, and men's studies, though he also has been a stalwart teacher of composition. He has received the College's McLean-McTurnan-Arnold Excellence in Teaching Award and its companion Research Scholar award.
"I am extremely honored and pleased to be appointed the John P. Collett Chair in Rhetoric," Dr. Rosenberg said. "It is a particular pleasure because the only previous holder of the chair, former Dean of the College Don Herring, is my mentor and friend, and was most responsible for my being at Wabash. He saw the seed of a good teacher in me, and this is what he values most. Good teaching is what Wabash honors in awarding me this chair, and what I have aspired to in my career."
The John P. Collett Chair in Rhetoric was established in 1987 by the Board of Trustees to honor Collett, a 1924 Wabash graduate, for his service as a Trustee, benefactor, and unrelenting voice for academic excellence and intellectual independence. The Chair recognizes the importance of effective expression and standards of ethical persuasion.
"From the start of his career, Warren Rosenberg became a deliberate voice interpreting the College's mission to be one that fundamentally embraces difference — difference in racial, gender, ethnic, economic and other terms," said Dean Phillips. "Committed to the careful fashioning of spoken and written word, he has served as an articulate and impassioned moral voice for the Malcolm X Institute and our students, staff, and faculty of color. He teaches what the College and our wider society should become, holding a mirror up to the community to invite us to be true to our mission and values and to remind us that as teachers and scholars we have a responsibility never to muscle difference into sameness, but instead to lift up silent voices and stories."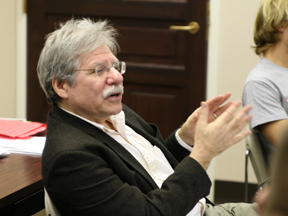 Dr. Rosenberg earned his bachelor's degree with honors from Brooklyn College, his master's degree from the University of Michigan, and his Ph.D. from the City University of New York Graduate Center. He is the author of dozens of essays and articles, and the book Legacy of Rage: Jewish Masculinity, Violence, and Culture.
He received tenure at Wabash in 1986, became a full professor in 1996, and has served as Chair of the English Department on three different occasions over the arc of his career. As chair of the Multicultural Concerns Committee from 1989 through 1993, he led the effort to develop a College-wide statement for the Academic Bulletin concerning the boundaries of acceptable discourse within the Wabash community.
"This was a challenging endeavor," Rosenberg said, "as we in no way wished to curtail free speech, the lifeblood of a college. But we were also acutely aware that the ability of all of us to function at our best could be affected by hurtful comments, verbal and in writing, that demeaned individuals because of their gender, race, religion, country of origin, physical disability, or sexual orientation. The 'Faculty Statement of Principle Concerning Diversity' received unanimous faculty approval and has been printed in the Bulletin ever since. This, I believe, is an example of 'ethical persuasion' that I hope made John Collett, a Trustee at the time, proud."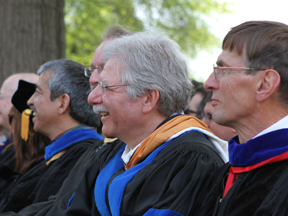 Dean Phillips also cited Dr. Rosenberg's long-time teaching of a course titled Men and Masculinity as critical in the College's identity. "His gentle but far from gentile approach to the reading of controversial texts in that course has for more than a quarter century invited students into a protracted discourse about gender and race important for us as a college for men," said Dean Phillips.
In recent years, Dr. Rosenberg has spearheaded Wabash's faculty development initiatives. The Collett Chair carries with it discretionary funds, which Rosenberg will use to advance this work.
"I am perhaps most pleased that these funds can be used to help me and my colleagues become the best teacher-scholars we can be," added Dr. Rosenberg. "As the College's Coordinator of Faculty Development I have been working with the Teaching and Learning Committee, and with other groups and individuals (students, faculty, and staff) on campus, to make the often isolating job of teaching a more visible, collective enterprise. In awarding me this Chair, President White and Dean Phillips are also honoring this important work."
"Warren is committed to the spoken and written word as the means to humanely challenge and change both students and faculty," Dean Phillips said. "He spends much of his time developing his faculty colleagues by reviewing their grant proposals, offering critique and encouragement, and affirming their aspirations to discover their new voices as teachers and scholars. The effective development of faculty is as important as that of students, for one implies the other."